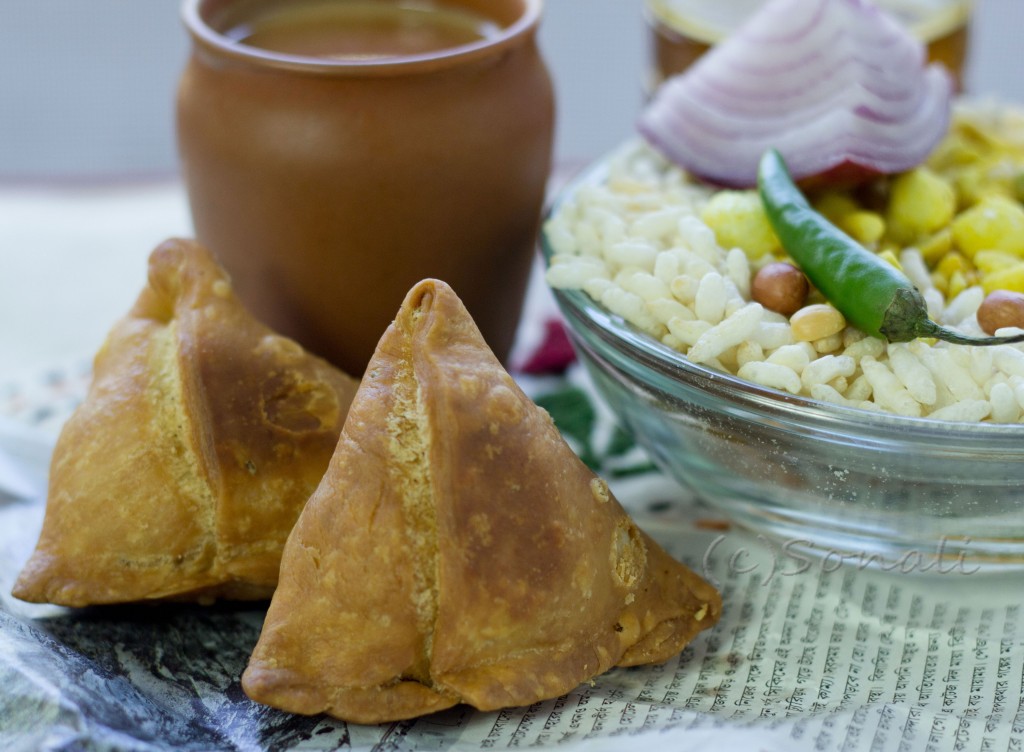 I hardly remember when Gopal kaku (as we call him) first came to our home. It seems that he is with us for ages.  At first my dad brought him to do some weekend errands around the house, but slowly he became one in our family. He is the best example of 'master of all trades'. He is a man of short stature and always has a quaint look of seriousness on his face but never says 'no' to any work. He does his assigned job from watering the flowering pots, weeding the lawn and cropping the grass to dusting the rooms and even to assist my dad to the market for vegetable shopping at ease. Any functions in our home and he is the first one to be informed. He is the most trusted person and he would never fail you even if you ask him to do a job at the last minute. He always does his work relentlessly without any complaint of rain or sun. If Gopal kaku is around every one heaves a sigh of relief .He holds a very special place in our hearts. After his day's work, sometimes during the monsoons I used to plea him to bring me some shingara to go with our evening cup of tea. He would gladly walk an extra mile to get me some freshly fried best shingara in town. Though he still comes to our house regularly but I really miss those days of little indulgence.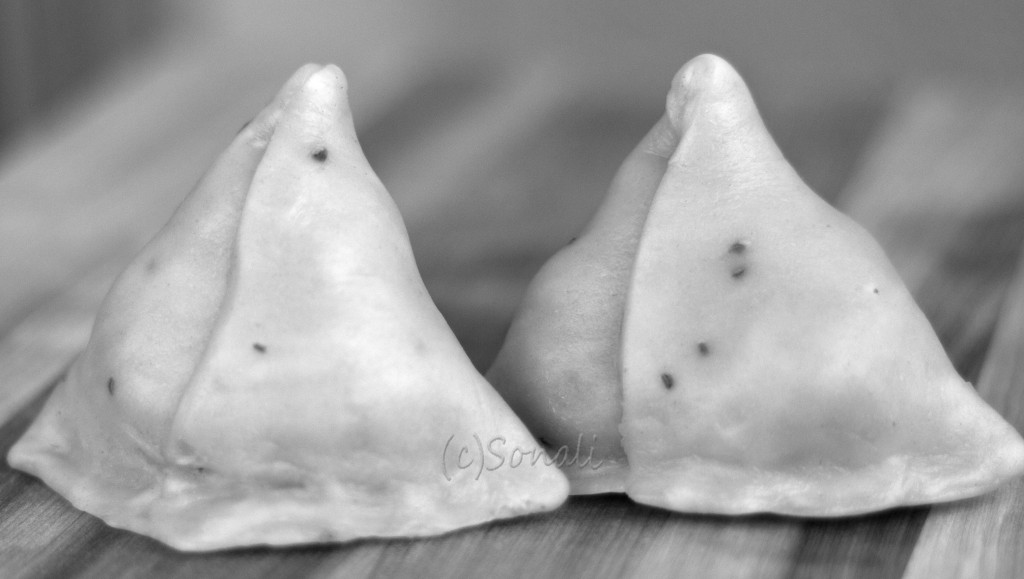 Now living thousands of miles away from home I often walk through the memory lane and try to recreate the past in my kitchen. Though here we never experience monsoon but homemade shingaras with some puffed rice and garam chai create magic in our lives.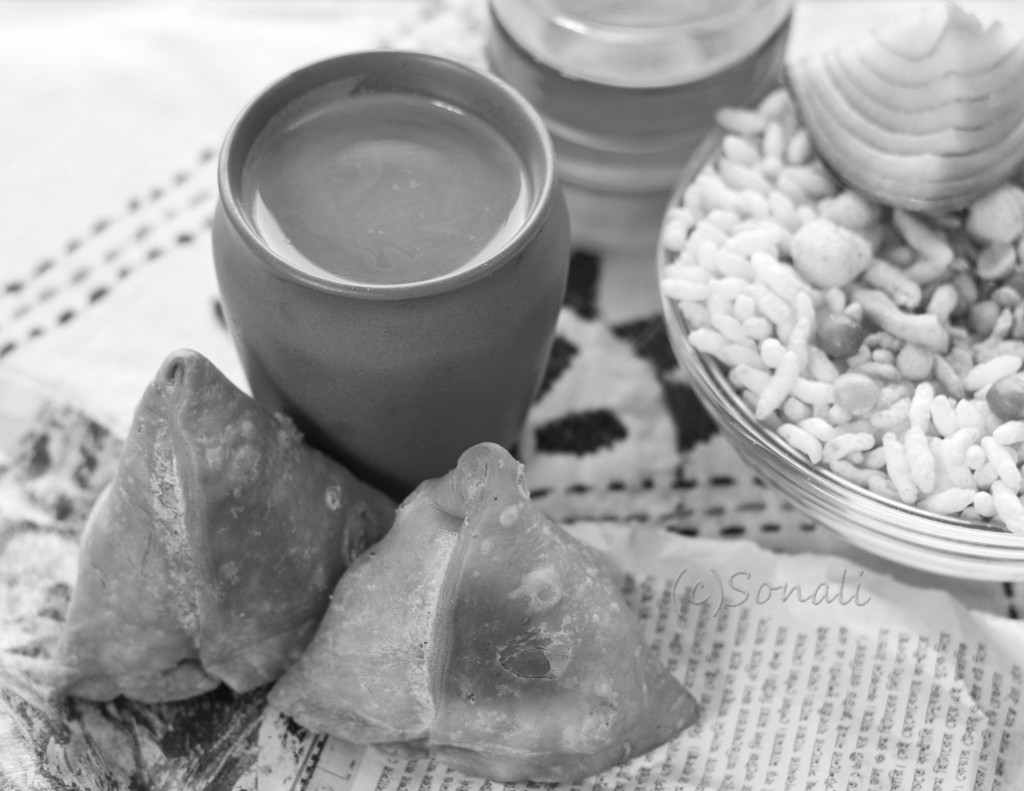 These little cones of stuffed potatoes may look complicated to some but with a bit of patience you can bring in the joys of days gone by.
Shingara or Vegetable Samosa

Recipe: Makes 4-6 Shingaras depending on the size.
For the outer covering:
1 cup all-purpose flour
4 tablespoon vegetable oil
1 teaspoon salt
1 teaspoon ajwain or carom seeds(optional)
For the filling:
2-3 medium sized potatoes boiled
1/4 cup roasted peanuts
1teaspoon whole cumin
¼ teaspoon whole fenugreek
1 teaspoon roasted and crushed coriander seeds
1-2 dry red chillies
¼ teaspoon turmeric powder
¼ teaspoon red chilli powder
1 teaspoon roasted cumin and dry chilli powder
2 inches of ginger ground to a coarse paste
1-2 chopped green chillies (optional)
Salt to taste
2 teaspoon oil
Oil for deep frying the samosas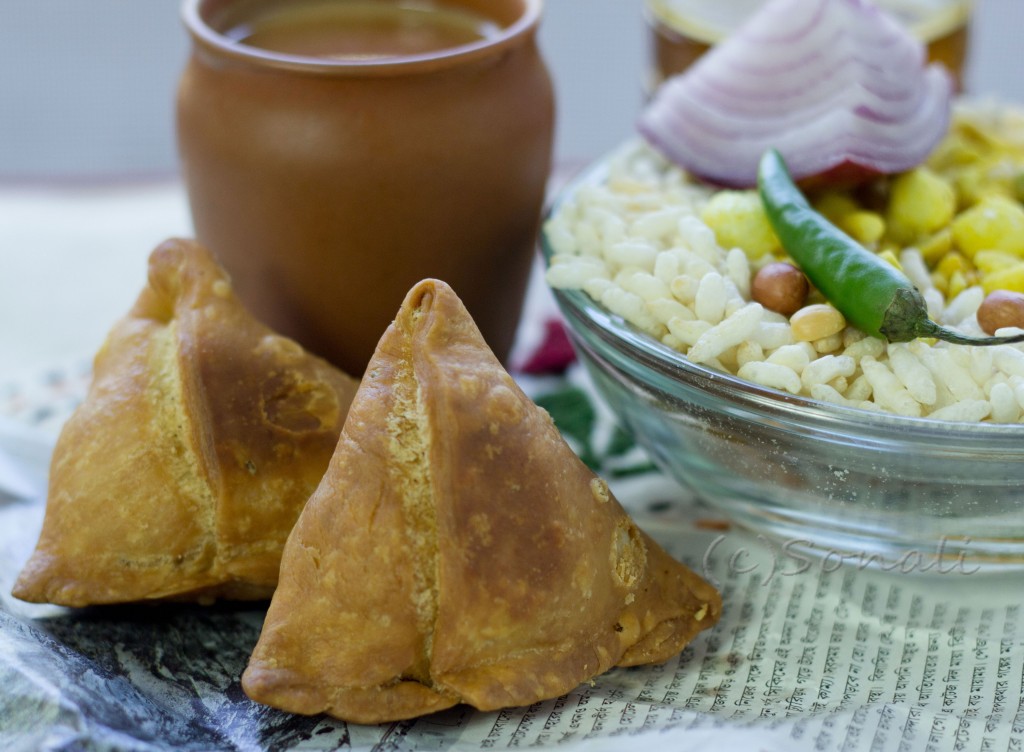 Add salt and ajwain (if using) to the flour and pour in the oil and mix it very well.After mixing, the flour mixture should form a lump when pressed between your palm.Now slowly add very little water at a time and knead into a smooth and stiff dough.Cover with a damp cloth and keep aside.
Now for the filling roughly chop the boiled potatoes. Add two teaspoon oil in a pan and add the whole spices along with the dry red chillies.When the spices start to pop up add the potatoes.Saute for a minute and add the dry powdered spices one by one. Mix in well. Add the roasted peanuts.At last add the ginger paste and the chopped green chillies and give a final stir. Keep aside.
When the filling has cooled down a bit take the dough and divide it in three equal portions. Roll each portion into a smooth ball. Take one ball of dough at a time and roll into a small oval disc,about six inches. Now cut the disc in two equal halves. You'll get one straight side and one rounded side. Working with the first half, apply some water on the straight side and try making a cone, overlapping one part over the other. Now you get a cone. Press gently and fill the cone with 2-3 spoons of potato filling. Now with the rounded side fold and apply some water on the edge and attach and seal the edges to give it a samosa shape. Repeat with all the dough balls. You will get six samosas out of three dough balls. Samosas are now ready  to fry.
Take a deep wok or kadai and put oil for deep frying. Oil should be enough so that the samosas are fully immersed in the oil. Now heat the oil at high for 3-4 minutes and then switch off the heat.Wait for 5 minutes and switch on the heat at low.The idea is to fry the shingaras in warm but not hot oil.Keep the heat to low and fry till all the sides of the samosas  are golden brown.It may take 10 to 15 minutes to fry. Here you need to be very patient. Repeat the process with the other samosas. Drain them on a paper towel.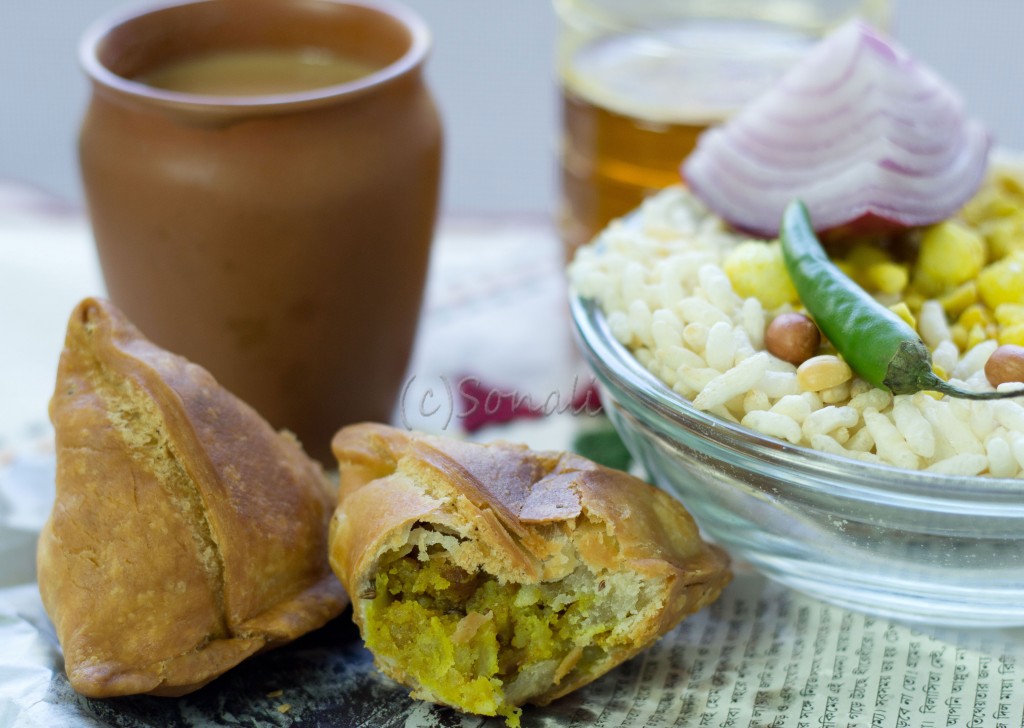 Enjoy  the samosas with a  cup of hot chai and/or puffed rice.You may also serve them with chutneys and sauce of your choice.Enjoy a bite of hot samosas with the sound of the rain outside.
Tips:
Use very little water to knead the dough. Put enough oil to fry the samosas and it is very important to fry the samosas at low temperature to get a crispy and crunchy crust.You can add some boiled green peas to the filling.You can even add cauliflower or any other spices of your choice.Adding the ginger paste at last gives a unique flavor of Kolkata style samosas.
Sending this to :  JCO-Monsoon of India. Originally started by Jagruti and this edition hosted by Sayantani.