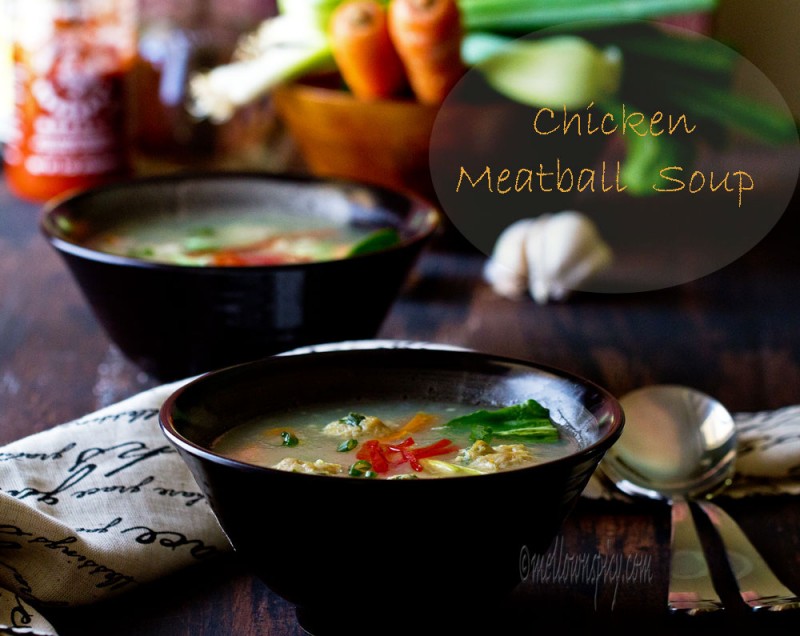 There are times when we don't want to have an elaborate menu at dinner. We love to have something light yet satisfying. And there are days when I run out of ideas as what to cook for dinner? I am sure everyone has this experience once in a while. In both times I resort to simple soups. Soups are always my best choice and I always try to have a number of recipes in my repertoire.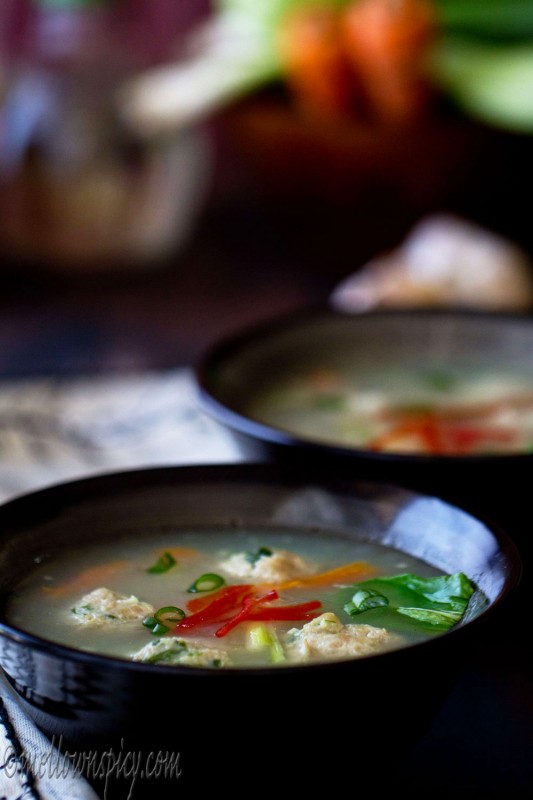 The days continue to be cloudy and gloomy here and due to this crazy weather I am a bit under the weather. So to keep my spirits high I made some soup for us at dinner. Oh! I loved it so much. This soup is light and with my favorite vegetables thrown in and chunks of soft chicken balls make it perfect.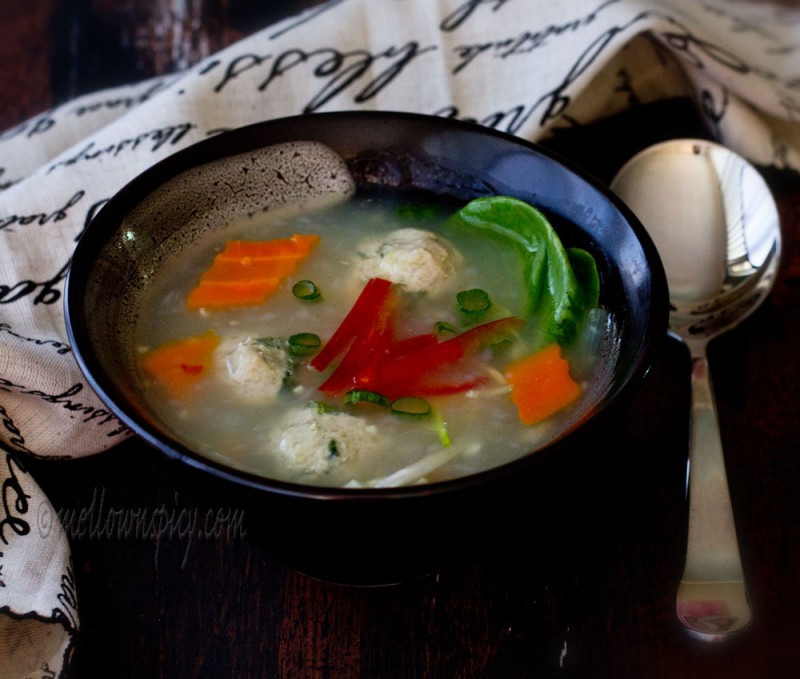 There are quite a few variations of this chicken meatball soup but I have used the Asian flavors. This soup makes a light meal by itself. You may throw in some more vegetables of your choice. Mushrooms, snap peas, broccoli are a few good options. But I wanted to keep it simple and loved it that way. Another reason to love this soup is that it is cooked in zero oil. Isn't it great?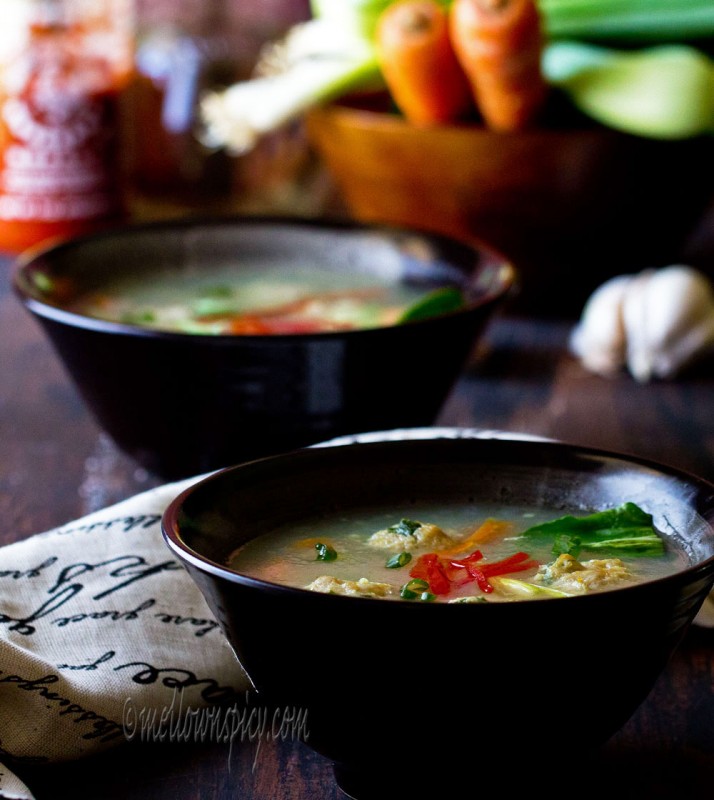 The soup is done very fast. Prep the chicken and the vegetables first and then start with the cooking. Chicken cooks fast too. You may alter the seasonings as per your taste. The soup tastes light, fresh and very satisfying. The crisp vegetables and the soft chunks of chicken makes it perfect for any week night dinner.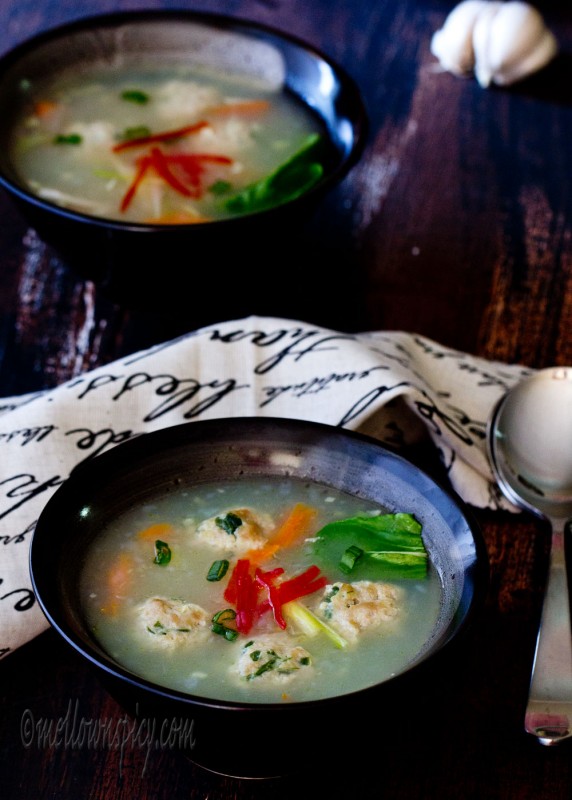 Tips:
While cooking the vegetables in the stock make sure not to overcook. The vegetables should be slightly crisp. If you do not have bok choy you may use baby spinach instead. Adjust the amount of salt according to your taste.
Chicken Meatball Soup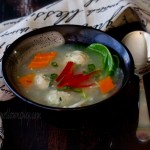 By Sonali Published: June 4, 2015
Yield:

4 Servings

Prep:

15 mins

Cook:

20 mins

Ready In:

35 mins
The soup tastes light, fresh and very satisfying. The crisp vegetables and the soft chunks of chicken makes it perfect for any week night dinner.
Ingredients
Instructions
To make the chicken meatballs: In a bowl add the ground/minced chicken, minced garlic and ginger,chopped green onions,salt,black pepper and oyster sauce and mix very well with your hands. Slightly wet your fingers and start making small chicken balls and keep aside.
Meanwhile heat the chicken stock in a big saucepan and add the sliced carrots and white portions of the baby bok choy. Let the stock come to a boil. Once the stock starts boiling, slowly add the prepared chicken balls into the stock and let it boil again in medium high flame.
The chicken balls take 3-4 minutes to cook completely. Add a dash of vinegar and salt just to give the stock a kick and then add the sliced bell pepper. In a small bowl mix the corn starch and water and add to the boiling stock. Once the stock starts to thicken switch off the flame.
In a serving bowl arrange few green bok choy and the white portions of the green onions. Ladle the chicken soup with some vegetables and couple of chicken balls over it. Garnish with some chopped green onions. You may serve with some light soya sauce. Serve hot.