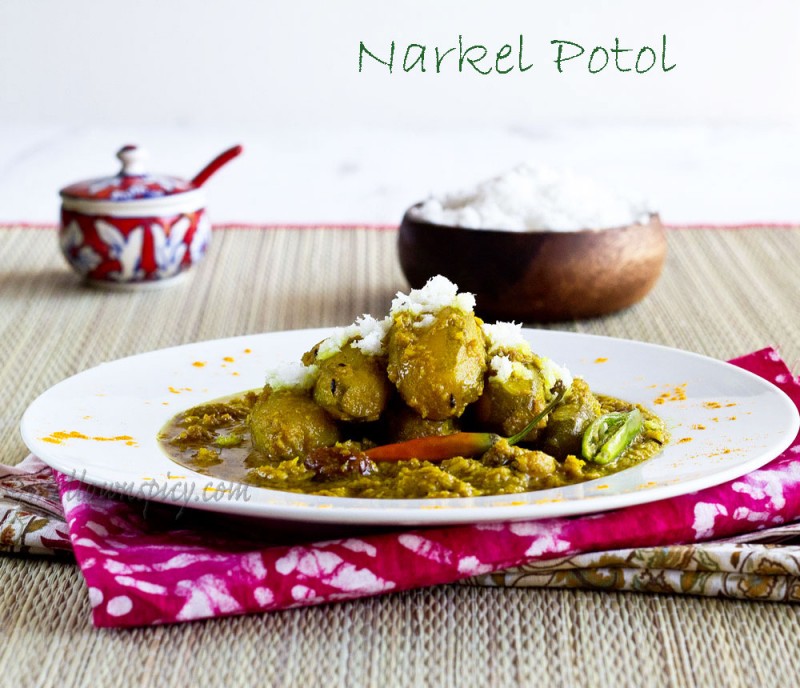 I love potol as I mentioned in my other post but it is rare to get this veggie here in the US. If you are lucky enough to get, they are highly priced and are small in size. I was still waiting eagerly this summer to get hold of this veggie but finally last weekend I got some fresh ones. Back home potol is the primary vegetable during the summer months.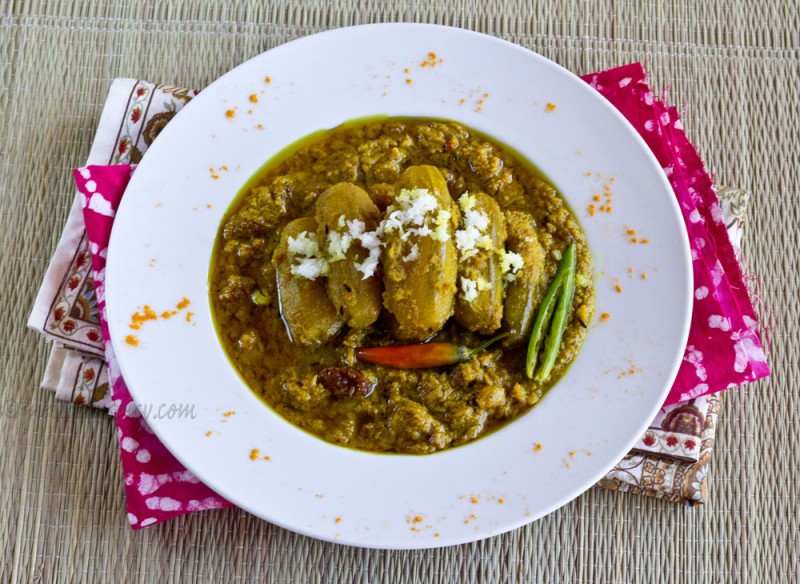 Potol, parval or pointed gourd is a veggie from the gourd family. Like the other veggies from this family, pointed gourd or potol has some great health benefits. It is less in calories and helps in weight loss and helps to keep the cholesterol level in control. It is enriched in vitamin A, vitamin B1, vitamin B2 and vitamin C and minerals like magnesium, potassium, phosphorous and lot of other micro nutrients. In Ayurveda, it is used to treat gastric problems and skin infections.
There are different ways to prepare this veggie. My favorite one is the stuffed potol known as potoler dolma, but cannot prepare it because the recipe needs a bigger size potol. So today I am sharing another recipe which is also my favorite and it requires grated coconut- Narkel Potol.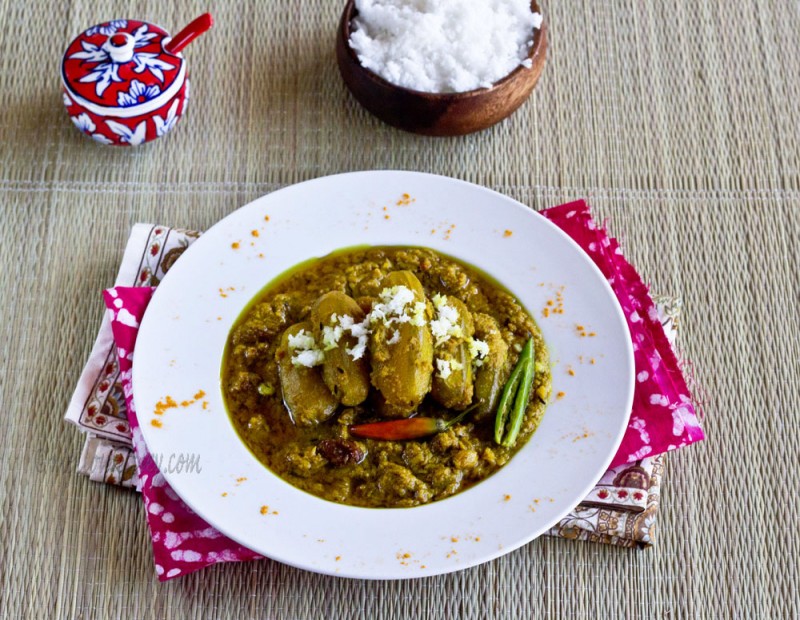 The recipe is simple with very few steps involved. It is better to use freshly grated coconut but you may use the frozen one as I did here. The gravy is thick and has a texture of  coconut and is mild in taste. This recipe goes great with white rice or pulao.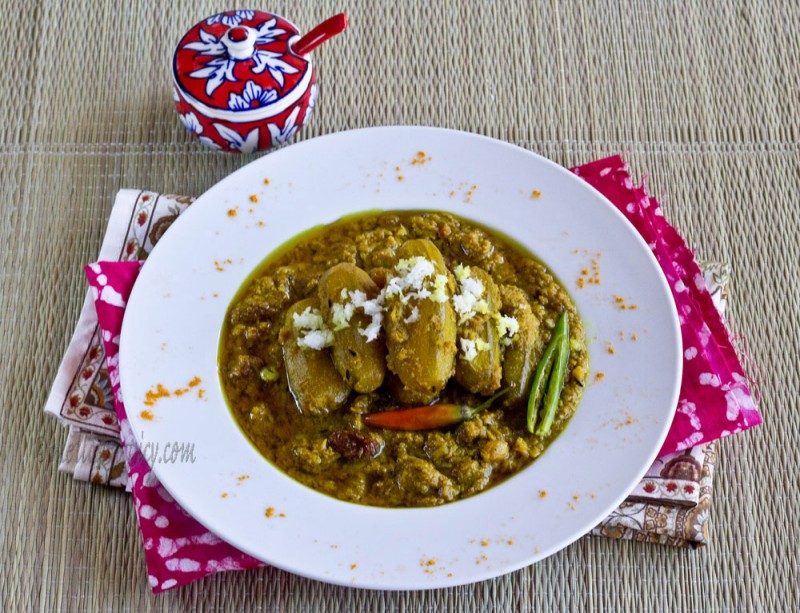 Narkel Potol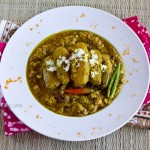 By Sonali Published: September 15, 2014
Yield:

4-6 Servings

Prep:

15 mins

Cook:

30 mins

Ready In:

45 mins
The gravy is thick and has a texture of coconut and is mild in taste. This recipe goes great with white rice or pulao
Ingredients
Instructions
Cut the ends of the potol and scrape the skin with a peeler. Smear a pinch of turmeric and salt and coat the vegetable well and set aside. Grate the coconut. Soak the raisins in a small bowl of water. In a small bowl add the turmeric powder, cumin powder, coriander powder ,red chilli powder and ginger paste. Add little water and mix the masala well until it forms a paste.
Heat 2 tablespoons of oil in a wok. If using mustard oil, wait till the oil reaches its smoking point. Reduce the heat and add the potol and fry them until lightly golden in color. Drain and set aside.
In the same wok, add the remaining oil and add the cumin seeds, bay leaves and wait till they splutter. Lower the heat and add the masala paste. Saute for couple of minutes and add the grated coconut. At this point you may add little water so that the masala do not burn. Add salt and sugar. Cook the masala for atleast 5-7 minutes or until the masala separates from the oil. Add 1 cup of water and bring the gravy to a boil. Gently add the fried potol and the soaked raisins to the gravy and let it come to a gentle boil. Reduce the heat to low, cover and let the potol cook for sometime; about 7 minutes. Check the doneness of the vegetable with the help of a fork.
Check for seasoning. The gravy should be a bit thick. Add the ghee and garam masala powder. Switch off the heat. Cover and let it stand for 5 minutes so that the flavors blend in well. Garnish with slit green chilies
Serve hot with white rice. Enjoy!
Tips:
If you are working with bigger size potol you may cut each one into half lengthwise. In Bengali cuisine Mustard oil is recommended but if you do not have, use any neutral oil.