The other day I made samosas at home and had some left overs and immediately I knew what to do. Chaat the very name makes me drool. The taste of the mildly spiced chana with papri or samosas, topped with yogurt, sweet and tangy chutney and fine sev transports me to another world. This is a very popular street food in India and each place has its own variation.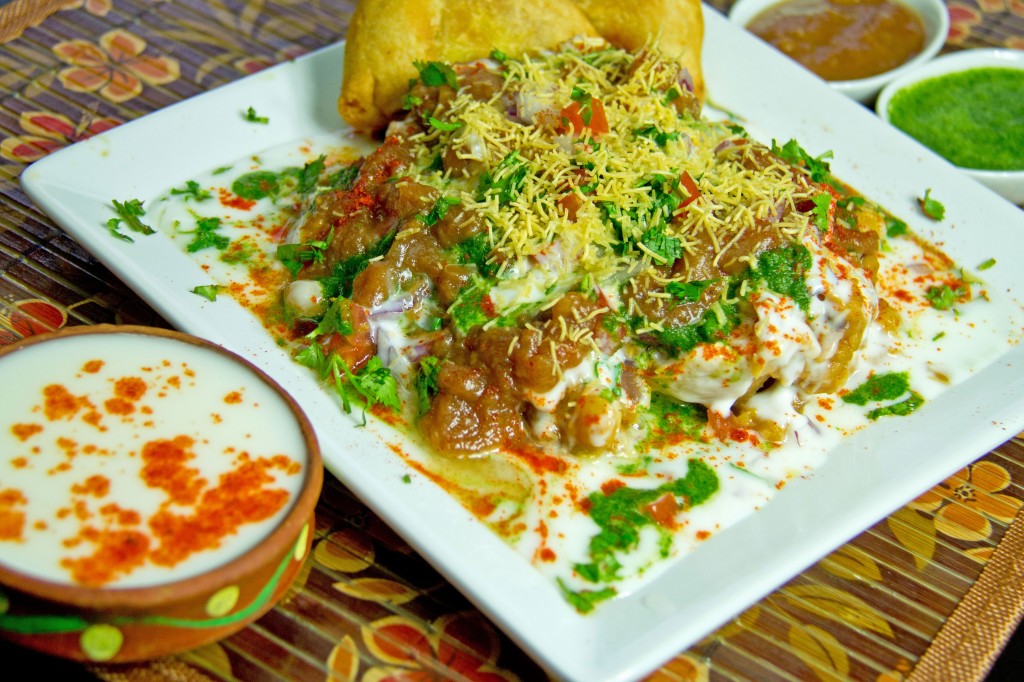 If you have some prep work done ahead then this lip-smacking snack can be the showstopper in any of your ladies potluck or kitty parties. This is my version of making samosa chaat.

Recipe: serves two persons
4 medium sized samosas(recipe here)
2 cups boiled yellow peas or garbanzo beans
2 teaspoon oil
1 small onion chopped
½ teaspoon each of ginger and garlic paste(optional)
Salt to taste
1 teaspoon turmeric powder
1teaspoon roasted cumin and dry chilli powder
For the garnish:
4 table spoon whisked yogurt seasoned with a pinch of salt
4 table spoons sweet date and tamarind chutney (recipe follows)
4 table spoons mint and coriander chutney (recipe follows)
¼ cup chopped tomato
¼ cup chopped onion
¼ cup chopped coriander
1 teaspoon chopped green chillies (optional)
1 pinches each of chaat masala and red Kashmiri mirch powder.
Sev for garnishing
For the sweet date and tamarind chutney:
½ cup tamarind pulp
2 tablespoon chopped date
1 small pinch of salt
4 tablespoon sugar
 ½ teaspoon roasted cumin and dry red chilli powder
4 tablespoons  water
For the mint-coriander chutney:
 1 bunch of washed coriander leaves
A handful of washed mint leaves
½ inch grated ginger
1 green chilli
1 pinch of salt
Few drops of freshly squeezed lemon juice
To make the chana, heat oil in a pan and add the chopped onions. Fry till it is light brown in color and add the ginger garlic paste if using. After sautéing for couple of minutes add the boiled yellow peas or garbanzo beans and add the dry spices one after the other. Add little water to get the right consistency and cook for couple of minutes. The chana should not be  dry.Keep aside.
For the sweet date and tamarind chutney, take a sauce pan and bring the water to a simmer..Add the tamarind pulp, chopped dates, sugar and salt. Bring the mixture to a boil. Cook for ten-twelve minutes in a medium heat. Check for sweetness and add more sugar if needed. Add the roasted cumin and dry red chilli powder. Cool the chutney.
For the green mint-coriander chutney, in a blender jar combine all the ingredients and blend with very little water to get a smooth paste. Mint-coriander chutney is ready.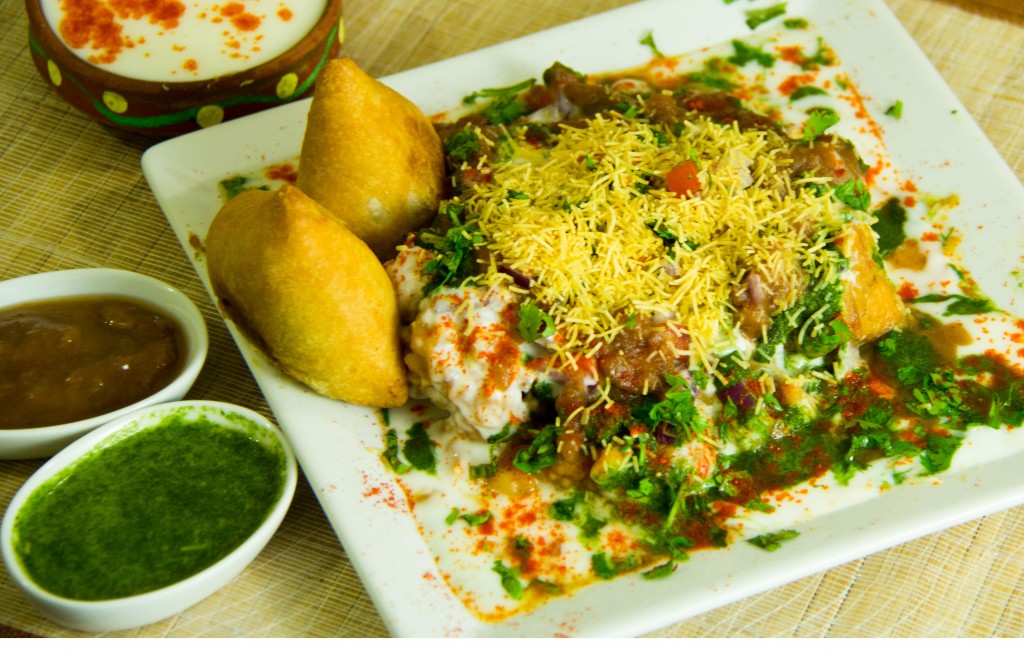 For plating the samosa chaat:
On a plate break two samosas into large chunks and add the chana mix over it.Now add the chopped onion, tomatoes and green chillies (if using). Add a pinch of chaat masala and red kashmiri mirch powder. Pour two table spoons each of whisked yogurt, sweet chutney and green chutney over it. Finally top with chopped coriander and sev.
Enjoy!
Tips
The sweet date chutney can be refrigerated for a month. The green chutney stays well for a week in the refrigerator. You can omit the red Kashmiri mirch powder but it gives a bright red color to the dish making it more colorful. The chana mix, samosas, chutneys can be made a day ahead. It is a filling food and can be had as a meal by itself.
 Sending this to:  Zizi's adventures for this month's monthly mingle theme 'streetfood', originally hosted by Meeta.