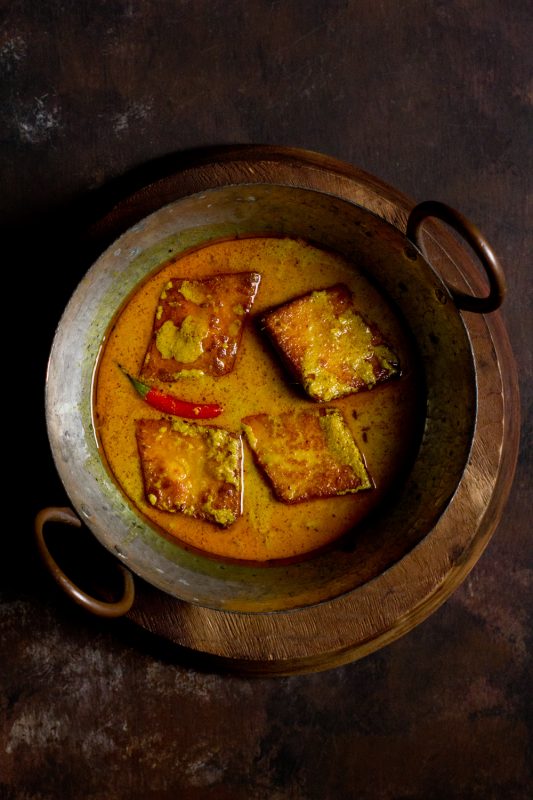 There are some days during the Durga Puja, the fish loving Bengalis eat a complete vegetarian meal. Ashtami is a day when special Bhog is offered to Maa Durga. After Ashtami puja and pushpanjali, people indulge in khichuri bhog and vegetarian sides with it during the day.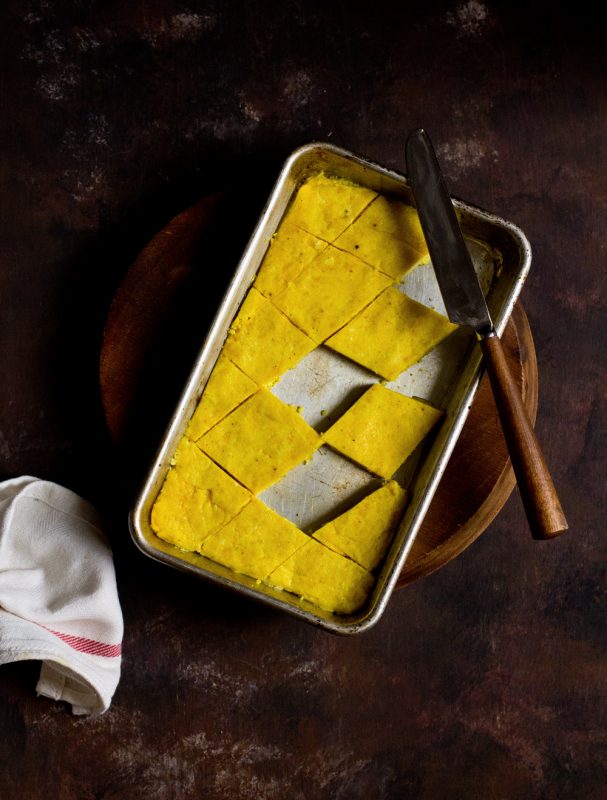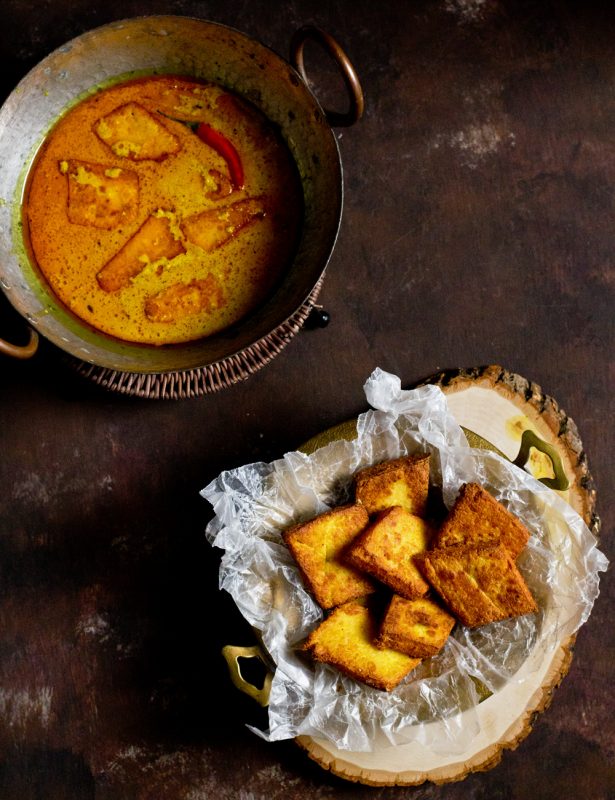 Some have a tradition of eating only luchi on this day, be it lunch or dinner. We do not have such tradition but love to eat a vegetarian meal on Ashtami.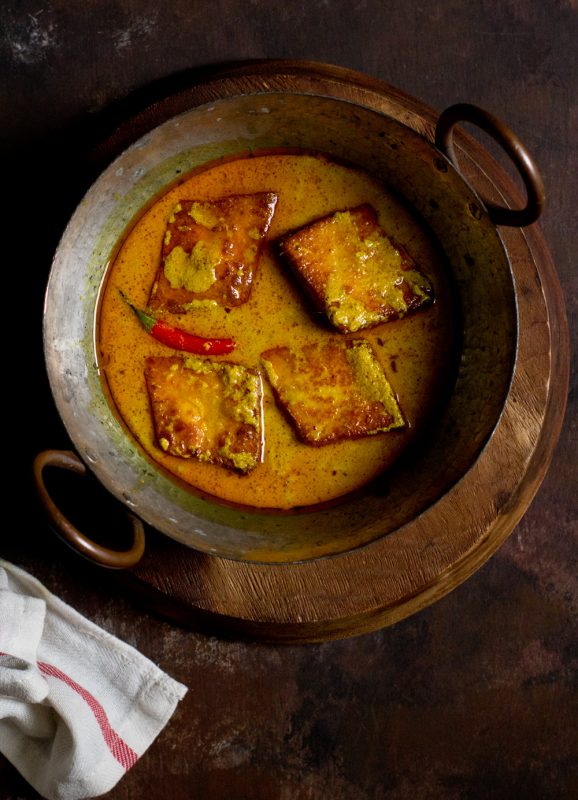 In Bengali cuisine, there are variety of vegetarian recipes, but when it comes to special menu chhana or paneer rules. It is a versatile ingredient for any recipe. Bengali Chhanar dalna and chhanar kaliya is very common in a Bong kitchen. Another common and special recipe in Bong cuisine is dhokar dalna where the cholar dal is ground into a paste, cooked with few seasonings, shaped like a cake and then cut into diamond shapes. The dhoka (lentil cake) is then fried and added to a curry.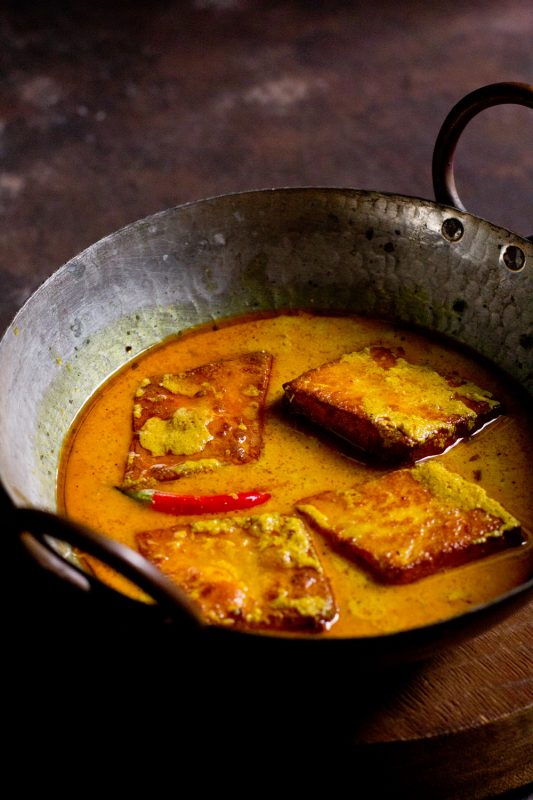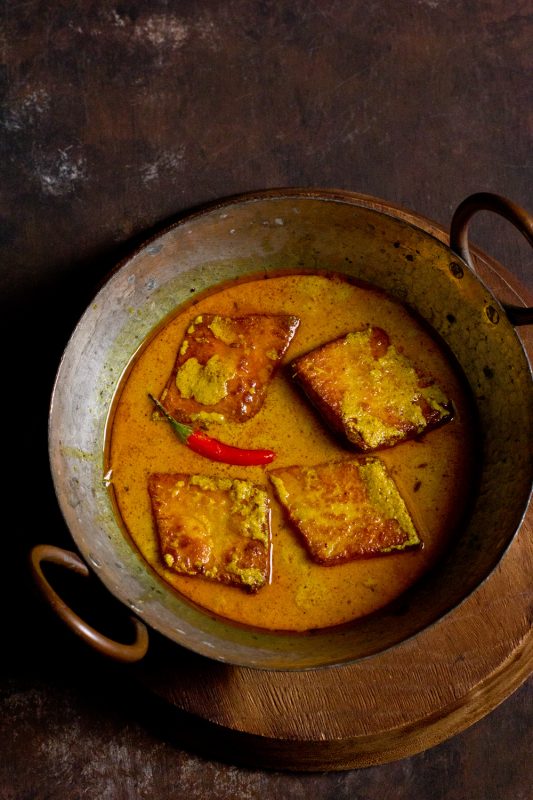 I made a fusion of these two recipes and created a new recipe that is Chhanar Dhoka. I am so happy with the results and this recipe has been a go to recipe whenever I cook a vegetarian meal.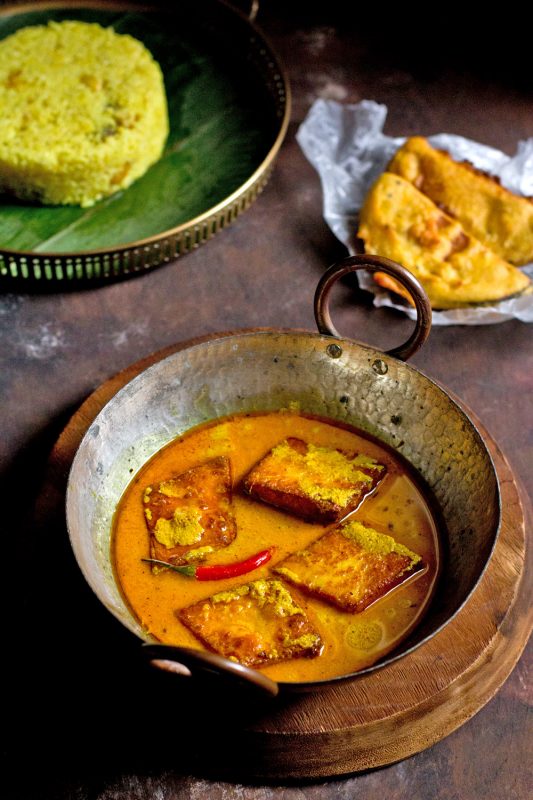 The process is same as the regular dhokar dalna but tastes even better. My husband is not a big fan of dhoka because of the dal whereas I love dhokar dalna. It is a win for both of us.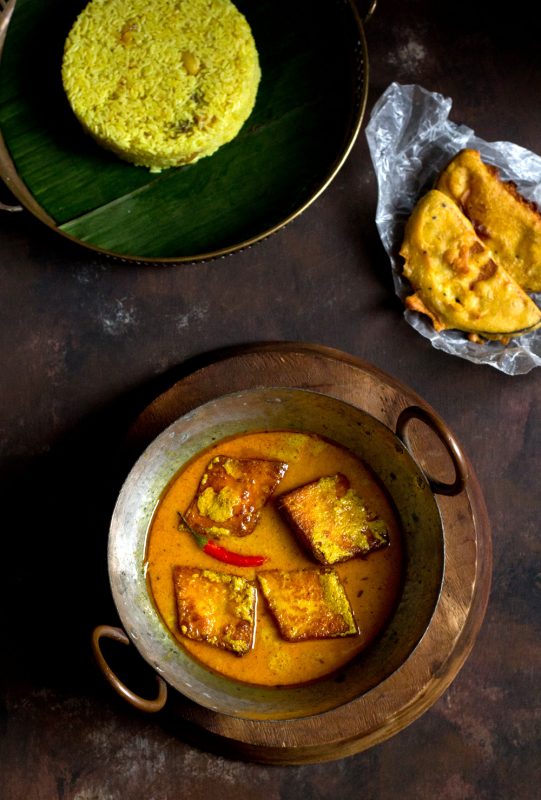 Give this recipe a try if want to try something new. The chhanar dhoka tastes great with luchi, pulao, fried rice or even with steamed rice.
Subho Maha Ashtami to all who are celebrating!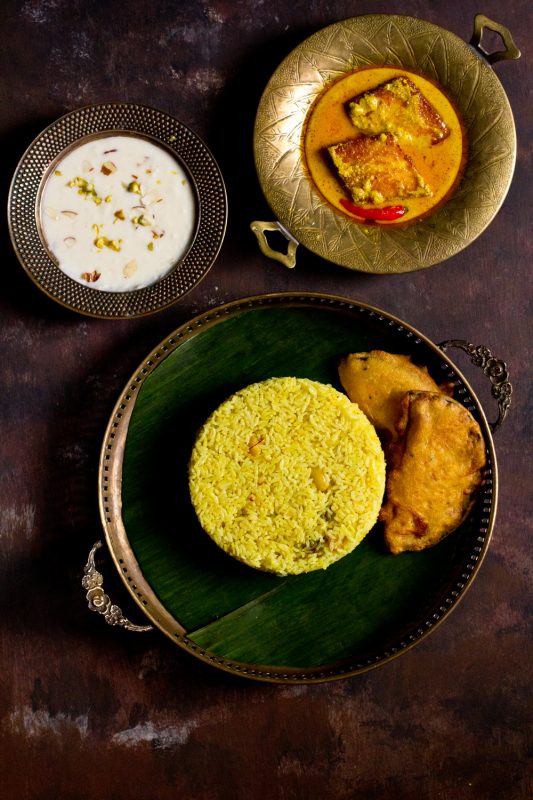 Tips:
Do not overcook the chhena. Switch off the flame and immediately transfer to the greased plate. If needed you may add 1-2 tablespoons of corn flour to the chhena mixture. You may transfer the plate in the refrigerator to set well before cutting. You may make any curry of your choice and add the fried chhanar dhoka to the gravy.
You may follow our Facebook page, Instagram and Pinterest for regular updates. If you recreate any recipe from Mellownspicy then don't forget to send us a picture of the finished recipe or tag us at #mellownspicy. Thank You!
For more Durga Puja Recipes click here!
How to Make Chhana diye Dhokar dalna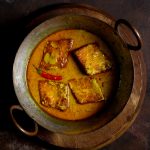 By Sonali Published: September 28, 2017
Yield:

4 Servings

Prep:

30 mins

Cook:

20 mins

Ready In:

1 hr 30 mins
A new Bengali fusion recipe which goes great with any Indian bread and rice preparation.
Ingredients
Instructions
Heat milk and let it come to a boil. Add the vinegar and let the milk curdle. Drain the curdled milk on a strainer lined with a cheese cloth. Wash the chhena in cold water and drain well. Tie the ends of the cheese cloth and hang for 30 minutes so that all the water is drained off.
After 30 minutes, take the chhena out of the cloth and transfer to a plate. Mash the chhena well with the palm of your hand for 2-3 minutes or until the chhana is smooth and soft.
Heat 1 tablespoon oil in a pan and add 1 tablespoon ginger and 1 teaspoon chili paste and cook for 1 minute. Add 1/2 teaspoon turmeric powder, 1 teaspoon salt and mix well. Add the mashed chhena to it and mix well. Cook at medium low flame until the chenna starts to leave the sides of the pan and forms a lump. Transfer immediately to a greased tray or a plate and pat on top to spread. Smoothen the top and let it rest for 15 minutes.
Meanwhile make a smooth paste of the charmagaz and keep aside. In a bowl add the remaining salt, turmeric powder, red chili powder, remaining ginger and chili paste, coriander and cumin powder. Add 2 tablespoons of water and make a paste of it. Keep aside.
After resting for 15 minutes, cut the dhoka with a sharp knife in diamond shapes. Heat 1/4 cup oil in a kadai and fry the dhoka pieces in batches until light golden brown in color. Drain and transfer to a plate lined with kitchen towel. Repeat with rest of the dhoka.
Take a separate kadai and heat the remaining 2 tablespoons of oil. Add the bay leaf and whole cumin seeds and let it splutter. Add the paste and cook for 2-3 minutes at medium heat. Add water if needed. Add the charmagaz paste and mix well. Whisk the yogurt with little water and add to the kadai. Mix well. Cook until oil starts to separate from the masala. Add sugar and 1 cup of water or as needed. Add water according to the consistency of the gravy. Let it come to a boil. Lower the heat to low, cover and let it cook for 3-5 minutes. Check for seasonings and adjust if needed. Add the fried dhoka pieces and let it cook for 2-3 minutes so that the dhokas can absorb some of the gravy. Switch off the flame and add slit green chilies, ghee and the garam masala powder. Give a light mix and cover for 5 minutes before serving.
Serve with luchi, polau or plain steamed rice. Enjoy!