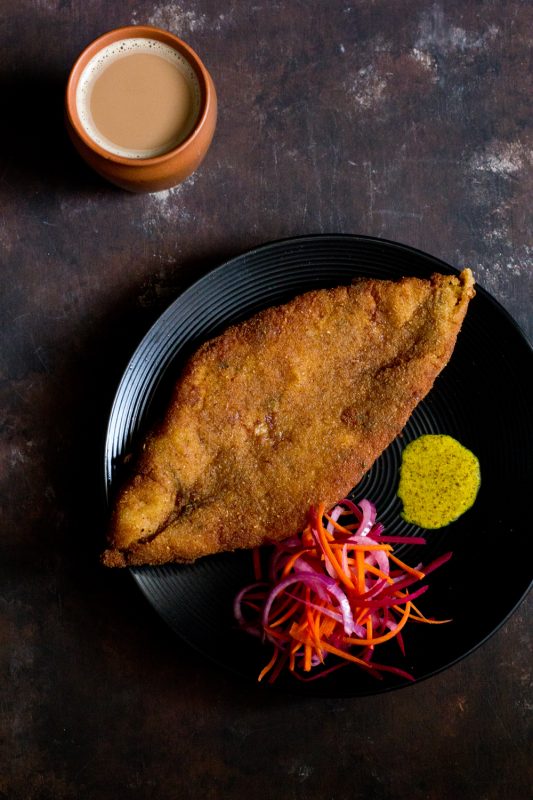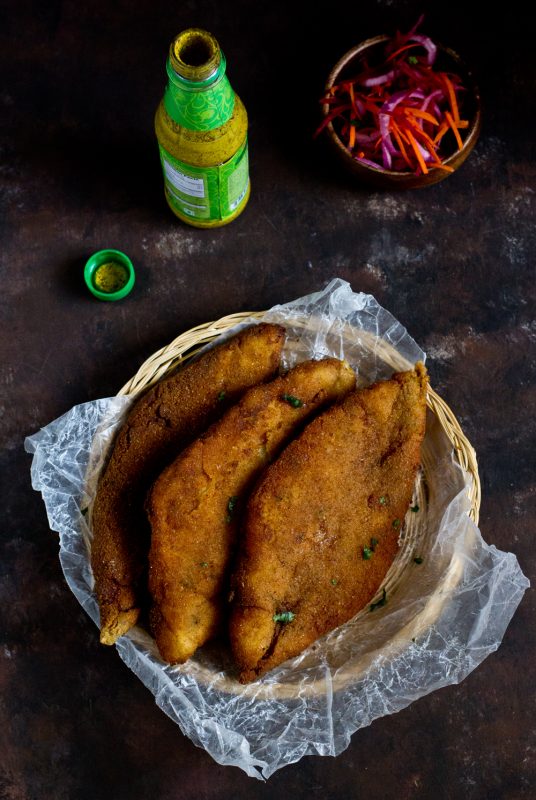 Officially the Durga Puja starts in three days but with the buzzing enthusiasm and anticipation of the people, nowadays the puja starts right after Mahalaya. The high-end Puja mandaps are inaugurated by the celebrities and are then open to all. To avoid the maddening crowd during the five days of the puja, people start pandal hopping from Chaturthi!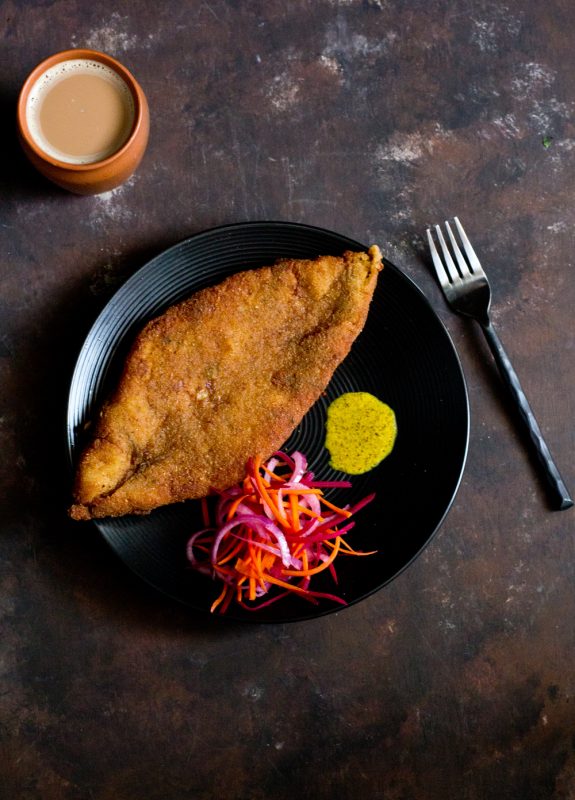 From pandal hopping to grubbing food on the go, the festivals days are so much fun! The roadside food stalls work round the clock to cater to the people even at the middle of the night.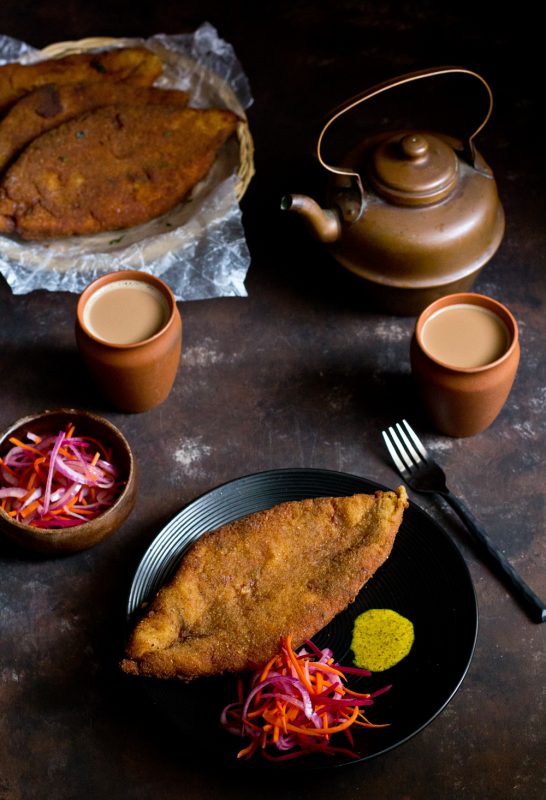 Bengalis love snacks as much as they love sweets. North Kolkata has a few legendary snack shops that have been catering to the snack loving people for years. New restaurants have come up too that specialize in Bengali cuisine. Bhajahari Manna is one such restaurant that has been immensely popular for their authentic Bengali cuisine. There are also some recipes that are their trade mark in which they made few changes to come up with a new recipe. 
Bhetki Rongpuri is such a recipe where the Kolkata style fish fry has a slight makeover.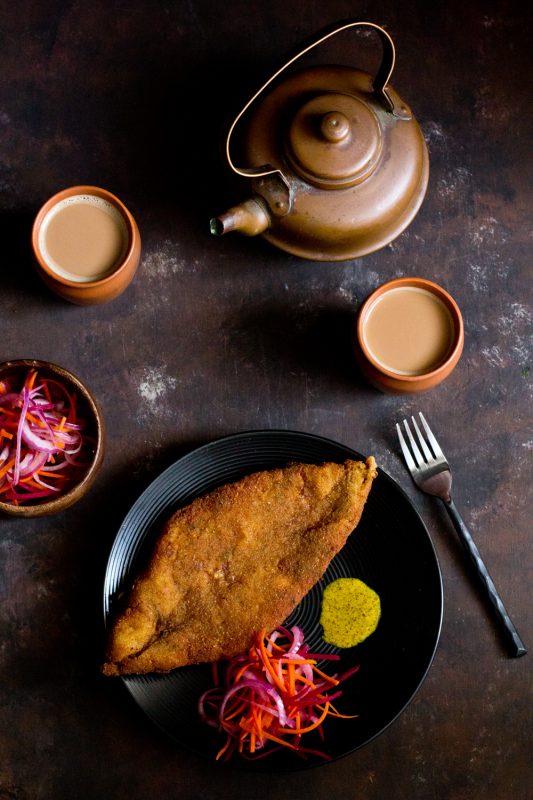 What makes the Bhetki Rongpuri different than the regular Bengali fish fry is the kashundi that is added in the marinade. This gives a sharp pungent taste to the fish fry.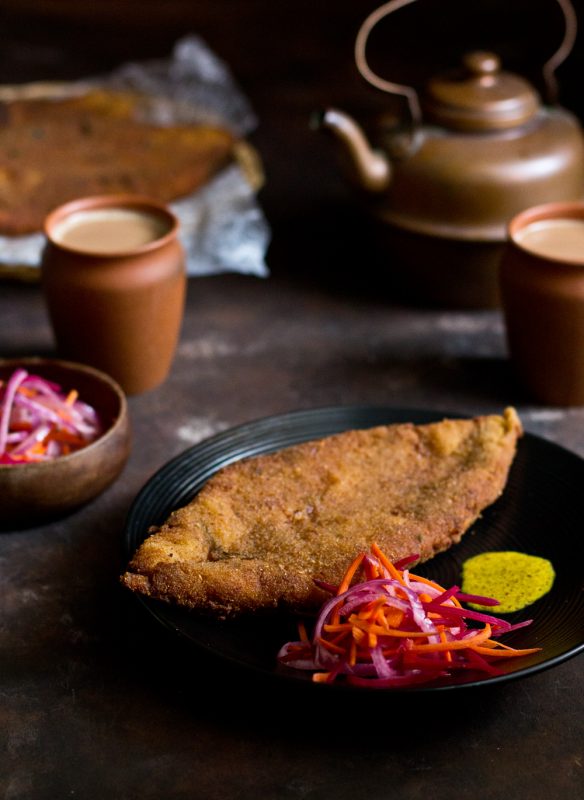 Here is the recipe that I often make when I have guests over to my place. The recipe is simple yet sure to win hearts! if your are not in a hurry, sit back and enjoy the crispy fried fish with kashundi, salad and  a cup of tea!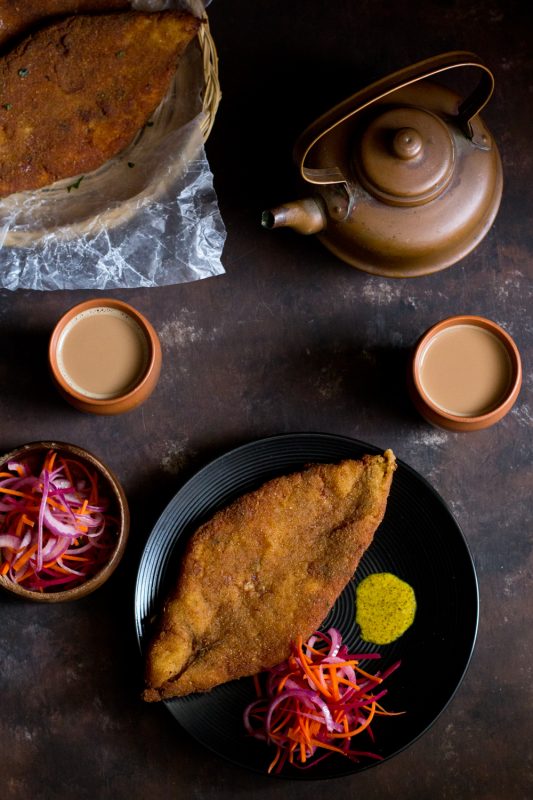 Tips:
You may add lemon juice in place of vinegar. You may crumb coat the fish two times to give a thick coating to the fish. The crumb coated fillet can be stored in the freezer for a month and fried directly as and when required. The cooking time will increase in that case.
You may follow our Facebook page, Instagram and Pinterest for regular updates. If you recreate any recipe from Mellownspicy then don't forget to send us a picture of the finished recipe or tag us at #mellownspicy. Thank You!
For more Durga Puja Recipes click here!
How to make kolkata style fish fry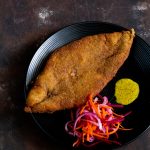 By Sonali Published: September 23, 2017
Yield:

4 Servings

Prep:

30 mins

Cook:

20 mins

Ready In:

2 hrs 20 mins
Crispy fried fish with a tangy sharp taste makes a perfect accompaniment with a cup of evening tea!
Ingredients
Instructions
Wash and pat dry the fillets. Cut into diamond shapes and transfer to a large bowl. Add the ginger-garlic paste, vinegar, salt, black pepper powder, chopped cilantro and green chilies and mix well. Cover and set aside for at least an hour or overnight in the refrigerator.
Add the beaten eggs and all purpose flour to the marination and mix well. Place the breadcrumbs on a plate. Take one fillet and place on the breadcrumbs and coat evenly from all sides with your hand. Try to give it a shape with a knife. Place on a plate lined with wax paper. Repeat with rest of the fillets.
Transfer the crumbed fillets in the refrigerator for at least 30 minutes to set.
Heat oil in a large frying pan with high sides. Carefully take a crumbed fillet at a time and drop onto the hot oil. Fry each side at medium heat, for 3-4 minutes or until golden brown in color.
Transfer to a plate lined with paper towels so that the excess oil is absorbed.
Serve bhetki rongpuri hot with kashundi, ketchup and salad on the side. Enjoy!