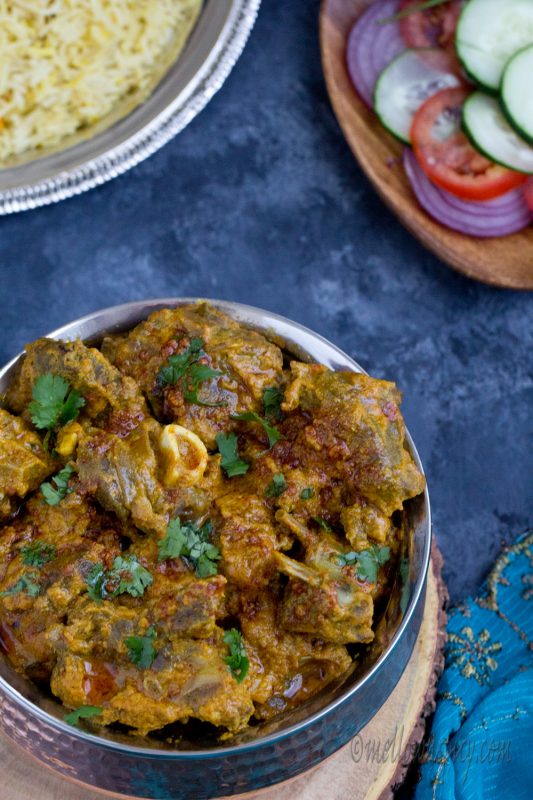 Today is the third day of the four days long festival. This time it has rained in Kolkata during the pujas but that did not dampen the spirit of the pandal hoppers. People wait for this festival all year long, to showcase their best outfits, to pandal hop and to grub on the best food. This time we too had a great time even though away from home. We drove to Northern California, Bay Area to meet our friends and had so much fun there. There were quite a few puja committees organizing pujas so we too had a chance to pandal hop and eat delicious food from the food stalls.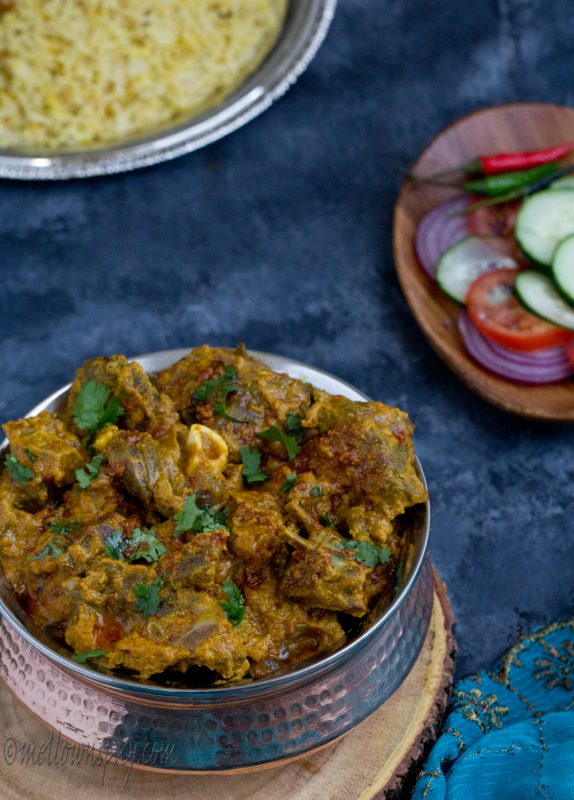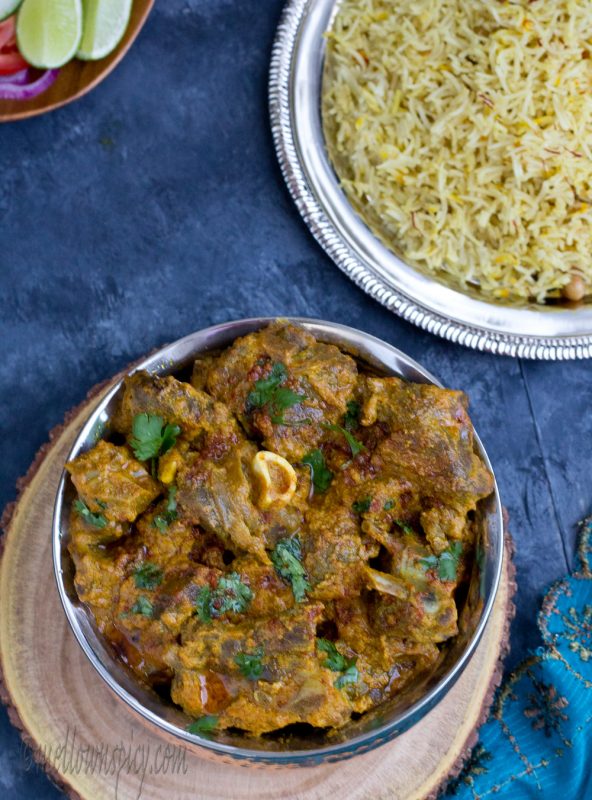 As we all know festivals and celebrations revolve around food and for the Bongs, they cannot do without meat. There has to be a good share of non-vegetarian food to satisfy their palate and to top the list is mutton. Bengalis love to indulge in mutton dishes.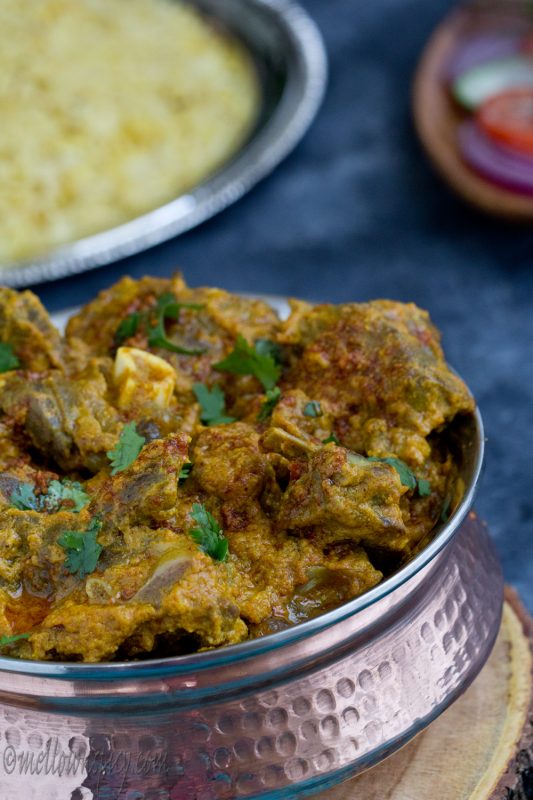 This Mutton Handi recipe is not a typical Bengali recipe but it has now become part of the menu in many restaurants in Kolkata and a very popular one too. While looking for the recipe, I found there are various ways of preparing it but this recipe is quite similar to the one I tasted in my last visit.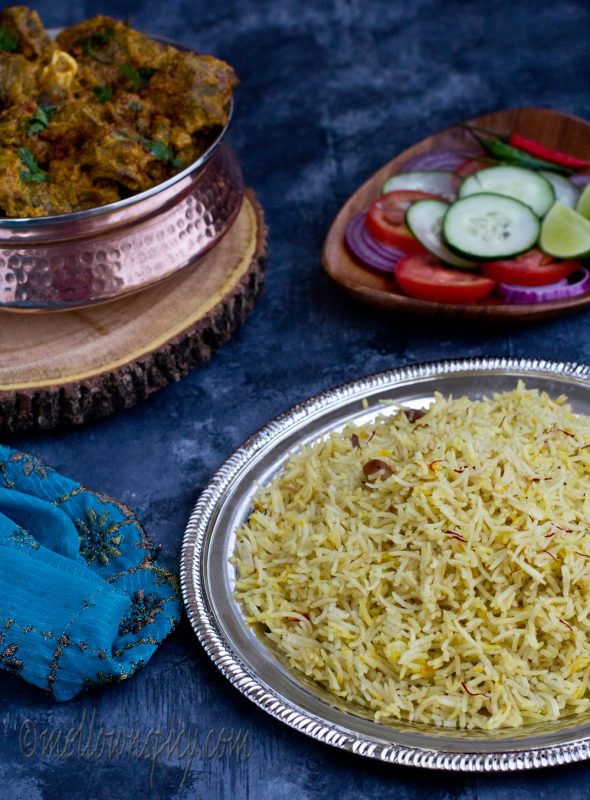 As the name suggests, the whole cooking is done in a pot or handi. Although this process takes longer to cook the meat, the flavor and the juices that is released while cooking in a closed pot gets trapped in, resulting in a most flavorful dish. If you cook in a clay pot, then the flavor comes out even better. Mutton handi is a flavorful mutton dish with rich and creamy gravy and succulent mutton pieces. Goes great with  pulao, zafrani pulao, vegetable fried rice or naan.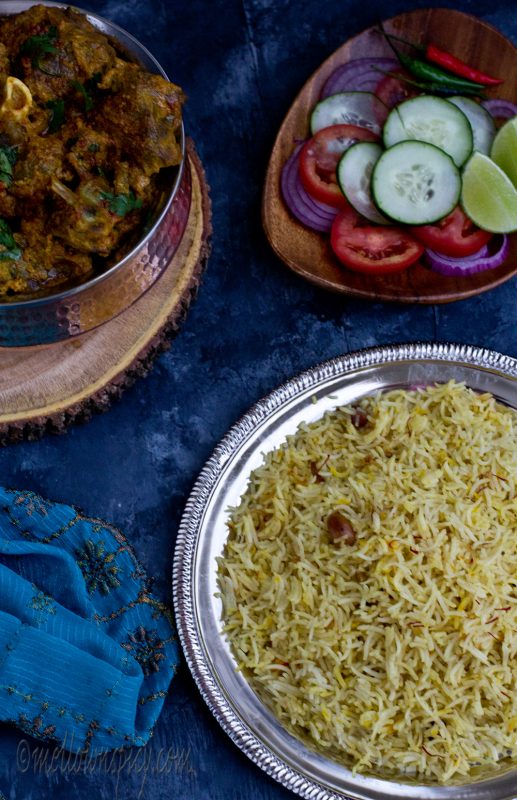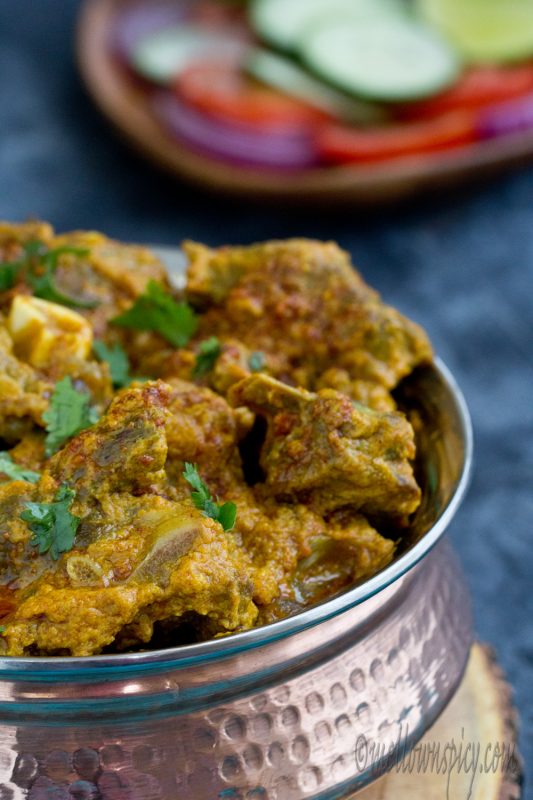 Tips:
To ease up the process of cooking, you may pressure cook the meat first until two whistles and then follow the recipe. This way the cooking time will be reduced. Make sure to use a heavy bottomed pot to cook the meat.
You may follow our Facebook page, Instagram and Pinterest for regular updates. If you recreate any recipe from Mellownspicy then don't forget to send us a picture of the finished recipe or tag us at #mellownspicy. Thank You!
How to Make Mutton Handi or Handi Mutton Recipe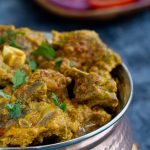 By Sonali Published: October 10, 2016
Yield:

4 Servings

Prep:

20 mins

Cook:

60 mins

Ready In:

1 hr 20 mins
Mutton handi is a flavorful mutton dish with rich and creamy gravy and succulent mutton pieces. Goes great with zafrani pulao, fried rice or naan.
Ingredients
Instructions
Make a paste of onion, ginger and garlic. Keep aside. Blend the tomato in a blender to make a smooth puree. Drain the cashews and charmagaz seeds and make a fine paste with two tablespoons of water. Keep aside. Whisk the yogurt and keep aside. Wash the mutton pieces and pat it dry. Marinade with some turmeric and salt and set aside.
Heat oil in a handi and add the whole garam masala. Let it splutter for few seconds and then add the onion and ginger-garlic paste. Cook the spice paste in oil for 2-3 minutes or until the raw smell is no more. Add the tomato puree, remaining turmeric and salt, coriander-cumin powder, kashmiri red chili power and continue to cook until the oil separates from the spices.
Add the mutton pieces and cook at high heat so that the pieces are well seared. Lower the heat at medium and add the cashew- charmagaz paste. Continue to cook. You may add couple of tablespoons of water to prevent the masala from burning. Add the whisked yogurt and mix well with the meat. Lower the heat and cover the pot with a lid. Let it cook for 20-25 minutes. The meat will release juices and cook in it.
Check the meat for doneness. If it is not cooked through, cook further for additional 8-10 minutes. When the meat is done check for seasoning. Adjust accordingly. This recipe has a thick gravy but you may add water according the consistency you want. Add the garam masala powder and mix well. Switch off the heat.
You may serve in the same handi you cooked or transfer to a serving bowl or pot. Garnish with chopped cilantro/ coriander leaves.
Serve handi mutton piping hot with zafrani pulao, fried rice, pulao or naan and salad on the side. Enjoy!