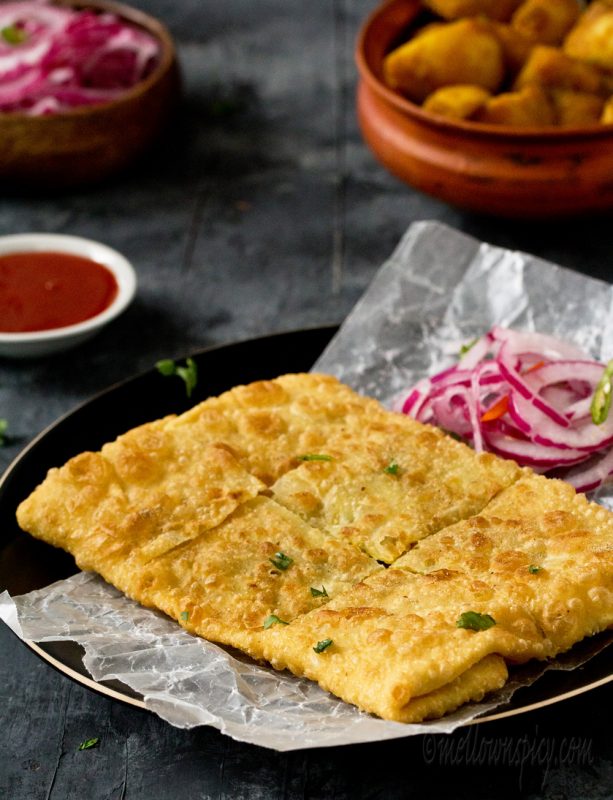 Just like sweets, Bengalis love their snacks too. There are so many age old snacks shops in Kolkata, particularly in North Kolkata which are famous for serving snacks for generations. Some of them are renowned for any particular snacks like Mitra Café for Chingri Cutlet and Fish Roll, Dilkhusha is famous for Kabiraji Cutlet and Anadi Cabin is known for Mughlai Paratha! Kolkata people vouch for these names and never miss a chance to indulge whenever they are in town.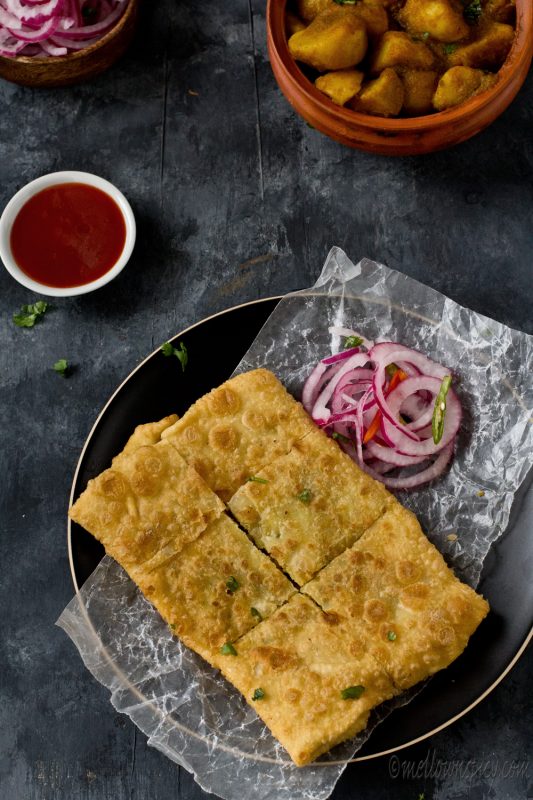 Miles away from home, sometimes I really miss these special treats and wait eagerly for the time to be at home. In my last visit to Kolkata I had it in my to do list that I have to have this moglai paratha aka mughlai paratha at least once before returning back. We had an adda session with friends at our home and ordered moglai from our neighborhood snacks center. After the first bite I realized how much I missed it. The paratha was perfectly made, deep fried, crispy with a stuffing of chicken and egg inside. It came with a spicy aloor torkari or curry which was to die for. The moghlai is not complete without the spicy potato curry and ketchup. It was too good!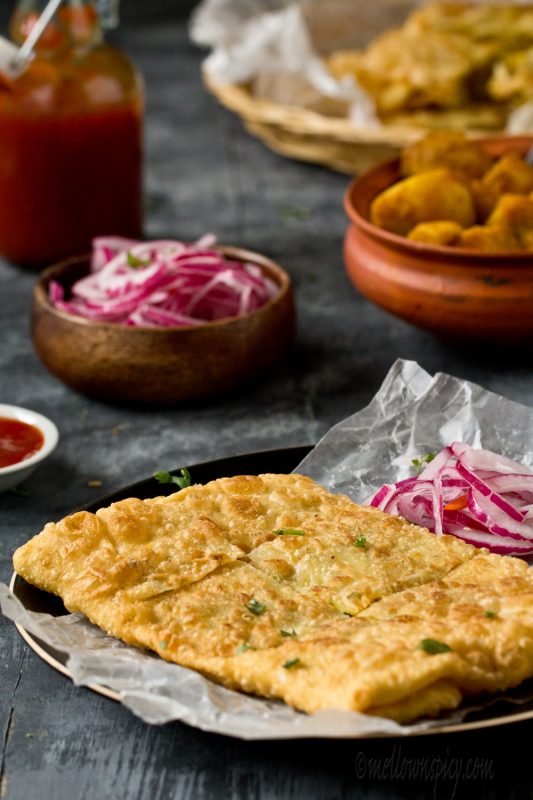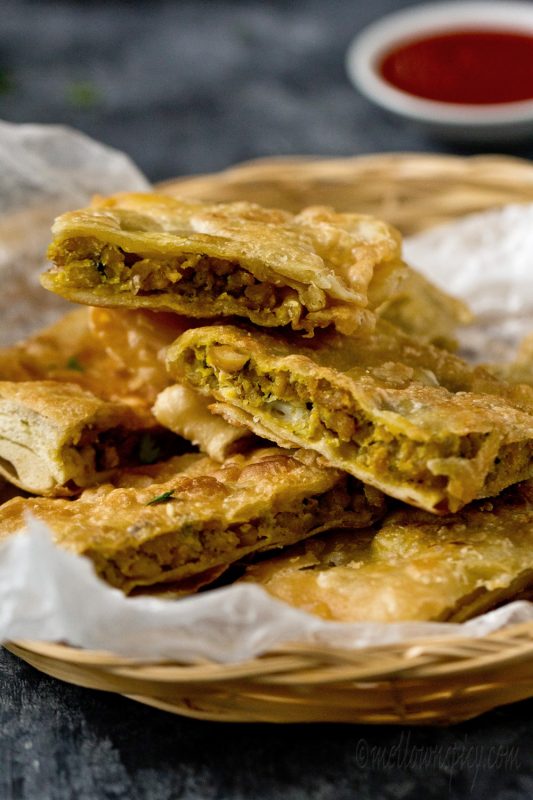 I have made moghlai at home several times before but without the spicy curry. This time I observed closely while tasting, and tried making at home and it came out pretty close. I will share the spicy potato curry recipe in my next post but today I would love to share the recipe of the famous mughlai paratha with you all.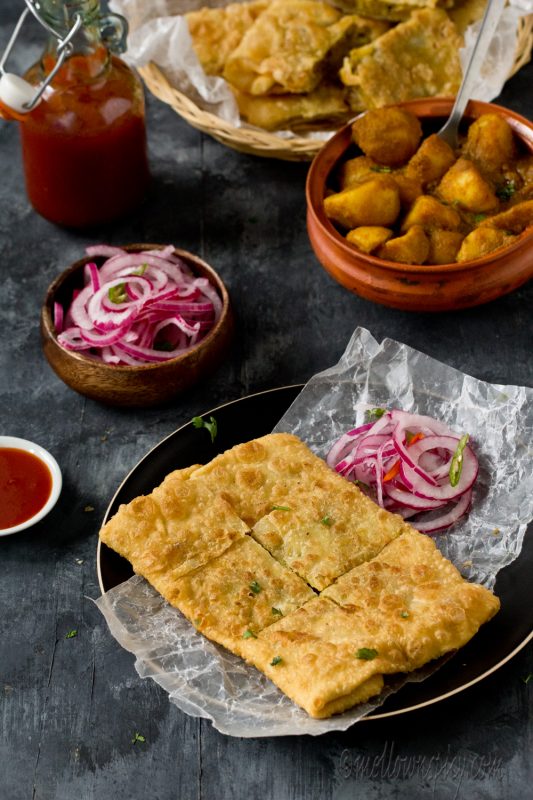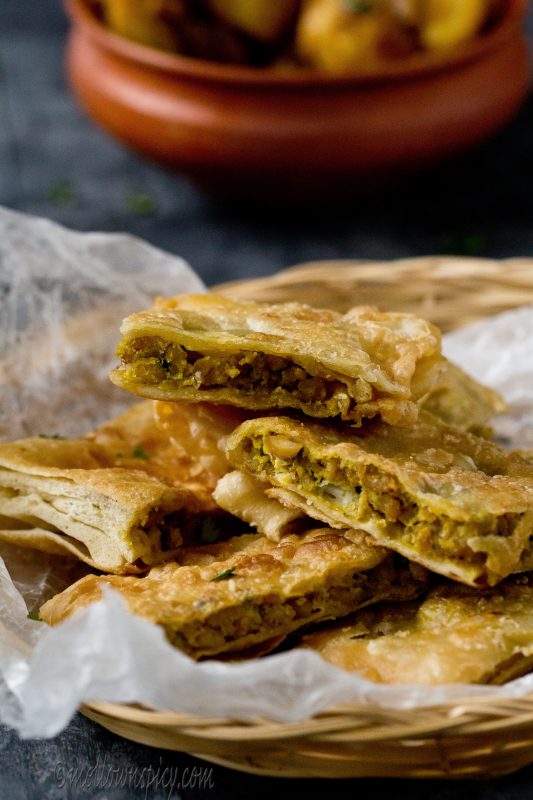 Mughlai Paratha is a stuffed paratha with eggs in it. It is quite popular as a street food in Bengal, especially in Kolkata. The stuffing can be of minced chicken, mutton or just plain egg.
There are three steps to make the mughlai paratha. First you need to make the stuffing, second to knead the dough and finally the spicy potato curry that is served along with the paratha. To make things easier, you may prepare the stuffing and the potato curry a day ahead. The making of these delicious parathas may seem a bit intimidating, but if you plan ahead then it is not that hard. Try making at your kitchen if you are miles away from home. I am sure you'll love it. The recipe is quite close to the ones you get at the snack shops in Kolkata.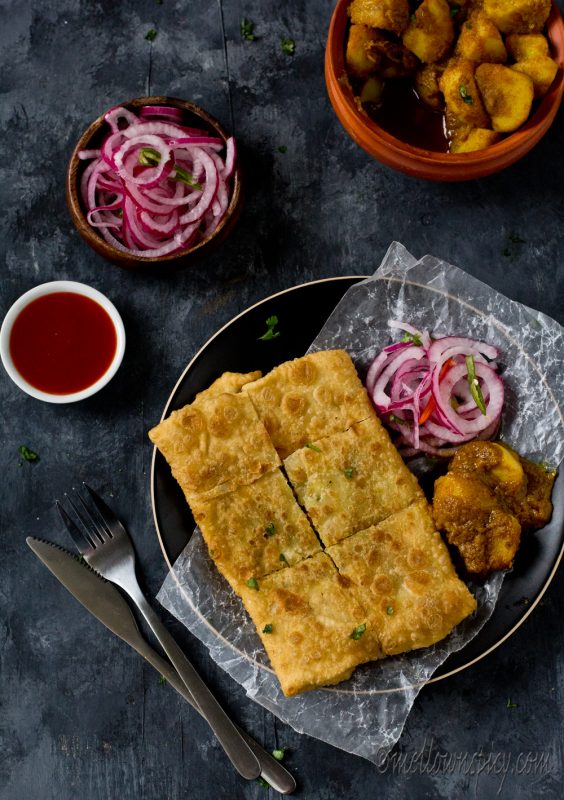 Tips:
You can make the stuffing without the chicken or mutton. Just follow the same recipe and omit the meat. The crushed peanuts in the recipe is optional, the one I tasted had peanuts in it. Roll the paratha according to the size of the pan in which you'll be frying. Be very careful while transferring the stuffed paratha in the hot oil. Fry at medium heat so that the paratha is cooked from inside.
You may follow our Facebook page, Instagram and Pinterest for regular updates. If you recreate any recipe from Mellownspicy then don't forget to send us a picture of the finished recipe or tag us at #mellownspicy. Thank You!
How to Make Mughlai Paratha or Moglai Porota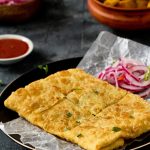 By Sonali Published: October 4, 2016
Yield:

4 Servings

Prep:

45 mins

Cook:

30 mins

Ready In:

1 hr 15 mins
Mughali paratha is a crispy paratha stuffed with minced chicken and egg and served with spicy potato curry and ketchup. Yum!
Ingredients
Instructions
First make the stuffing. Heat oil in a kadai or pan and add the chopped onions and saute for couple of minutes. Add the finely chopped ginger and garlic and cook for 2-3 minutes at medium heat. Add the salt, chili powder and mix well. Now add the minced chicken and mix well with the spices. Cook for couple of minutes and then add the vinegar if using and 3-4 tablespoons of water. Mix well and cover for 5-7 minutes at medium heat.
By this time the chicken will be cooked through. Add the black pepper powder, minced green chilies and mix well. Turn the heat at medium high and continue to cook until the stuffing is dry. To speed up the process add the breadcrumbs. Mix well. Finally add the crushed peanuts. Taste for seasonings and adjust accordingly. Switch off the flame and transfer to a bowl to let it cool completely.
While the stuffing is cooling completely, make the dough. In a large bowl, mix together flour, salt, sugar, baking soda and oil. Mix well and then gradually add water and knead to a smooth stiff dough. Cover the bowl and let it rest for 15-20 minutes. Lightly beat the eggs and set aside.
Heat the oil for frying at medium. Use a frying pan with high sides. Divide the dough into 4 portions and roll each portion into a smooth ball. Take one dough ball and start to roll on a lightly floured kitchen counter. Try rolling it thin and even from all sides. Make sure the rolled dough doesn't stick to the rolled surface.
When the dough is rolled quite big and thin, fold half of the two sides of the dough from the sides. Add couple of tablespoons of the chicken stuffing and 2-3 tablespoons of beaten egg in the center. Immediately fold the sides from the top and bottom and seal from all sides. Carefully lift the stuffed paratha and drop it into the heated oil.
Deep fry the paratha at medium heat until it turns golden brown in color. Drain and transfer to a plate lined with kitchen towel. Repeat with the rest of the dough. Cut into squares, sprinkle some chaat masala and transfer to a serving platter.
Serve hot with alur torkari (spicy potato curry), salad and ketchup. Enjoy!