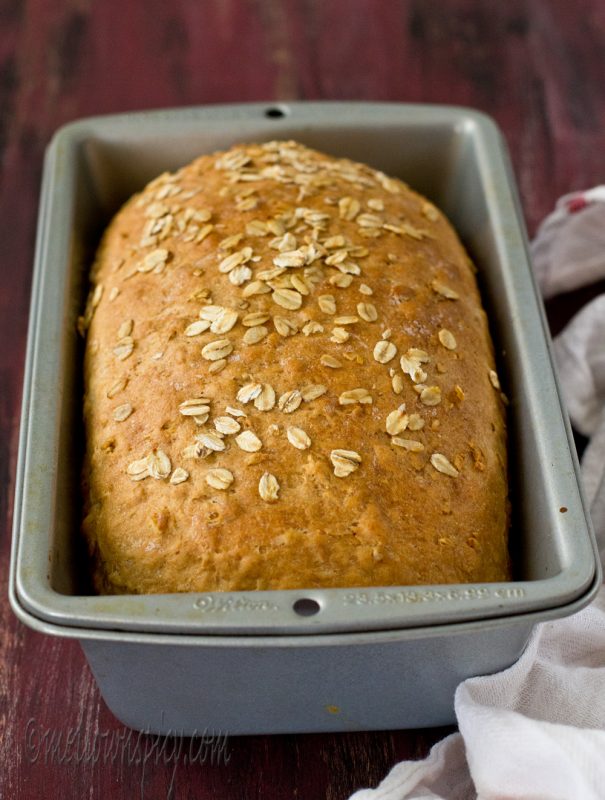 This Honey and Oats Bread is our family favorite! I have been baking this bread for years now and it has become our staple for breakfast as toasts and weekday lunch for sandwiches. I have to have a batch ready at the beginning of the week to make my work easy. When I have a freshly baked loaf sitting on my kitchen counter I am a happy soul!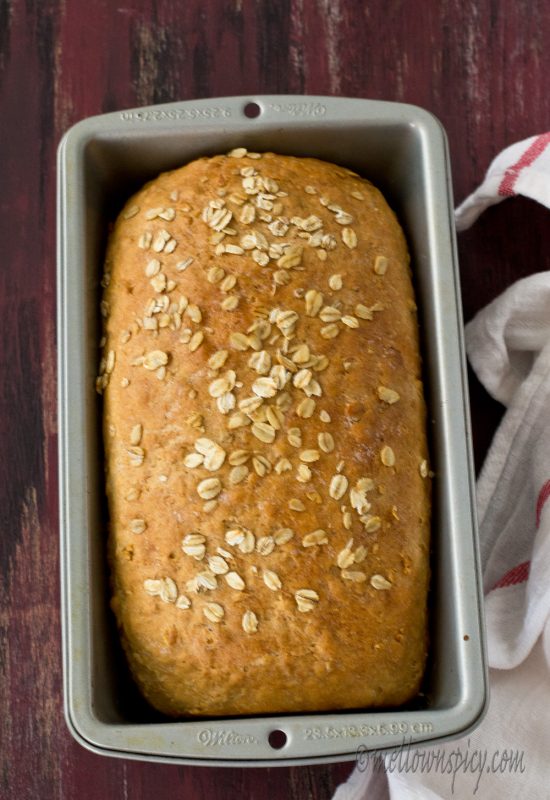 Initially I followed the recipe from KAF but over the years have tweaked to suit my needs. This loaf is quite easy to bake and do not require extra skill for bread baking. In fact, this was one of the go to bread recipes during my initial days of bread baking. I like to use a combination of whole wheat flour and all-purpose flour. The depth of flavor that whole wheat flour imparts compliments the flavor of honey and oats.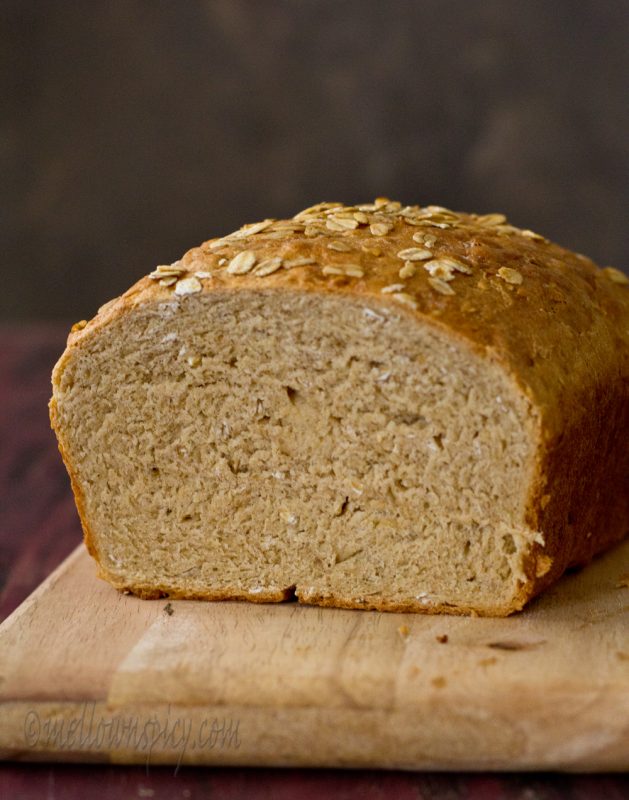 The bread comes out soft and fluffy and tastes great with butter and is perfect for sandwiches. The honey gives a sweet note and oats add extra fiber to the bread. The honey and addition of sugar does not make the bread too sweet. The taste is just perfect! The dough is quite easy to work with. It is not too sticky so it is easy to roll and shape. The recipe is hassle free and within a few hours you will get a freshly baked homemade bread! So why wait? Bake a fresh loaf of bread today!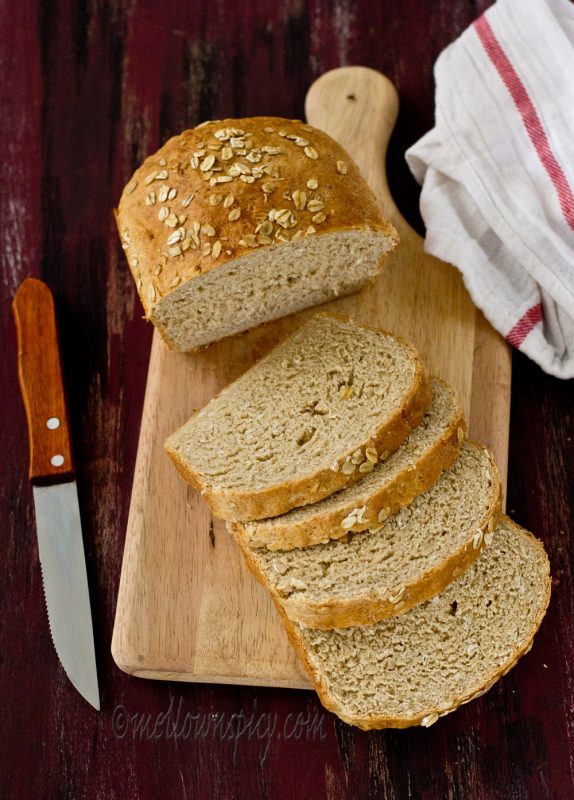 Tips:
Cut the bread once it is cooled completely. Store the leftover bread in an airtight container for 2-3 days in a cool place. The bread freezes well too.
You may follow our Facebook page, Instagram and Pinterest for regular updates. Thank You!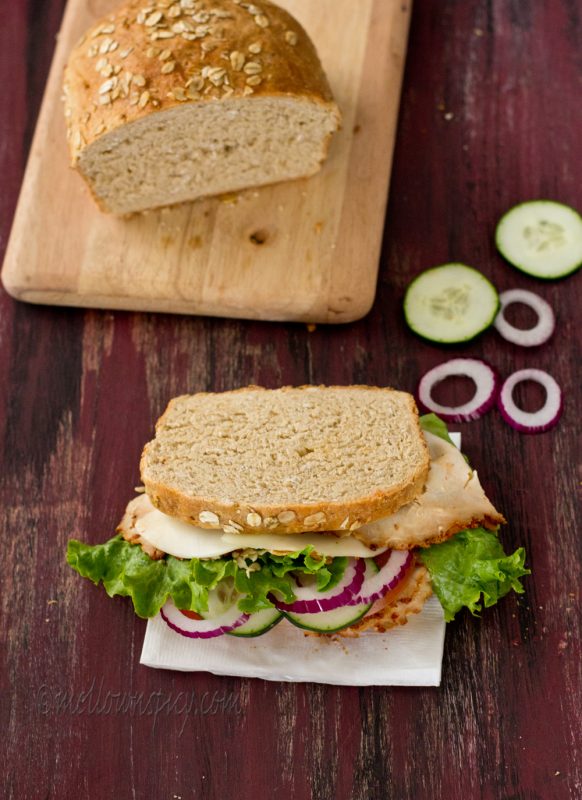 Honey and Oats Sandwich Bread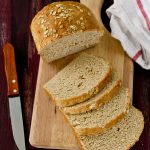 By Sonali Published: June 11, 2016
Yield:

1 loaf

Prep:

15 mins

Cook:

25-30 mins

Ready In:

1 hr 10 mins
The bread comes out soft and fluffy and tastes great with butter and is perfect for sandwiches.The whole wheat flour gives a depth of flavor to the bread.
Ingredients
Instructions
In a large bowl whisk together the all purpose flour, whole wheat flour, oats and salt and set aside. In another small bowl add the active dry yeast and sugar and pour over the warm water, mix well and set aside for the yeast to activate.
When the yeast mixture is frothy and bubbly, add to the flour mixture. Add the melted butter and honey and combine with a wooden spoon to form a rough dough.
Transfer the dough onto a lightly floured surface and knead for 5-7 minutes or until the dough is soft and springs back when touched. The dough should not be too sticky. If it feels sticky you may add a tablespoon of flour and knead well.
Shape the dough into a smooth ball and lightly coat with oil, place it on a large bowl and cover with a kitchen towel and keep aside at a warm place. Let the dough rise for about 1- 11/2 hours or until doubled in size.
When the dough is doubled in size, transfer onto a lightly floured surface. Lightly press to get rid of the gas and start to roll tightly to form a 9" log. Tuck the ends and transfer onto a greased 9X5 loaf pan. Gently press the top to flatten. Cover the pan with a clean kitchen towel and let it rise for 40-45 minutes at a warm place.
Towards the end of the rising, pre-heat the oven to 350F. The dough should rise 1" from the rim of the pan. Lightly brush the top with milk and sprinkle some oats and bake for 25-30 minutes or until the top is golden brown in color and sounds hollow when tapped.
Transfer the pan onto a wire rack to cool for 5 minutes and then invert the loaf on the wire rack to cool completely! Cut into thick slices and enjoy with some butter or jam!