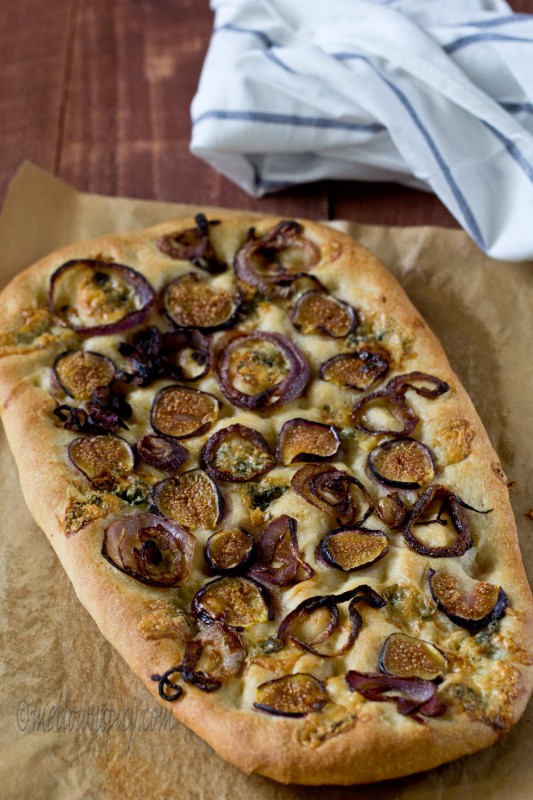 The figs are now in season and we got home a big batch of figs from the grocery store. We snacked on quite a few and made a batch of fig jam and were still left with some. I wanted to incorporate figs into my baking and that too in bread. So I thought of baking a focaccia with figs, caramelized onions and herbed feta.
Focaccia is an Italian flat bread all most like a pizza and is mostly topped with olive oil, herbs, meat and cheese. It is usually baked in a large sheet pan and cut into small pieces and served as a side with soups or made into a sandwich.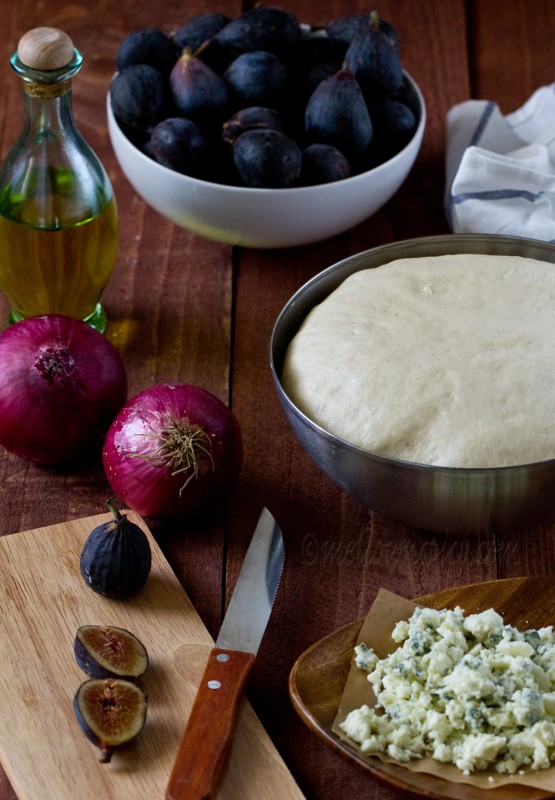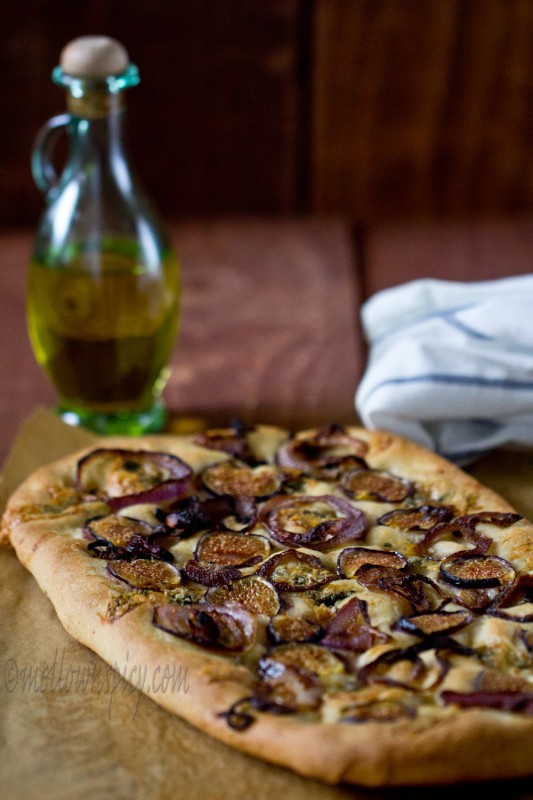 The figs were quite sweet so it gave a nice balance to the bread with sweet caramelized onions and sharp feta. The bread had a crispy crust with a soft crumb. It tasted great with a bowl of soup though I started snacking as soon it came out of the oven. The smell that wafted through the house was hard to resist.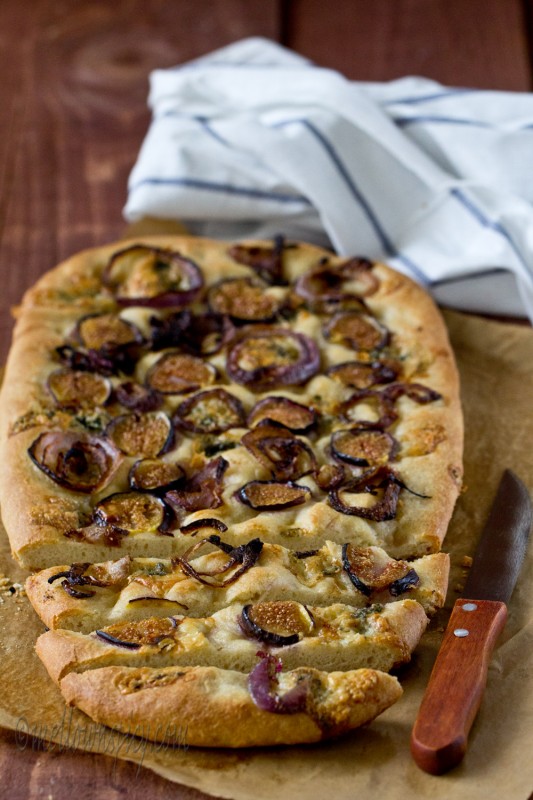 You may use any toppings of your choice like bell peppers, meat or herbs like rosemary or sage. The cheese commonly used are blue cheese, gorgonzola or any kind of soft crumbly cheese. I have used herbed garlic feta which complimented with the rest of the flavors.
For the dough I have used the same recipe as my garlic knots. The recipe was just enough for one loaf. You may double the recipe for more.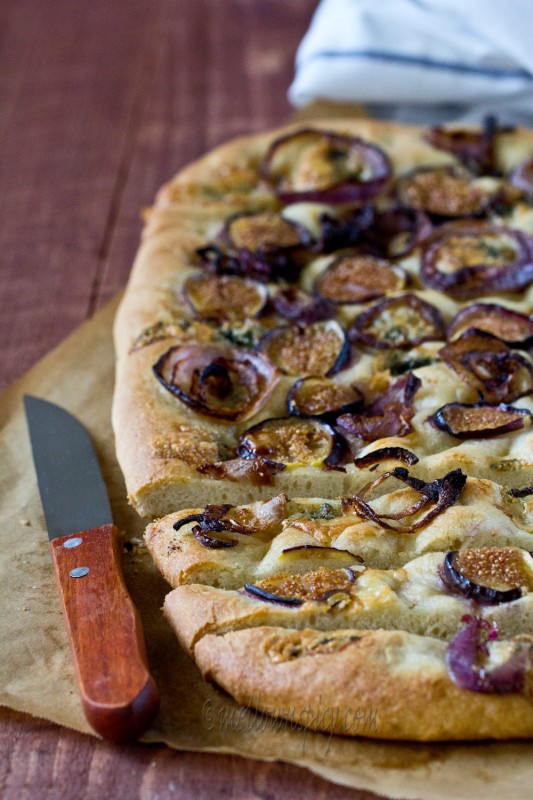 Tips:
The bread can be stored in a paper bag for a day at room temperature.
Recipe inspired from here.
Fig, Onion and Feta Focaccia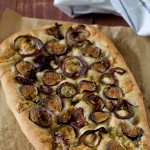 By Sonali Published: September 12, 2015
Yield:

3-4 Servings

Prep:

20 mins

Cook:

30 mins

Ready In:

2 hrs 20 mins
The figs were quite sweet so it gave a nice balance to the bread with sweet caramelized onions and sharp feta. The bread had a crispy crust with a soft crumb.
Ingredients
Instructions
In a large mixing bowl stir in the flour and salt and keep aside. In another small bowl with warm water, sprinkle the yeast and sugar , keep aside for 10 mints. After 10 mints mixture should be frothy.
Mix in the oil with the yeast mixture and pour it over the flour mixture. Mix in together to form a soft dough and knead for 5-10 minutes to get a smooth dough.
Shape the dough into a smooth ball and lightly coat with olive oil, place it on a large bowl and cover with a kitchen towel and keep aside at a warm place. Let the dough rise for about 1 hour.
While the dough is rising prepare the figs and onion. Slice the figs and onion. Heat a pan at high and add drizzle a tablespoon of olive oil and add the sliced onions. Sprinkle salt and pepper. Grill for 2-3 minutes and then flip the onions. Cook for another couple of minutes or until onions look brown in color. Transfer in a bowl and set aside.
When the dough is doubled in size, transfer onto a lightly floured surface. Lightly press to get rid of the gas and start to form a rough rectangle shape by pressing with your fingers. You may use a rolling pin.
Transfer the shaped dough to a parchment lined baking sheet and cover and let it proof for at least 20 minutes. While the dough is proofing for the second time, preheat the oven to 425 F .
When the shaped dough looks a bit risen and puffy, make dimples with your finger on top of the shaped dough and drizzle 2-3 tablespoons of olive oil all over. Now arrange the sliced figs and caramelized onions on top and sprinkle some crumbled feta as well.
Bake the bread in the oven for 20-25 minutes or until the crust looks golden brown in color. Let the bread cool on a cooling rack for 10-15 minutes before you cut and serve. Enjoy with a bowl of soup or just like that.