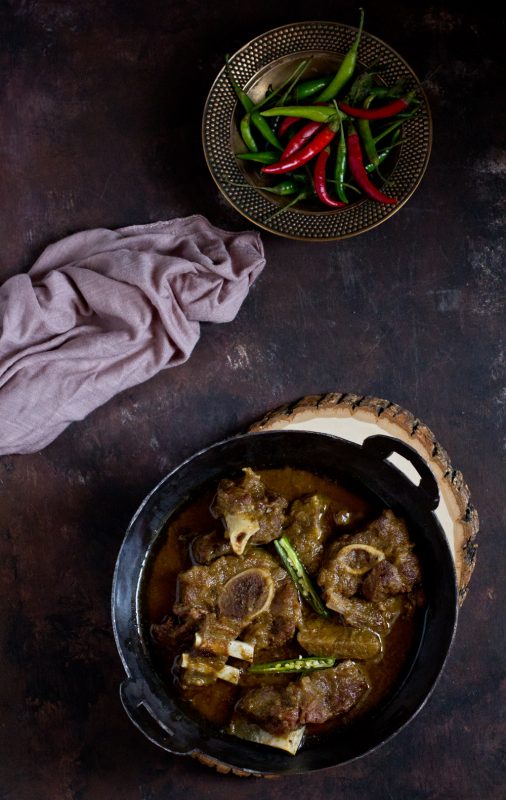 Maha Nabami is all about eating non-veg, specially mutton for the Bongs. There is hardly any Bengali household where meat is not cooked on this day. People queue up near the meat shops early in the morning and if you are late you won't get the choice cut of meat.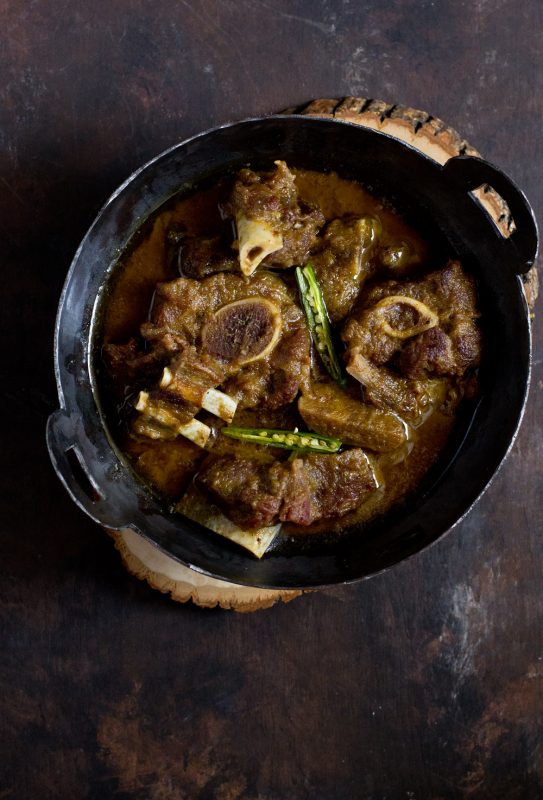 Bengalis are happy with their mutton kosha and mangsher jhol and bhat which are immensely popular in every bong kitchen, but during the festive days you should try something new to change the palate without sweating a lot.
This Kancha Lonka Mutton is an easy recipe with very few ingredients. This recipe is same as the regular mangsher jhol but the prevalent flavor of the green chili makes the difference. The spicy and fiery gravy with succulent pieces of meat goes great with just plain Basmati rice. If you want to be fancy, pulao or luchi are great accompaniments too.No turmeric and red chili powder is used in this recipe as the flavor, color and heat comes only from the green chilies. Amount of green chili paste is a personal preference. Add more or use less according to your level of handling spiciness.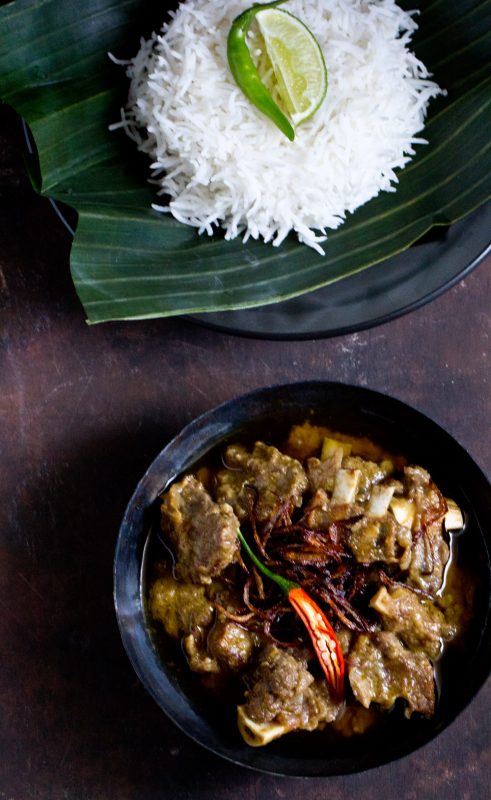 Hope you all are enjoying the last few days of festivities. Subho Maha Nabami!
Bengali garam masala is slightly different than regular garam masala. 4-5 green cardamoms, 1-2 sticks of cinnamon and 3-4 cloves are lightly dry sautéed in a pan, cooled and ground to a fine powder.
You may follow our Facebook page, Instagram and Pinterest for regular updates. If you recreate any recipe from Mellownspicy then don't forget to send us a picture of the finished recipe or tag us at #mellownspicy. Thank You!
For more Durga Puja Recipes click here!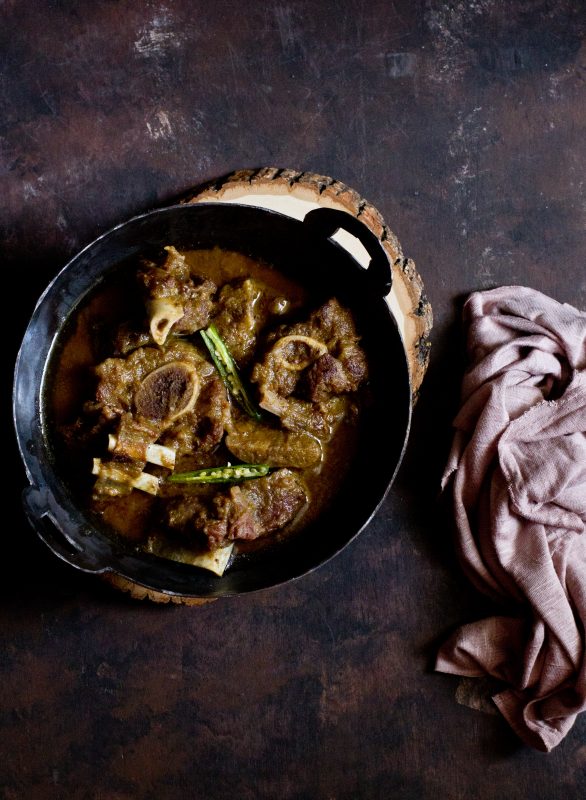 How to make Kancha lonka Mutton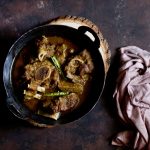 By Sonali Published: September 29, 2017
Yield:

4 Servings

Prep:

15 mins

Cook:

30 mins

Ready In:

45 mins
Kancha lonka mutton is spicy and fiery with a thin brown gravy and succulent pieces of meat .Goes great with just plain Basmati rice.
Ingredients
Instructions
Wash and pat dry the mutton pieces and transfer to a bowl. Set aside.
Slice the onions. Heat oil in a kadai or wok and add the whole garam masala and bay leaf. Let it splutter and then add the sliced onions. Fry the onions until light golden brown in color.
Add the mutton pieces and cook at high heat for 3-4 minutes. Add salt, ginger, garlic and green chili paste. Saute at medium for 4-5 minutes. Add the cumin and coriander powder and mix well. Continue to saute for 2-3 minutes or until the oil starts to separate.
Whisk the curd and add it to the mutton. Mix well and continue to cook. Add 1 1/2 cups hot water and mix well. Add water according to the consistency of the gravy you need. The gravy should not be too thick. Turn the heat to medium low, cover and let it cook for 25-30 minutes or until the mutton is tender and cooked through. You may transfer the mutton into a pressure cooker for quick cooking. Add the sugar if using and give a taste test and adjust accordingly.
Add the garam masala powder and slit green chilies and give a final mix.
Serve hot with steamed white basmati rice. Enjoy!!