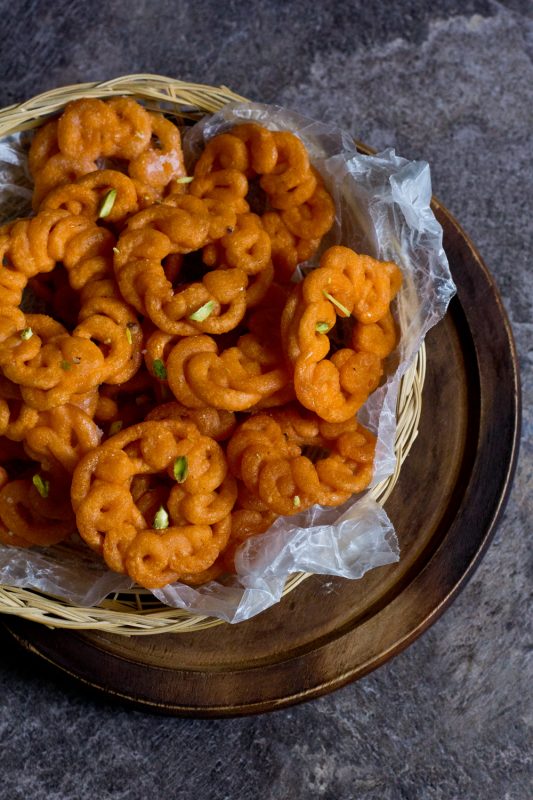 Subho Maha Saptami to all who are celebrating! The day is almost over in Kolkata and people are now gearing up for Mahashtami puja, pushpanjali and khichuri bhog along with pandal hopping and adda.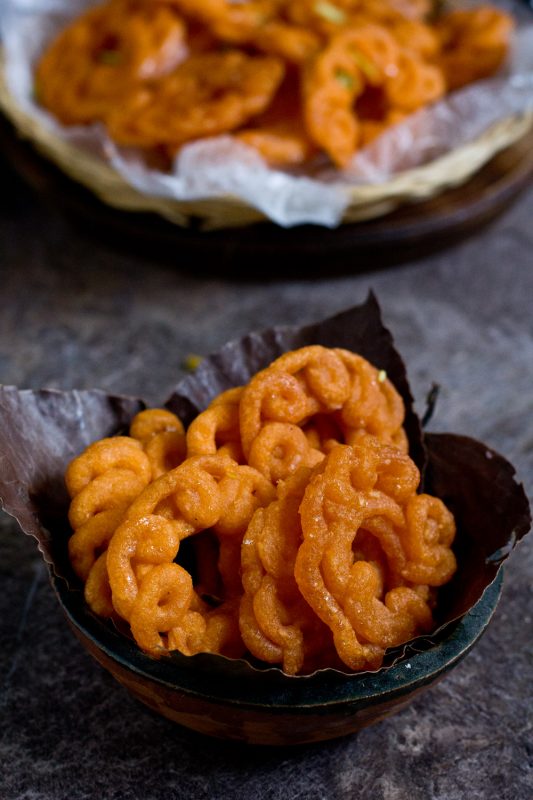 This time of the year being miles away from home, I feel very nostalgic. Back home, the morning started with a grand breakfast of Luchi cholardal or Kochuri followed by mishti bonde, jilipi or amritti. I love amritti and not all shops in our neighborhood made this so my Baba used to bring this from the other end of the town. That was such fun filled days.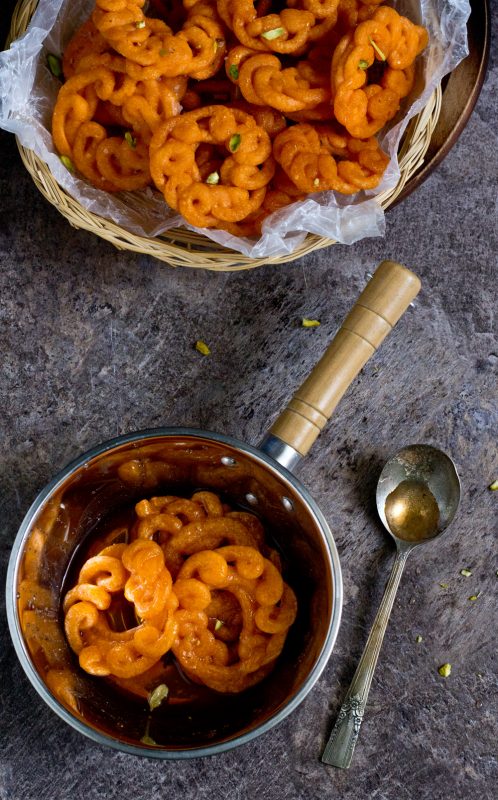 This time I tried making amritti and the first attempt was not that satisfactory. The taste was same but the shapes were not up to my satisfaction. The second attempt was way better and the taste was perfect. There are few steps we need to follow which I have noted down in the tips section below.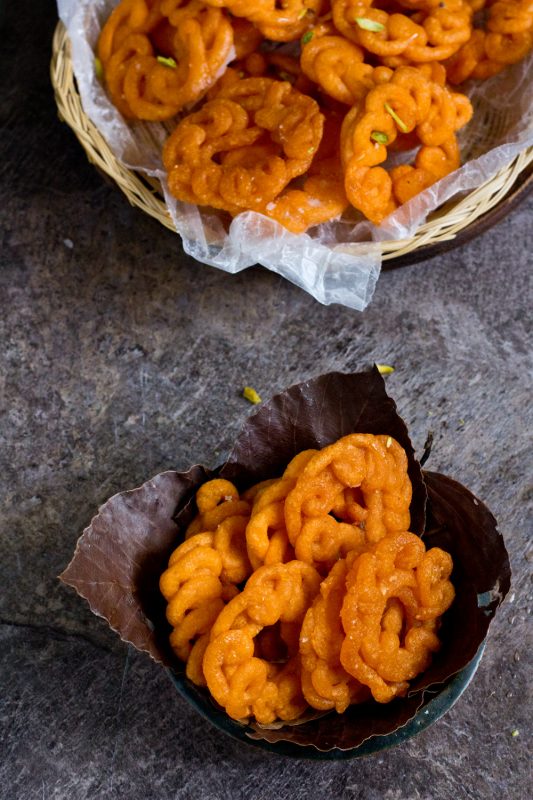 Amritti is known by different names in different parts of the country. It is known by jhangri or imarti and even amitti in colloquial terms in Bengali. No matter what you call, it tastes the same.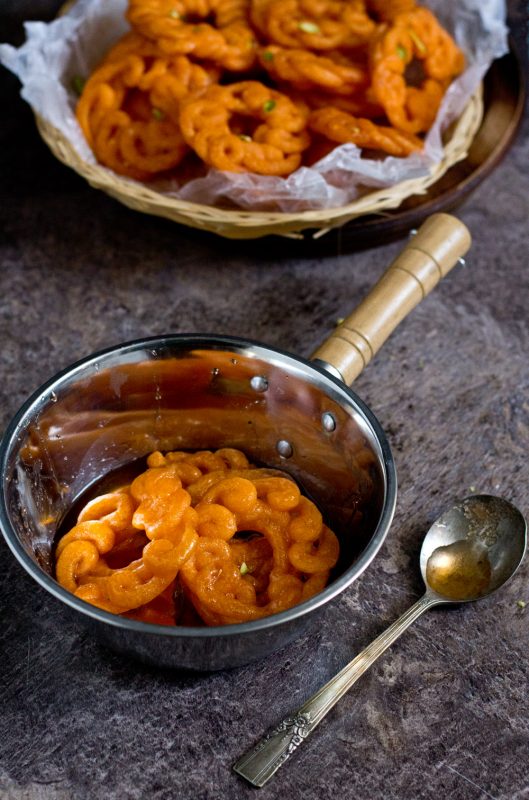 Amritti is made of urad dal which is ground into a fine smooth batter. The batter is then piped into hot oil and fried until crispy. It is then dunked in sugar syrup for few minutes before enjoying.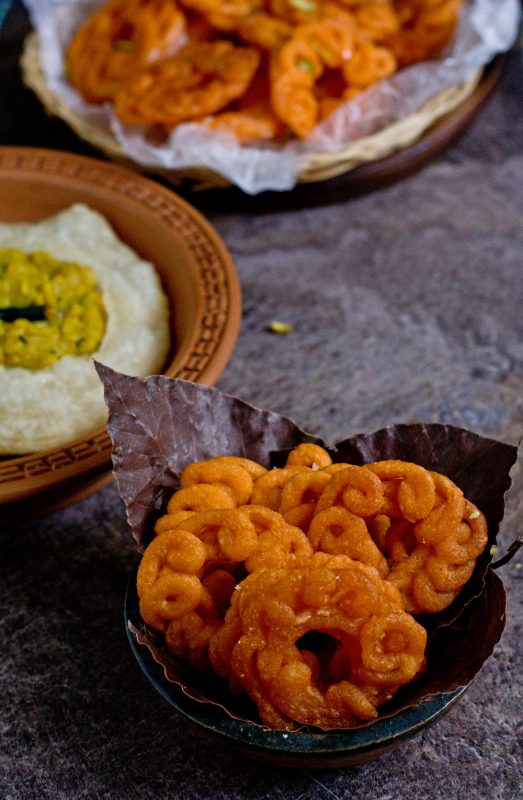 It is crispy outside and juicy inside. It is not too difficult to make at home as it needs very few ingredients. The only thing it needs is patience and practice. I have noted down all the tips below which will make your experience easier.
If you love amritti then make some during this festive season for your friends and family.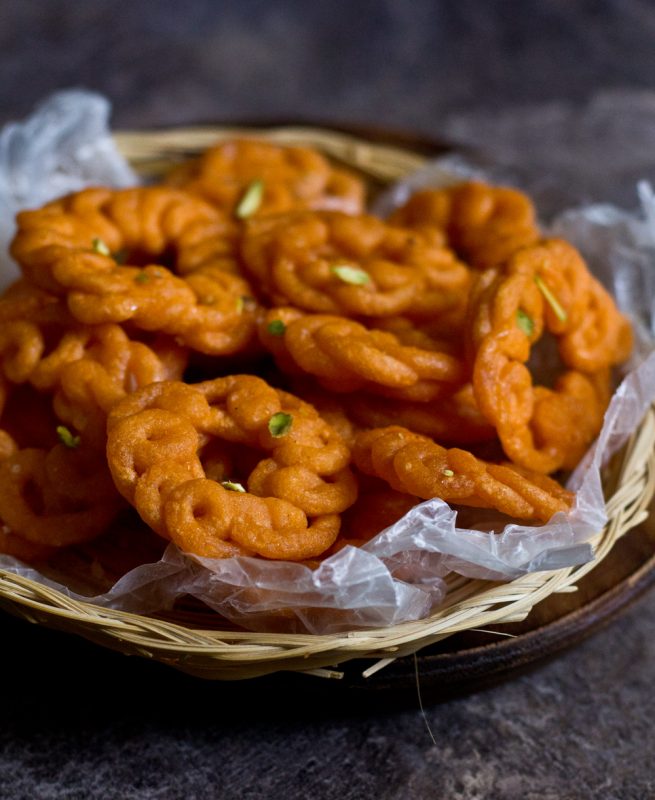 Tips:
While grinding the urad dal, do not add too much water. Add the water gradually as and when required. Grind to a smooth paste. There should not be any bits of dal in the batter. It is also important to whisk the batter to make it fluffy. If the batter is not fluffy the amritti will not be crispy. You may use a zip lock bag or a condiment bottle to pipe the batter. Keep the flame of the heat at medium low while piping the batter. If the oil is too hot, it will be very difficult to pipe the batter into a shape. After piping crank up the heat to medium. Always fry at medium heat, turning the amrittis in between. Do not soak the amritti for too long.
You may follow our Facebook page, Instagram and Pinterest for regular updates. If you recreate any recipe from Mellownspicy then don't forget to send us a picture of the finished recipe or tag us at #mellownspicy. Thank You!
For more Durga Puja Recipes click here!
How to make Amritti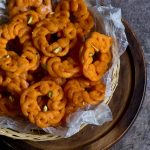 By Sonali Published: September 27, 2017
Yield:

12-14 (6-7 Servings)

Prep:

15 mins

Cook:

30 mins

Ready In:

4 hrs 45 mins
Amritti is a traditional Indian sweet which is popular all over the country. It is crispy out side and juicy inside and is made with lentils.
Ingredients
Instructions
Wash the biuli/urad dal thoroughly and soak in enough water. Cover and let it soak for at least 4 hours to overnight.
When the dal is very well soaked, drain the water completely and transfer to a blender jar. Add 2 tablespoons of water and grind the soaked dal. Stop the blender and check in between. Gradually add water as and when needed, just enough to grind the dal into a smooth batter.
Transfer the batter to a bowl and whisk well for 3-5 minutes. Add the food color if using and whisk again until the color is well blended. Cover the batter and let it rest for 10-15 minutes.
Meanwhile make the sugar syrup. In a wide saucepan, add the sugar and water and bring it to a boil, Add the cardamoms and let it come to 1 string consistency. Switch off the flame and add the lemon juice and mix well. Keep it warm.
Heat oil/ ghee in a frying pan at medium heat. Whisk the batter one more time and transfer a portion of the batter to a piping bag. Snip off the tip of the bag and start swirling the batter in a flower like pattern in the oil. At first make two small rings and then make small loops along the rings. Fry the amrittis in batches until crisp and light golden brown. Drain the amrittis well and transfer immediately to the warm sugar syrup.
Soak the amrittis in syrup for 2-3 minutes and then drain and transfer on a plate lined with butter paper. Repeat with rest of the batter.
Garnish with chopped nuts and serve. Enjoy!