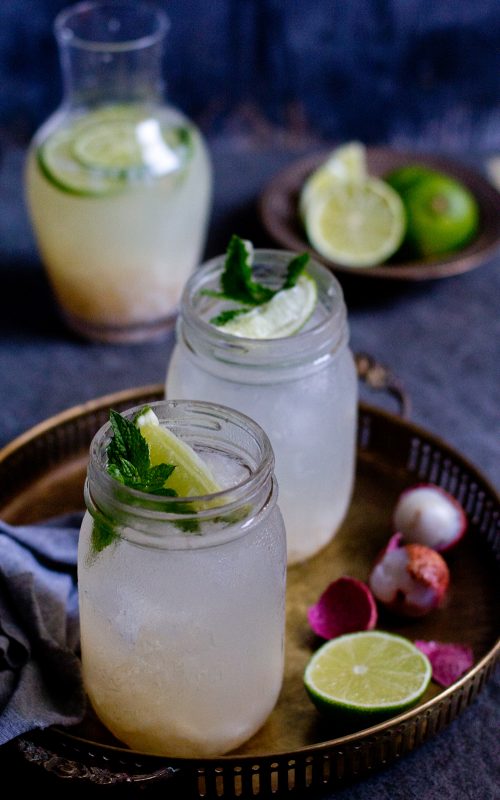 The last couple of weeks here have been very hot and humid. We are at the end of Summer and I am already looking forward to Fall. If you ask, Fall is my favorite season of the year followed by the winter. This summer I was quite busy with different tasks so was not able to share recipes here frequently but I hope to share new recipes for fall and winter.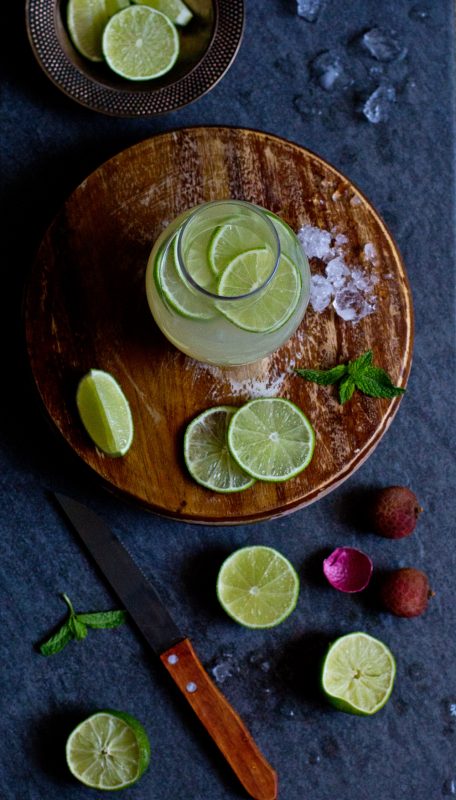 I made this Litchi Lime Fizz a few weeks back and shared a picture on Instagram. This drink is so easy to make and tastes light and refreshing. Litchis are one of my favorite fruits of summer. The sweet fleshy fruit with a light floral taste makes it unique from other fruits. First few years of my stay here, I could not find this fruit but now it is easily available in any Indian or Chinese store in my neighborhood.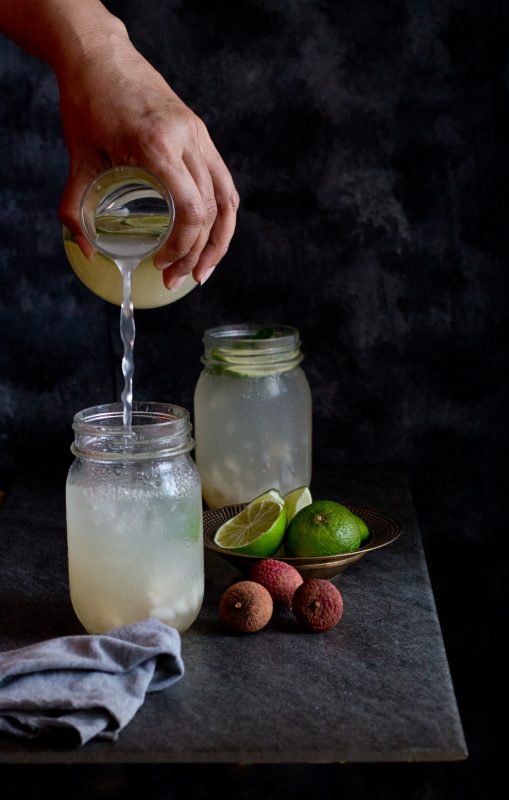 Though I made this drink with fresh litchis but you may use the canned litchis too. If you are using the canned ones, then you do not need to make the simple syrup. You can use the syrup from the can. For the simple syrup recipe refer to the tips section below.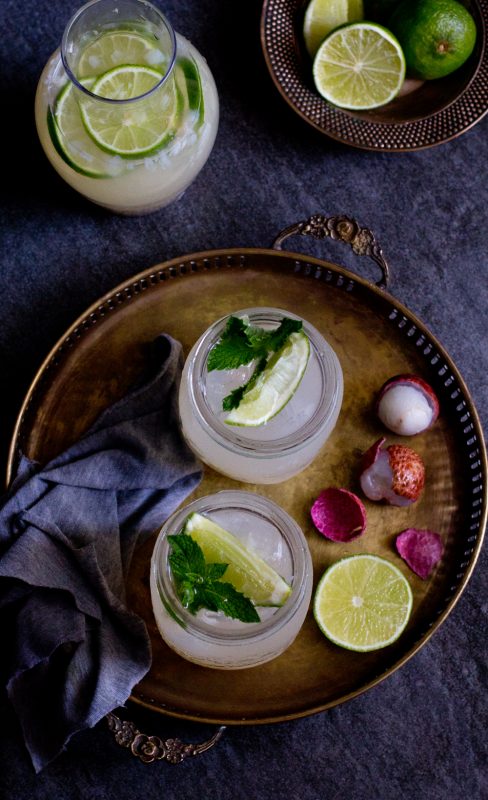 The sweet subtle taste of the litchis compliments the tanginess of the lime juice and the mint gives a fresh note to the drink. I do not like to muddle the fresh mint as I feel it over-powers the sweet floral flavor of the litchis. Just a sprig of fresh mint as a garnish does the trick. I do not strain the drink before pouring onto a glass as I love to bite into a piece of litchi while taking a sip. If you want, you may strain before serving.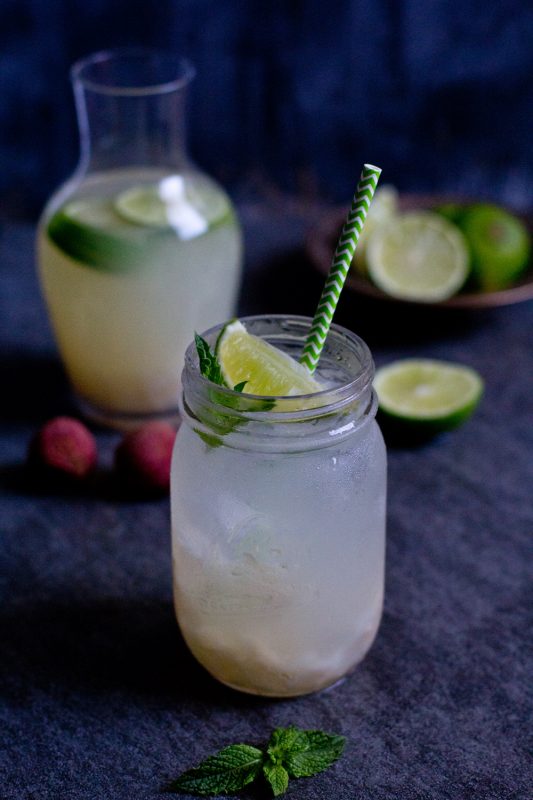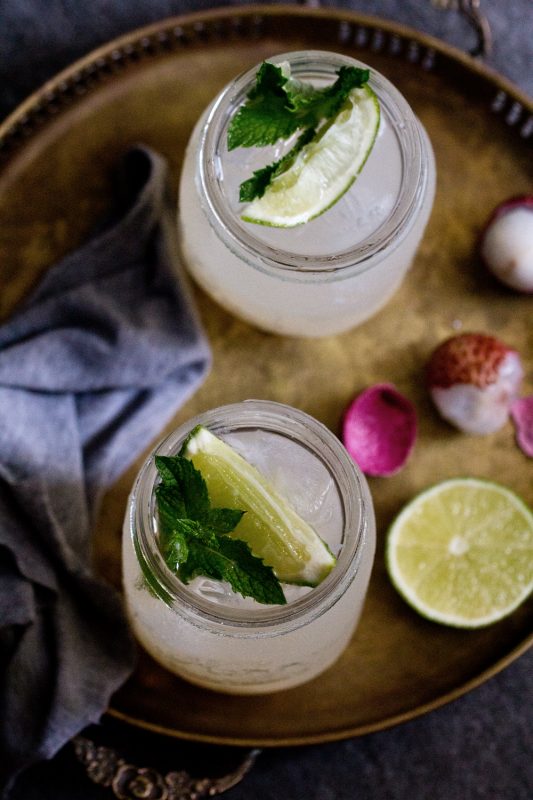 Tips:
To make the simple syrup, heat 1 cup of sugar and 1 cup of water in a saucepan and cook just until the sugar dissolves. Cool and set aside. You may store in a bottle in the fridge for later use.
You may follow our Facebook page, Instagram and Pinterest for regular updates. If you recreate any recipe from Mellownspicy then don't forget to send us a picture of the finished recipe or tag us at #mellownspicy. Thank You!
How to Make Litchi Lime Drink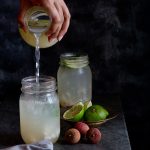 By Sonali Published: August 30, 2017
Yield:

4 Servings

Prep:

15 mins
A light and refreshing summer fizzy drink with litchis and lime.
Ingredients
Instructions
At first lightly mash or coarsely chop the litchis. In a pitcher, add the lime juice, mashed litchis and muddle with a muddler.
Add the club soda and simple syrup and mix well. You may adjust with a cup of chilled water. Taste for sweetness.
Pour into mason jars filled with crushed ice. Garnish with few sprigs of mint leaves and a wedge of lemon. Enjoy!