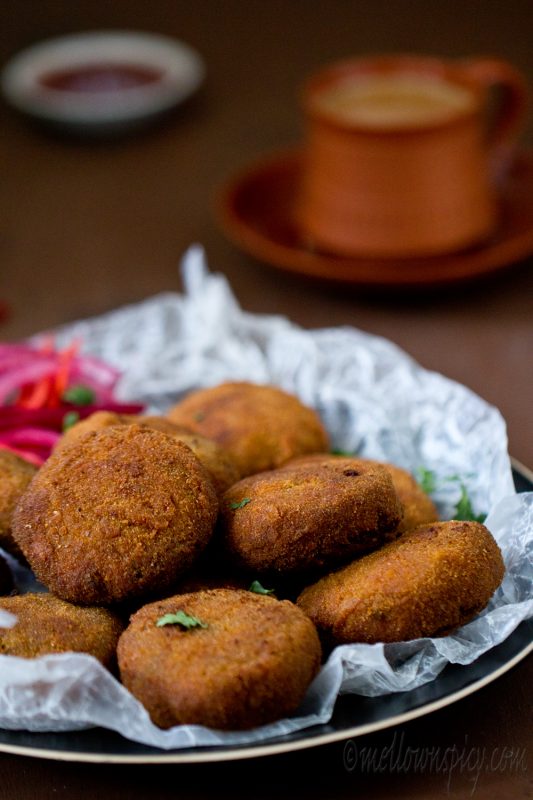 Hello Friends! I am back after a long time. Life had been busy with a lot of work load and travelling for the past few months. I am also working on some exciting projects which I will let you know when the time is right. I am also writing a food column in an online magazine fortnightly where I share simple everyday recipes. So, you know by now what all kept me busy all this while but now I promise to be regular here and share with you some great recipes. Also, a quick reminder, if you follow me on Instagram and Facebook page then you might have a glimpse of behind the scenes of my foodie journey when I am not blogging!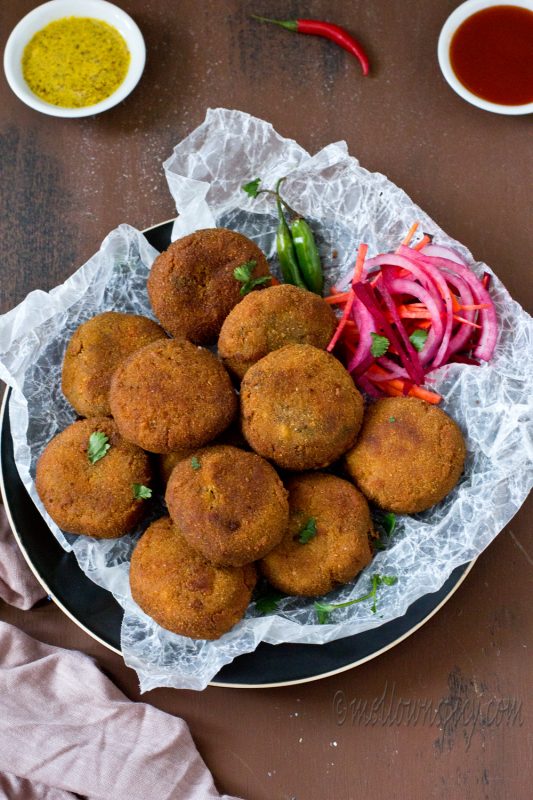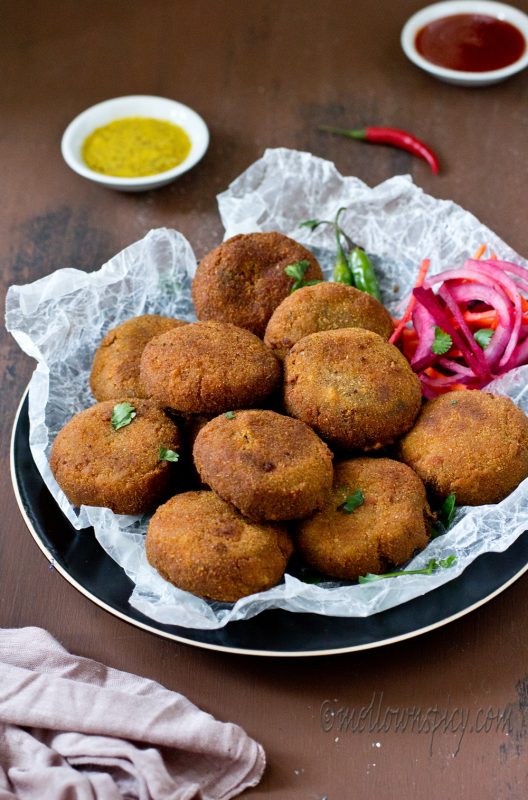 So finally, here I am today with a recipe which is very popular in Kolkata and a favorite among the Bengalis. This recipe of Macher Chop aka Fish Chop or croquettes is quite fitting during the monsoon season. Good company, steaming cups of tea and a plateful of crispy Maacher Chop is what you need in your life.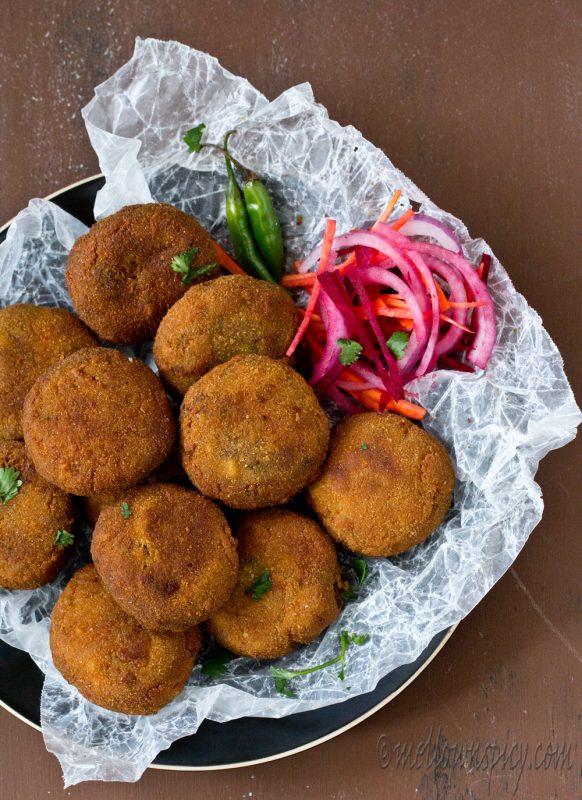 The recipe is simple with few steps to follow. You may use fish fillets or fish steaks for the recipe. If you are using fish steak go for the fish that has less bones. Bhetki and Aar are good option for the recipe but you may use rohu too but choose the belly cut where there are less bones. You may boil the fish but shallow frying the fish enhances the taste.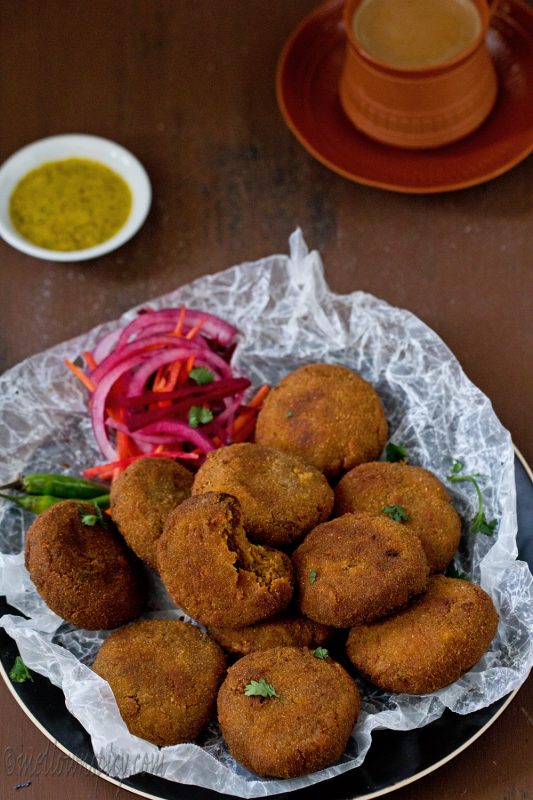 The fish croquettes are crispy on the outside with a spicy melt in the mouth filling inside. It is served with ketchup or Kashundi, Bengali mustard. Enjoy!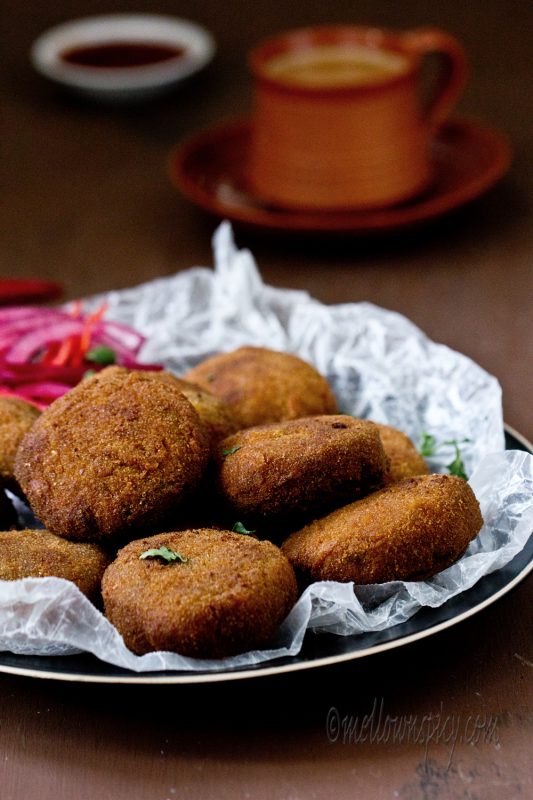 Tips:
To make Bengali Garam Masala, dry roast 3-4 green cardamoms, 2 sticks of cinnamon and 3-4 cloves for 2-3 minutes or until aromatic. Cool and grind to a fine powder. Transfer to a small jar and use when needed. You may freeze the crumbed fish croquettes for a month and thaw for 30 minutes before deep frying. If you are using rohu steak, use the belly cut, since it contains less bones.
How to make Bengali Macher Chop
By Sonali Published: July 28, 2017
Yield:

10-12 (6 Servings)

Prep:

40 mins

Cook:

15 mins

Ready In:

1 hr 55 mins
The fish croquettes are crispy on the outside with a spicy melt in the mouth filling inside. It is served with ketchup or Kashundi, Bengali mustard.
Ingredients
Instructions
Wash and pat dry the fish fillets or steaks if you are using. Heat 1 tablespoon oil in a pan and shallow fry the fish until light golden brown in color. Drain and set aside to cool. Meanwhile boil the potatoes just until fork tender. Alternatively you may cook the potatoes in the microwave. Set aside and let it cool completely.
When the fish and potatoes are cool enough to touch, mash well with a help of a fork or with your fingers and keep aside. If you are using fish steaks, remove all the bones and skin and discard.
Heat 2 tablespoons oil in a wok or kadai and add the ginger-garlic paste. Cook for 2-3 minutes at medium until the raw smell is no more. Add the fish and potato mixture and mix well. Add the salt, red chili powder, black pepper powder and garam masala powder and mix well until everything is well incorporated. Finally add the chopped green chilis and cilantro. Give a final mix and switch off the flame. The mixture should be very dry. Taste for seasonings and adjust accordingly. Transfer the mixture to a bowl and let it cool completely.
Divide the mixture into 10-12 equal portions. Lightly beat the eggs and transfer to a big bowl.Transfer the breadcrumbs onto a tray or a shallow dish.
Shape one portion of the mixture into a small ball and then flatten by pressing lightly between your palms. Smooth the edges. Dip one shaped ball into the beaten eggs and then coat with breadcrumbs from all the sides. Pat with your palms to give a perfect round shape. Transfer to a plate lined with parchment or wax paper. Repeat with the rest of the portions. Transfer the plate into the refrigerator for atleast 30-40 minutes before deep frying.
Heat the remaining oil in a wok and fry the croquettes in batches until golden brown in color. Drain and transfer to a plate lined with kitchen towel.
Serve hot with tomato ketchup and bengali mustard. Enjoy with a cup of tea!