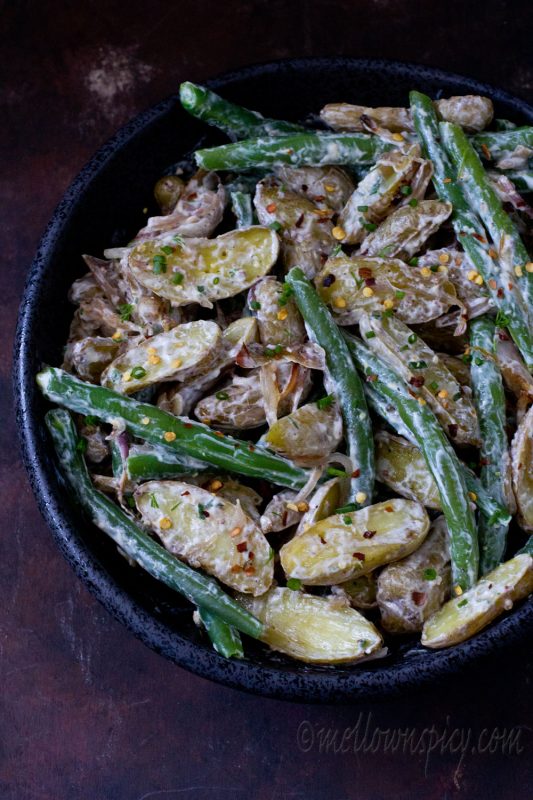 Thanksgiving is just a few days away and the internet and social media is buzzing with ideas of roasting turkey and baking recipes for the holidays. During Thanksgiving, we keep it very simple. After all these years, I have not yet mastered the art of roasting the bird and since we do not have any guests over, I do not bother as well. Our friends are usually away for a short vacation or travel back home during the holidays. We prefer to be at home, relax, watch movies and do some shopping the day after.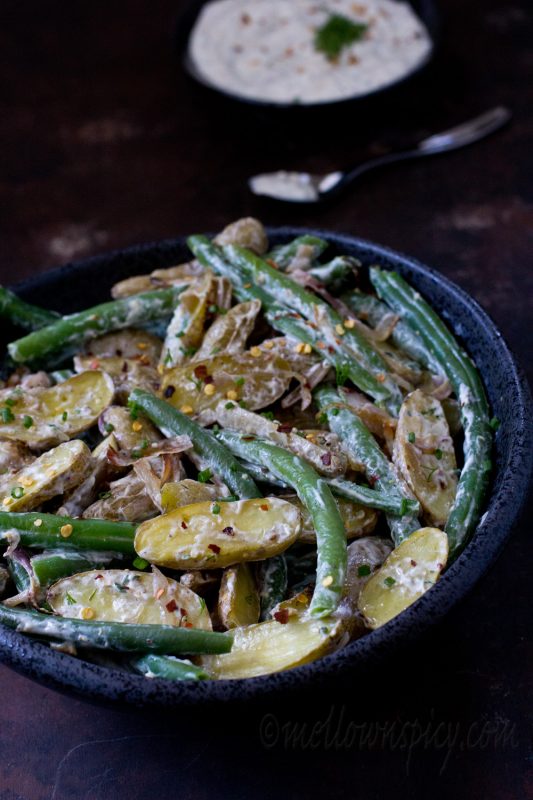 Though we do not entertain guests over, yet I love to prepare some recipes that are in season. The other day when I was at the farmers' market, I came across some fingerling potatoes and came home with a bagful. The short and stubby potatoes shaped like fingers were quite intriguing to work with. The first thing that came in my mind was to roast them but I had a bag of green beans as well. I bookmarked a recipe a few days back and this was the right moment to give the recipe a shot. A little tweaking here and there and it came out great.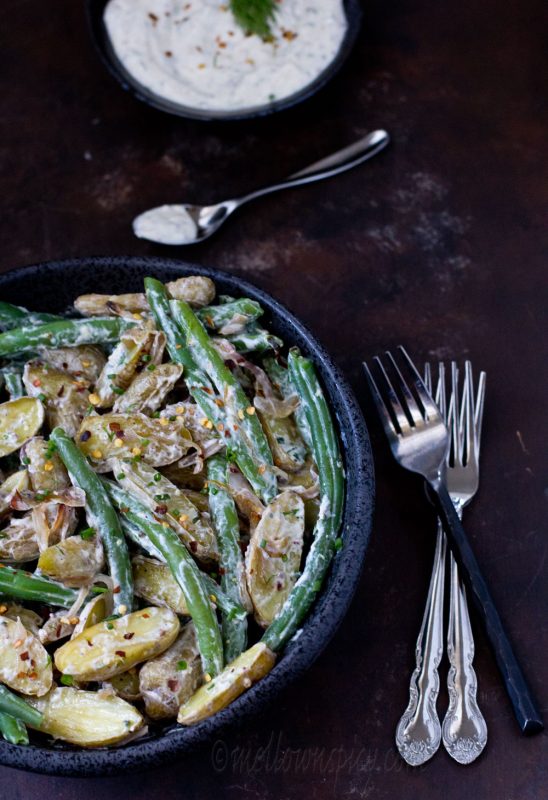 Roasting the potatoes with shallots and garlic brings out the flavor of the potatoes. The creamy and tangy herb dressing complements the salad. Roasted tender potatoes with crisp green beans in a tangy and creamy herb dressing is a great salad option for the vegetarians. This recipe will be my go to recipe for the rest of the season, and if you haven't tried it yet then you should give this salad a try. A great vegetarian side dish for sure.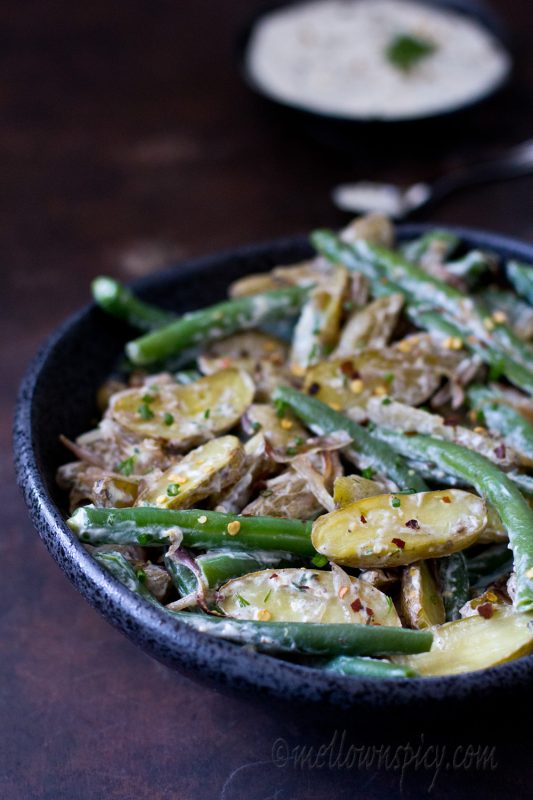 Tips:
If you want to keep it light, you may use plain greek yogurt in place of sour cream. Greek yogurt will make it rich and creamy without the added calories.
Recipe adapted from here.
You may follow our Facebook page, Instagram and Pinterest for regular updates. If you recreate any recipe from Mellownspicy then don't forget to send us a picture of the finished recipe or tag us at #mellownspicy. Thank You!
How to Make Roasted Fingerling Potato and Green Beans Salad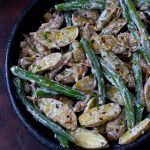 By Sonali Published: November 21, 2016
Yield:

4 Servings

Prep:

15 mins

Cook:

30 mins

Ready In:

45 mins
Roasted tender potatoes with crisp green beans in a tangy and creamy herb dressing is a great salad option for the vegetarians.
Ingredients
Instructions
Preheat the oven to 400F . Wash and scrub the potatoes and pat dry. Cut lengthwise into halves. Thinly slice the shallots. Do not peel the cloves of garlic. Transfer potatoes, garlic and shallots to a baking sheet lined with non-stick aluminum foil, toss with olive oil, salt and pepper and spread evenly in a single layer.
Roast for 30-35 minutes or until the potatoes are fork tender. Transfer to a cooling rack and let it cool slightly. While the potatoes are roasting, blanch the green beans. Boil water in a large pot with salt. When the water starts to boil, drop the trimmed beans and let it cook until just tender. The beans should still be crisp. Drain the water and transfer to ice cold water to stop the cooking process. After 5 minutes drain the water water through a strainer and pat them dry.
In a medium mixing bowl, add the sour cream, whole grain mustard, garlic squeezed out of the peel, red chili flakes, chopped chives and dill, salt and pepper. Whisk together. Taste for seasoning and adjust accordingly.
Toss the roasted potatoes, shallots and green beans and coat well with the dressing.
Serve warm or at room temperature as a side to a main dish.