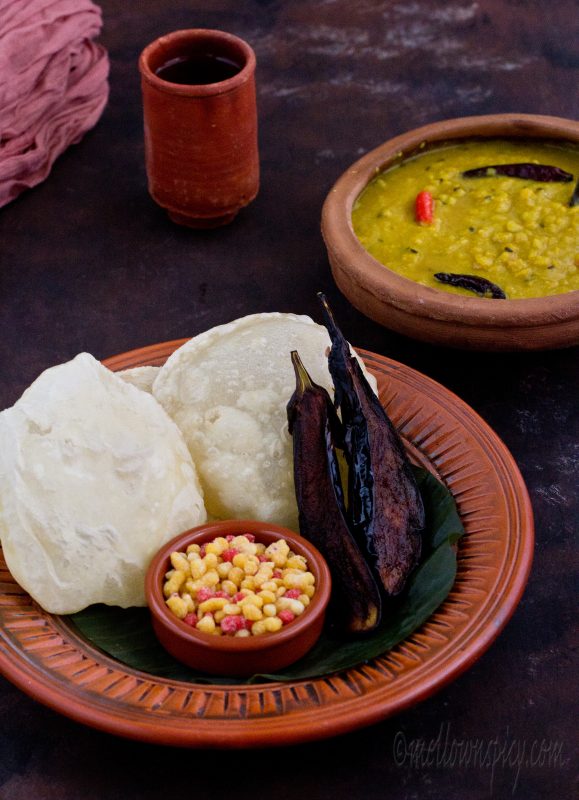 Subho Saptami to all who are celebrating Durga Puja! What are your plans for the day? I will be spending this weekend with my friends in our local Durga Puja, away from home. There will be good Bengali food, adda and chit chat with friends and performance of artists from Kolkata. I am looking forward to it.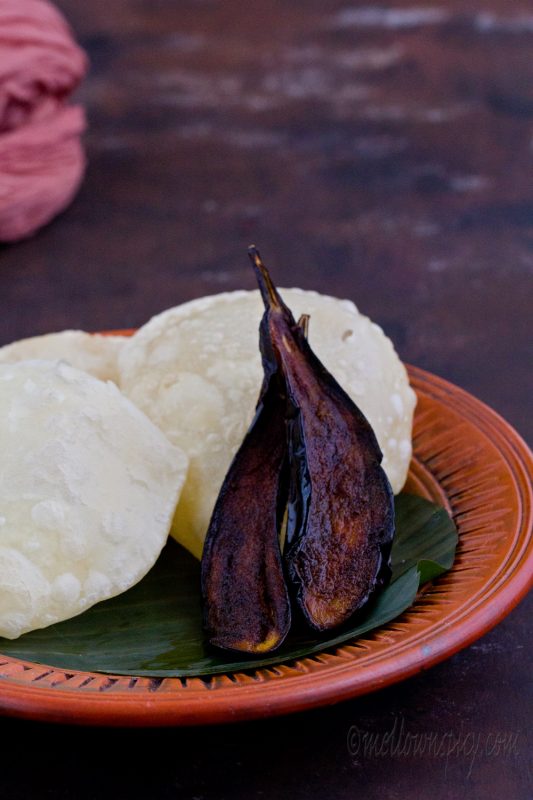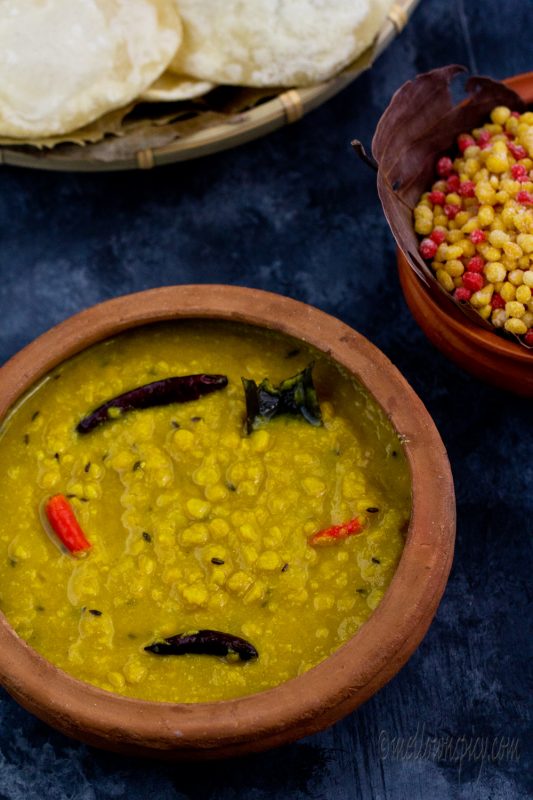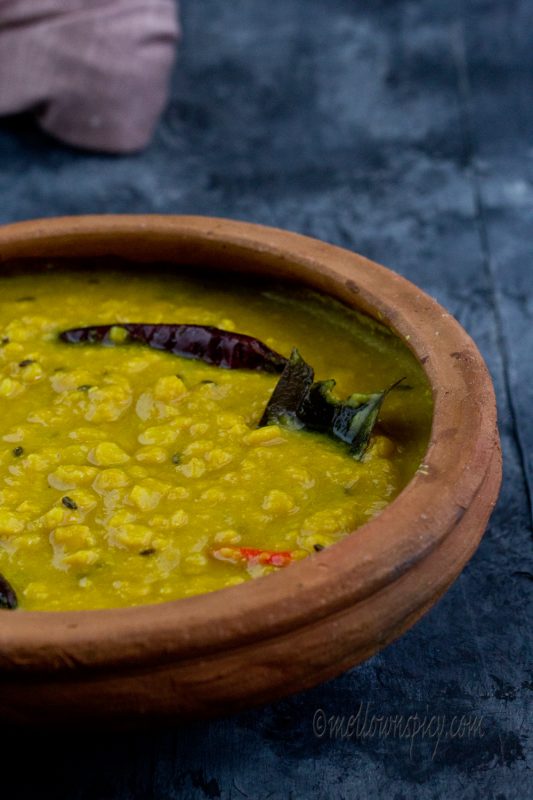 In Kolkata, the puja parikrama or pandal hopping starts from the morning itself. Due to heavy crowd in the evening, people try to have a glimpse of the all the big pujas in the day when the crowd and traffic is supposed to be low. So to start off the day, you need to have a great breakfast. What can be better than Luchi, Begun Bhaja and Cholar Dal for the Bongs as a breakfast? This combination is an all-time favorite among the Bengalis.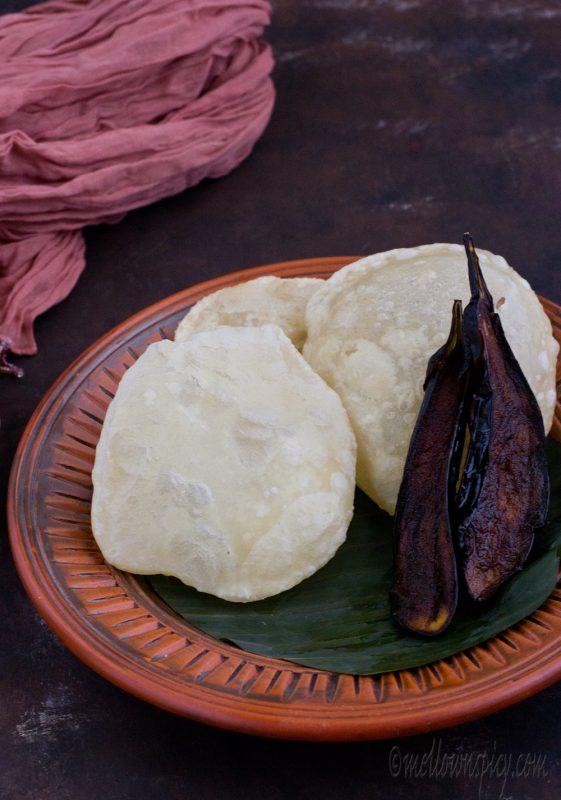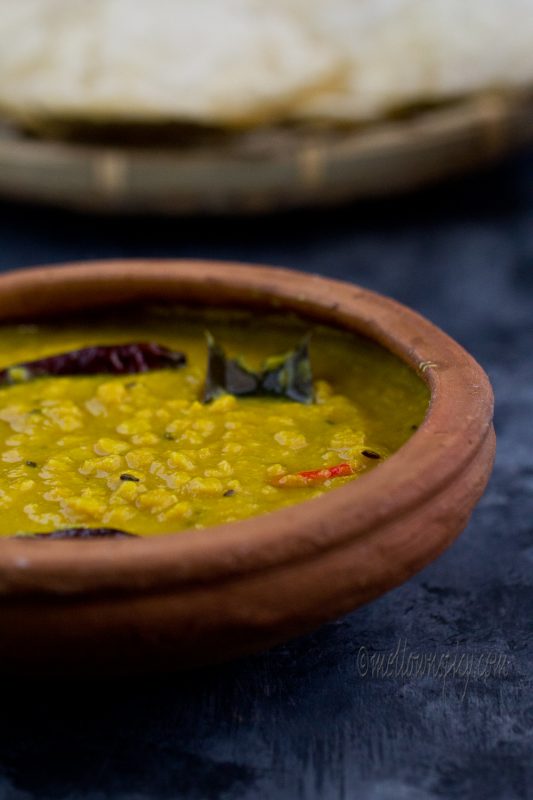 Luchi, an unleavened puffed deep fried bread is a very common breakfast and this is a regular weekend affair for us Bengalis. Sometimes it is accompanied by begun bhaja, cholar dal, spicy alur dom or alur torkari. A side of jilipi, sweet bode or any type of sweets is a must. One can chow down a dozen of luchi in one sitting.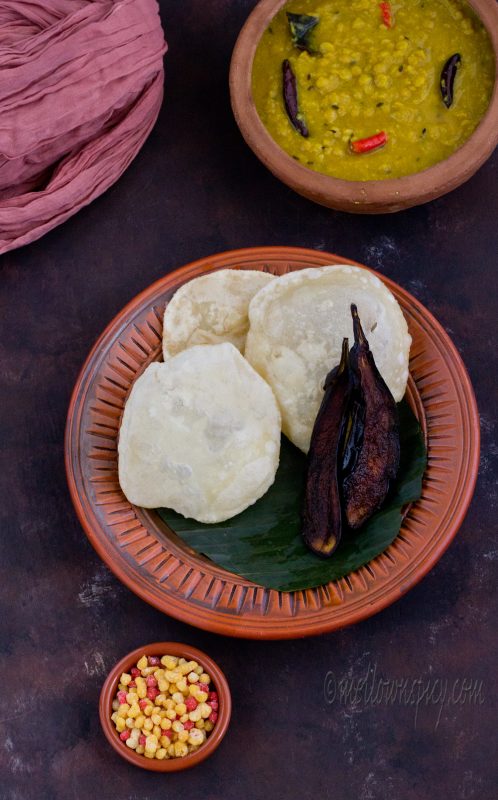 Few years back, I shared the recipe of Hinger Kochuri and Alur torkari for Mahasaptami breakfast. The post is one of the popular posts in the blog. Luchi and begun bhaja with cholar is not only a favorite breakfast menu, it is a meal in itself. Some eat vegetarian food during the pujas, especially on Ashtami and this menu fits perfectly for the purpose. This combination was also in weddings menu in earlier days. Puffed white luchi with vertical cut whole begun bhaja was much loved item in the menu. Sadly, this luchi is now replaced by naan and roomali rotis in the weddings.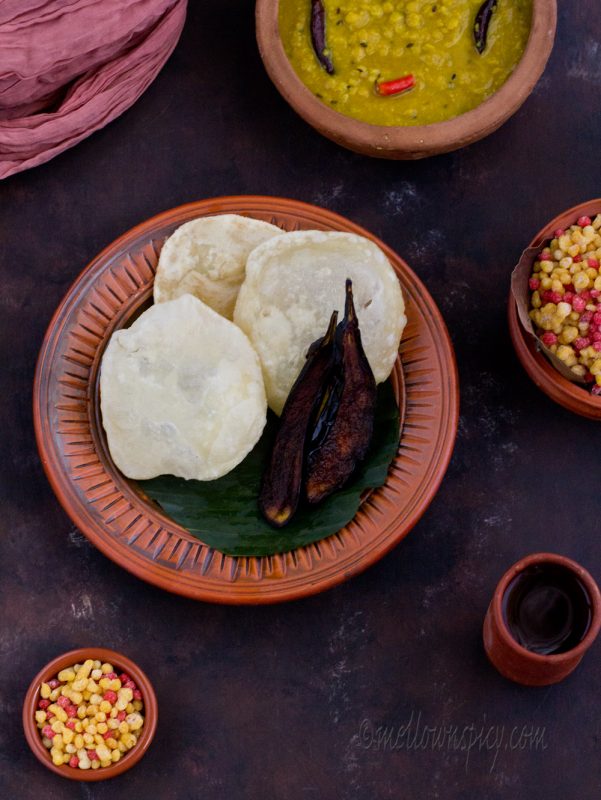 Making a perfect puffed luchi at home is not that difficult but you need to follow some tricks to perfect the art. I have learnt the hard way. The rolling should be even from all sides and it should neither be too thin or too thick. The kneading of the dough is important too. The dough should not be too soft or too stiff. Finally, the amount of oil for frying is also important. If you fry in less oil, the luchi will not puff up. Choose a small kadai or pan with high sides to fry luchi.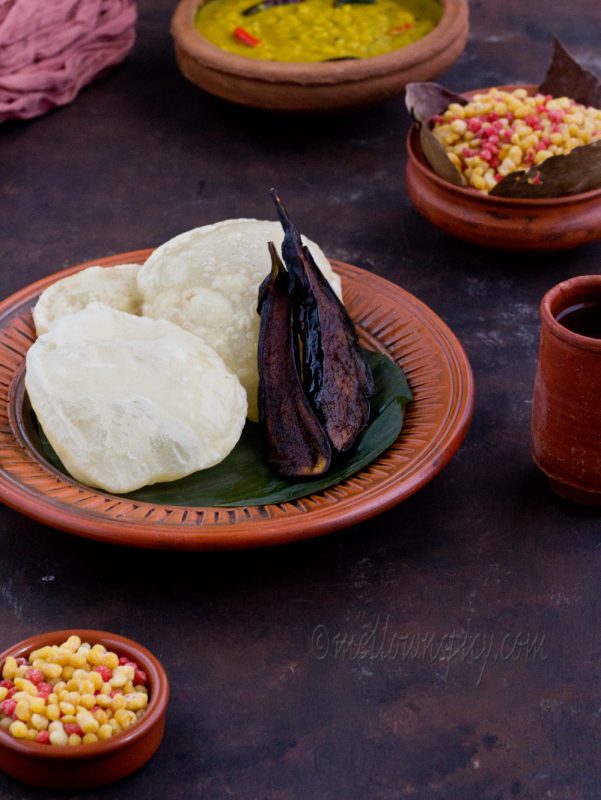 Cholar dal with hing goes great with luchi. There is another way of making cholar dal which goes great with white rice. That preparation is a bit different than this one. It is a bit on the sweeter side and has coconut in it.
So here goes the recipe and you all have a great time during this festive season. Enjoy!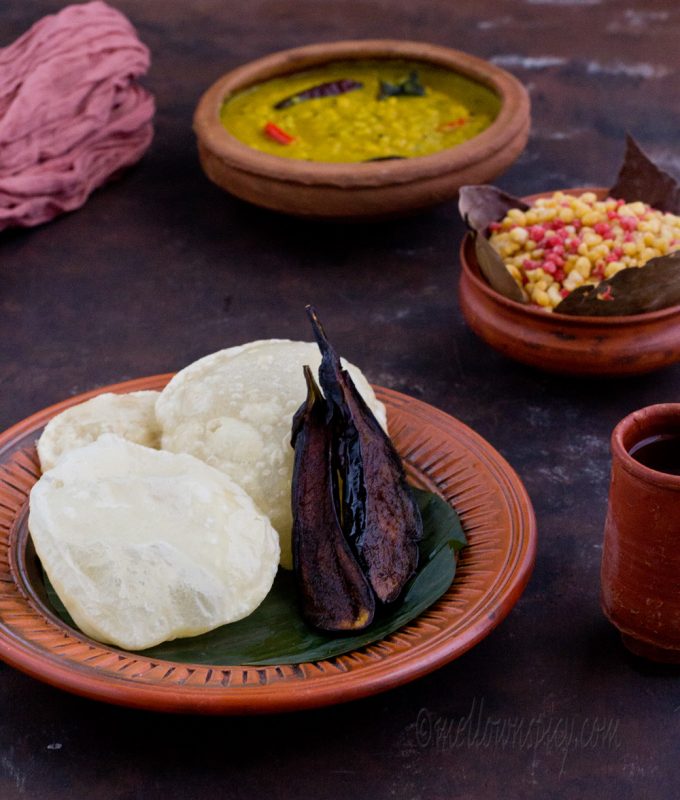 Tips:
You may pressure cook the dal without soaking. That way the cooking time will vary. Serve the luchi immediately after frying. Once cold, the luchi will lose its shape and deflate. You may prepare the cholar dal ahead of time.
You may follow our Facebook page, Instagram and Pinterest for regular updates. If you recreate any recipe from Mellownspicy then don't forget to send us a picture of the finished recipe or tag us at #mellownspicy. Thank You!
How to make luchi, begun bhaja and hing diye cholar dal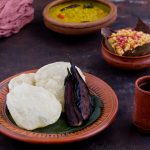 By Sonali Published: October 7, 2016
Yield:

2 Servings

Prep:

40 mins

Cook:

30 mins

Ready In:

1 hr 10 mins
Puffed luchi with begun bhaja and hing diye cholar dal is a favorite Bengali breakfast for every occasion!
Ingredients
Instructions
For The Cholar Dal: Wash and soak the dal for 30 minutes and then pressure cook with 2 cups of water and a pinch of salt until the dal is soft but not mushy. @ whistles at high and 1-2 whistles at medium heat.
Heat oil in a kadai and add the whole cumin seeds, dried red chili and the bay leaf. Let it splutter for 30 seconds and then add the hing or asafoetida. When it is aromatic, add the ginger paste. Mix well and let it cook for 1-2 minutes. Add the remaining salt, sugar and turmeric powder. Mix well and then add the boiled dal with the water. Mix well and cook until everything comes together. The consistency of the dal will be not be too runny so add water accordingly if needed. Taste for seasonings and add if needed. Bring the dal to a light boil and switch off the flame. Transfer to a serving bowl and set aside.
For the Begun Bhaja: Wash and cut the eggplants vertically. You may use regular eggplant as well.In that case, cut in big round chunks. Smear the eggplant pieces with salt, turmeric and sugar. Coat well and set aside. Heat oil in a fry pan at medium and when the oil is hot add the cut eggplants. Let it fry in one side. When it turns golden brown in color, flip and fry the other side as well.Drain and transfer to a plate lined with a kitchen towel Repeat with the rest of the eggplants.
For the Luchi: In a bowl add the flour, salt, sugar and oil and mix well with hand. Gradually add water and knead to make a smooth dough. The dough should not be too soft or too stiff. Cover and let it rest for 10 minutes.
Divide the dough in 8-10 equal parts. Take each part and roll into a smooth ball. Take each ball and flatten and roll into 4-5 inch disc. You may use either oil or dry flour to roll the luchi. Heat 1 cup oil in a kadai. When the oil is hot, add one rolled luchi at a time. Just after adding it to the oil, with a spatula or a perforated ladle, lightly press on the luchi. The luchi will puff up. Fry for 30 seconds and flip carefully and fry the other side just until lightly golden in color. Drain well and transfer to a plate lined with kitchen towel to absorb the excess oil. Repeat with rest of the dough balls.
Serve hot and puffed luchi immediately with hot cholar dal and begun bhaja. Add bode or any other sweet of your choice. Enjoy!