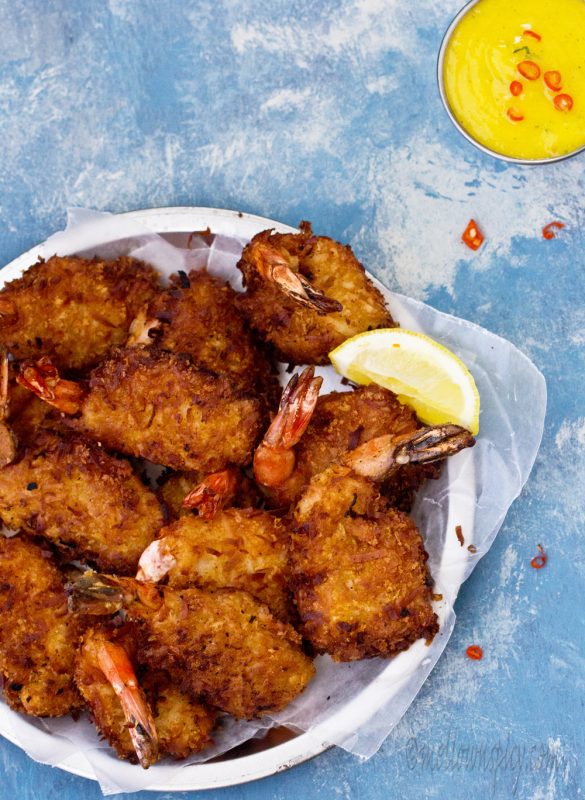 I can not deny the fact that I love fried food! Though I love, deep fried food is not something that happens in my kitchen too often. It is only when we have some company over that I get to make some fried snacks to serve as an appetizer. Last weekend we had some guests over and I was so excited to make these beauties!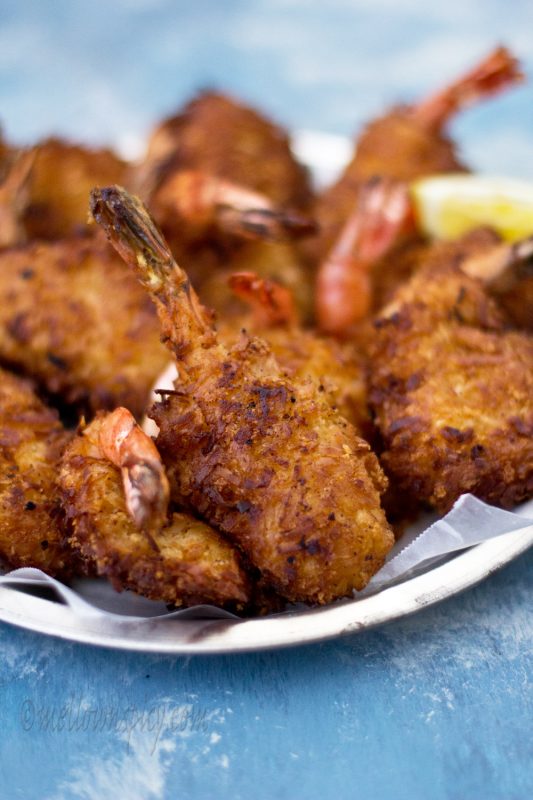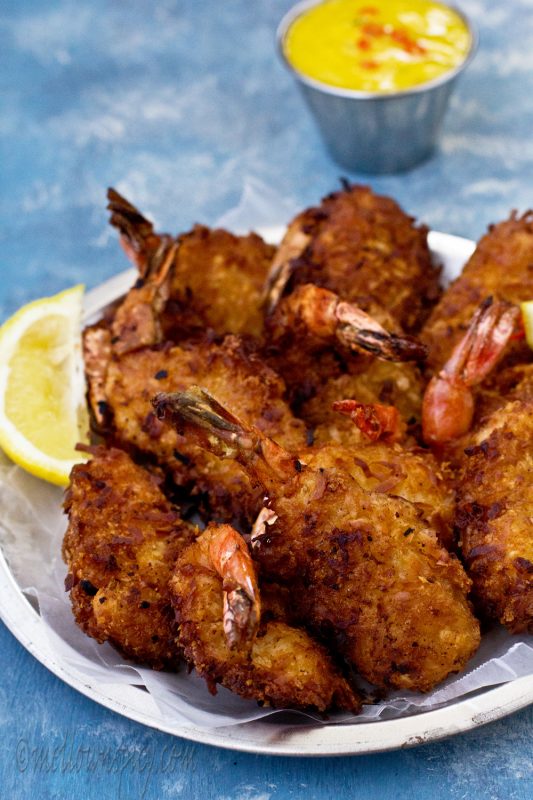 We love shrimps and have ordered  Coconut Shrimp quite a few times at the restaurant and I fell in love each time I had these sweet and crunchy shrimps. These are really addictive. You cannot stop at one. The crunch, the sweetness from the coconut, the succulent shrimp inside and the sweet and spicy sauce to dip the shrimps, all are my favorite! The best part is if you want to make it at home it is very easy too!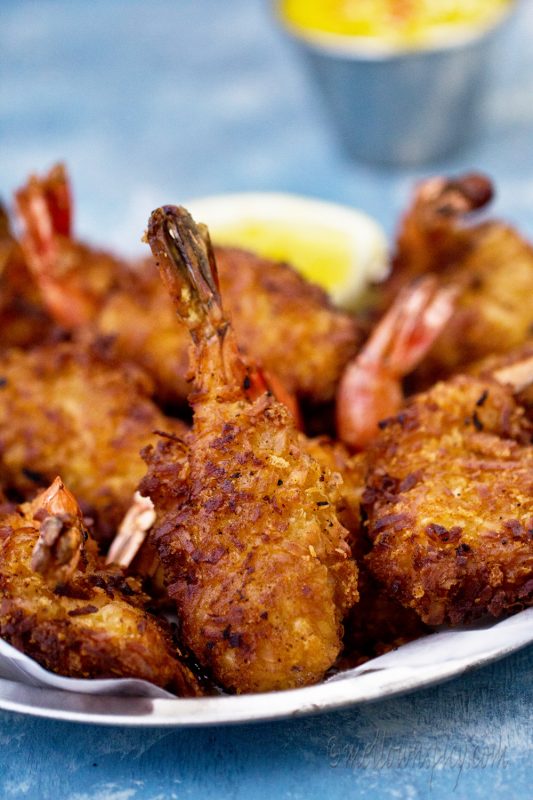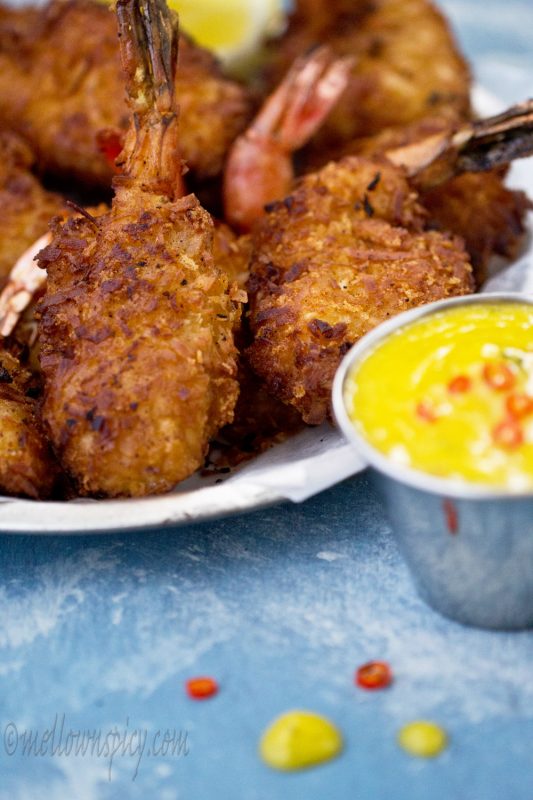 The shrimps are first battered and crumb coated with a mix of sweet shredded coconut and breadcrumbs and then deep fried. It is that simple! If you want, you may bake these in the oven. These go great with my Sweet and Spicy Mango Dipping Sauce that I shared in my last post. The spicy and tangy sauce compliments the sweet taste of the shrimps perfectly!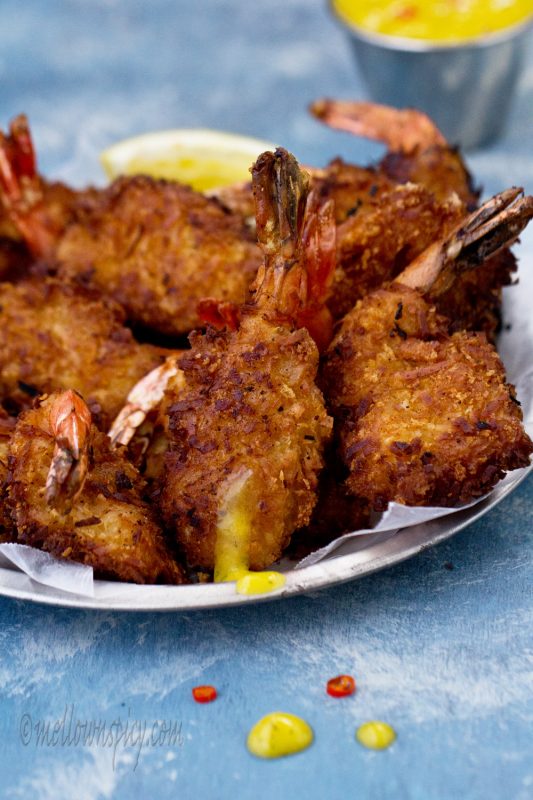 Go ahead and make a batch this weekend and enjoy with your friends and family! Have a great weekend friends!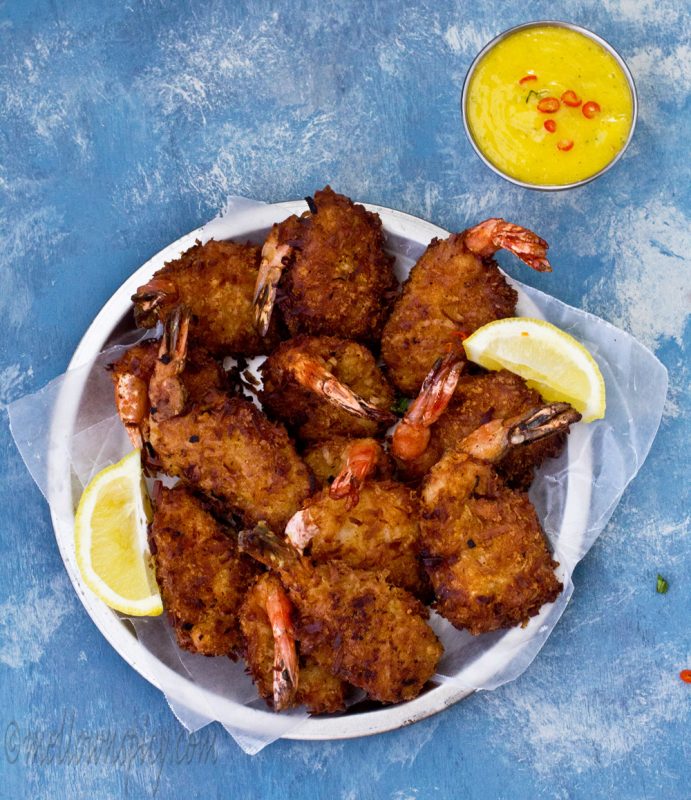 Tips:
If you do not have sweetened shredded coconut, then you may use desiccated coconut or freshly shredded coconut. If you are using freshly grated coconut, dry roast it in a pan for couple of minutes before using. Add a teaspoon of sugar to the batter if using unsweetened shredded coconut. Crumb coated shrimps can be frozen and used within a month. Just thaw for 30 minutes and fry.
You may follow our Facebook page, Instagram and Pinterest for regular updates. Thank You!
Coconut Shrimp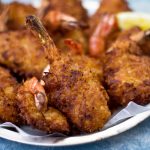 By Sonali Published: September 2, 2016
Yield:

4 Servings

Prep:

20 mins

Cook:

15 mins

Ready In:

1 hr 5 mins
Sweet and crunchy coconut shrimp is perfect for an appetizer in any party. Pairs well with a homemade sweet and spicy mango dipping sauce!
Ingredients
Instructions
Wash, shell and devein the shrimps. Keep the tail intact. Run a blunt knife through the vein of each shrimp and butterfly. Apply a little pressure to flatten the shrimp. Keep aside. Repeat with the rest of the shrimps. Add 1 teaspoon salt, black pepper and vinegar to the butterflied shrimps and marinate for 5 minutes.
Meanwhile make the batter. Add half cup of flour, remaining salt,garlic powder, cayenne pepper and mix well. Add the beaten egg and mix to make a batter. Gradually add water to form a lump free batter. Add the baking soda and give a final mix. Pour the remaining flour onto a dry plate. In another plate add the breadcrumbs and sweetened shredded coconut. MIx well.
To bread the shrimp, first dust the shrimp with dry flour, shake off the excess, dip into the batter and finally coat with the breadcrumbs and shredded coconut mixture. Transfer to a parchment lined baking tray. Repeat with the rest of the shrimps.
When all the shrimps are breaded, transfer the tray to the freezer for at least half n hour.
Heat a frying pan with high sides with oil. When the oil is hot enough, lower the heat to medium and add the breaded shrimps. Fry in batches for 3-4 minutes on each side or until it turns golden brown in color.
Drain and transfer to a plate lined with kitchen towel to soak the excess oil.
Transfer to a serving platter and garnish with lemon wedges. Serve hot with a dipping sauce and chilled drinks of your choice. Enjoy!