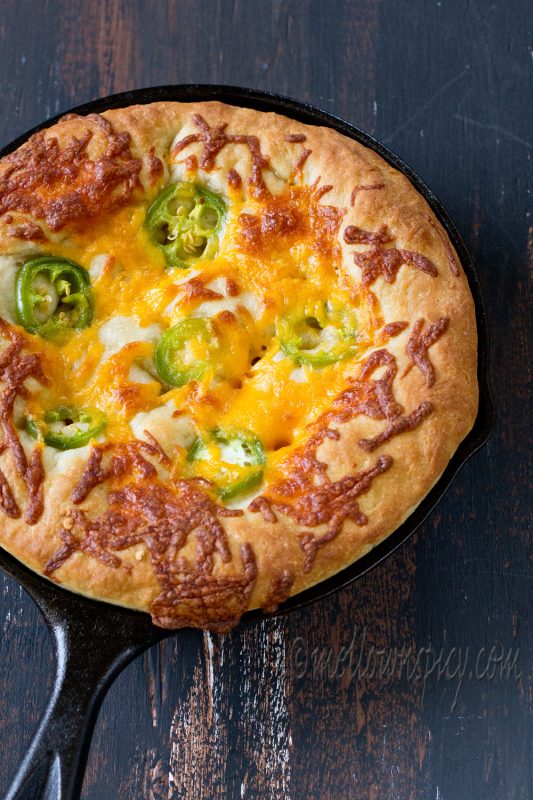 I cannot say enough that how much I love to bake breads. Kneading the dough,seeing it rise and smelling the freshly baked bread gives me immense pleasure and satisfaction every time I bake. My friends find it weird that why I need to bake breads when they are so easily available in the market. One who has baked bread knows how it feels to bake at home from scratch. The taste is incomparable to the store bought ones and you get to taste your fruit of labor!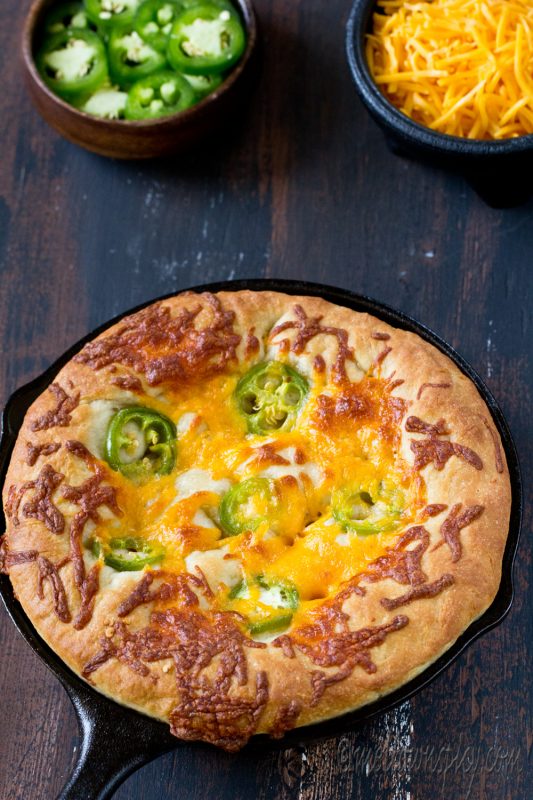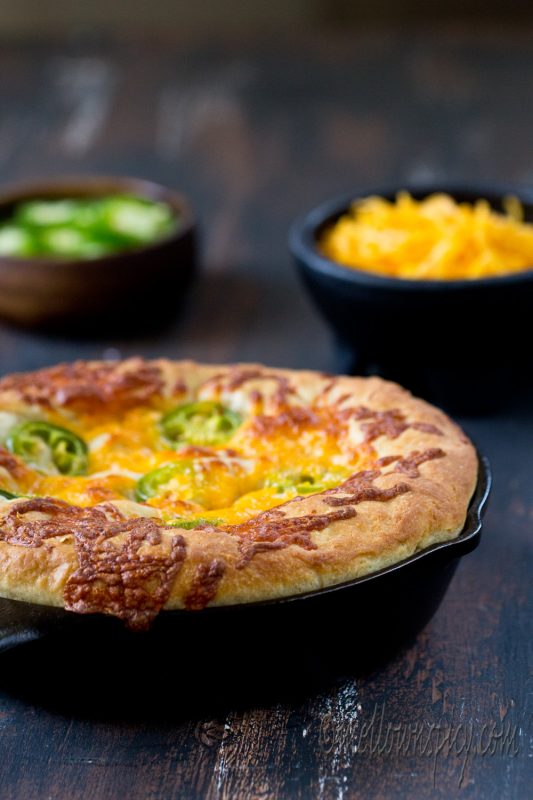 This focaccia bread is quite simple to bake and tastes great with a bowl of soup or when made into a sandwich. The jalapenos give a spicy kick to the bread whereas the cheese gives a soft, chewy texture to it. The bread has a crispy crust and soft and spongy almost pillow like crumb. It is perfect to dunk in a bowl of soup or curry to soak all the deliciousness.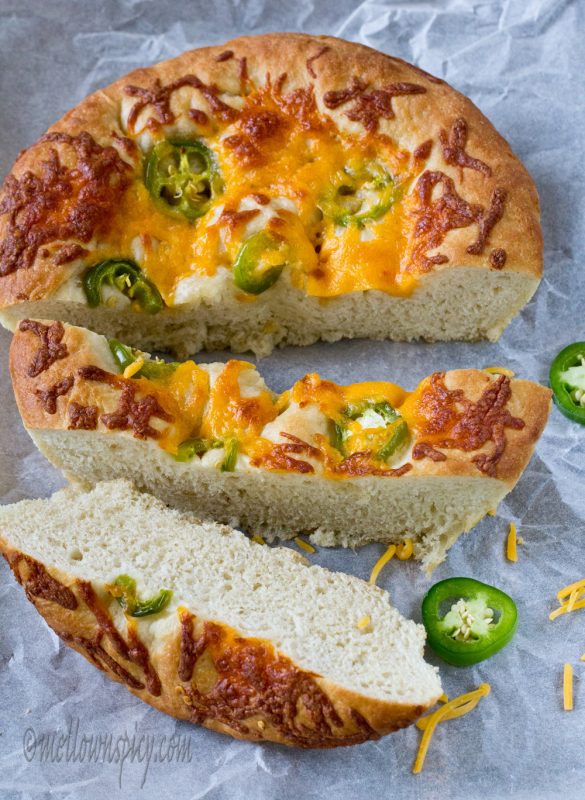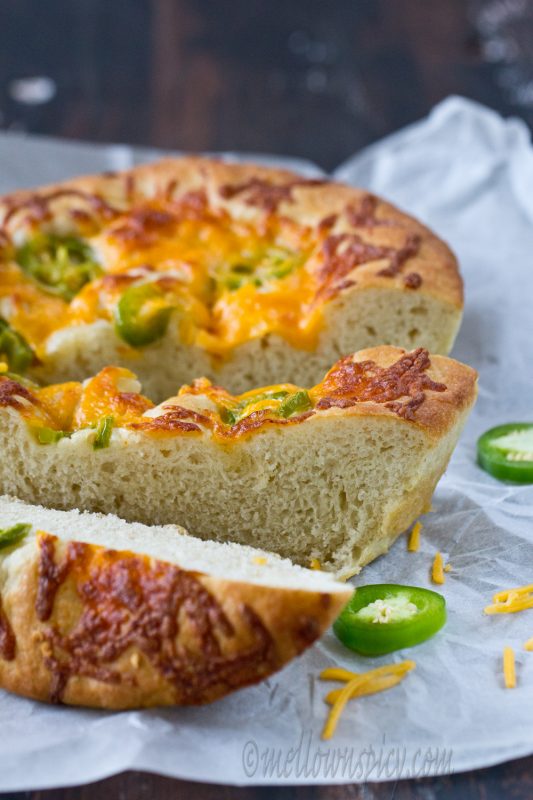 When I am in a lazy mood this bread recipe comes handy. A beautiful baked bread wins everyone's heart instantly. So why wait? Give this recipe a try this weekend and let me know how it turned out.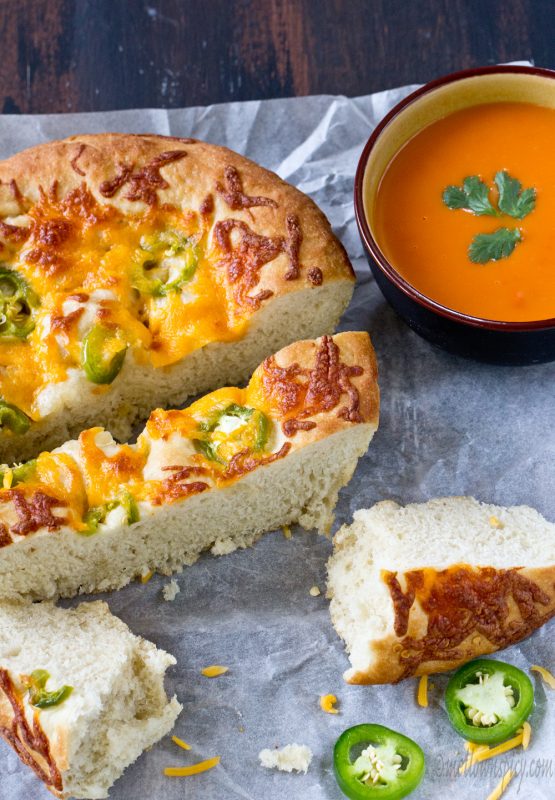 Tips:
You may use pickled or fresh jalapenos. If you do not have bread flour in hand, use the all-purpose flour instead. Knead the dough a few extra minutes to develop the gluten. You may store the bread in an airtight container for a day.
You may follow our Facebook page, Instagram and Pinterest for regular updates. Thank You!
Jalapeno and Cheddar Focaccia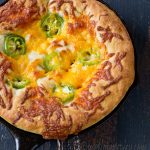 By Sonali Published: May 28, 2016
Yield:

1 loaf

Prep:

15 mins

Cook:

20 mins

Ready In:

1 hr 55 mins
The bread has a crispy crust and soft and spongy almost pillow like crumb. It is perfect to dunk on a bowl of soup or curry to soak all the deliciousness.
Ingredients
Instructions
In a large bowl whisk together the flour and salt and set aside. In another small bowl add the active dry yeast and sugar and pour over the warm water, mix well and set aside for the yeast to activate.
When the yeast mixture is frothy and bubbly, add to the flour mixture. Add the olive oil and combine with a wooden spoon to form a rough dough.
Transfer the dough onto a lightly floured surface and knead for 5-7 minutes or until the dough is soft and springs back when touched.
Shape the dough into a smooth ball and lightly coat with olive oil, place it on a large bowl and cover with a kitchen towel and keep aside at a warm place. Let the dough rise for about 1 hour.
When the dough is doubled in size, transfer onto a lightly floured surface. Lightly press to get rid of the gas and start to form a rough circle or rectangular in shape by pressing with your fingers.
Transfer the shaped dough on to a parchment lined baking sheet or a cast iron skillet. Make some dimples on the top of the dough and drizzle 2-3 tablespoons of olive oil. Place the sliced jalapenos and sprinkle some shredded cheddar on top.
Cover with a kitchen towel and let it proof for atleast 15-20 minutes. Meanwhile preheat the oven at 400F.
After the second rise, bake the bread for 20-25 minutes or until it is golden brown in color and the cheese is melted.
Transfer onto a cooling rack. Let it cool completely before you cut.
Serve warm with a bowl of soup . Enjoy!