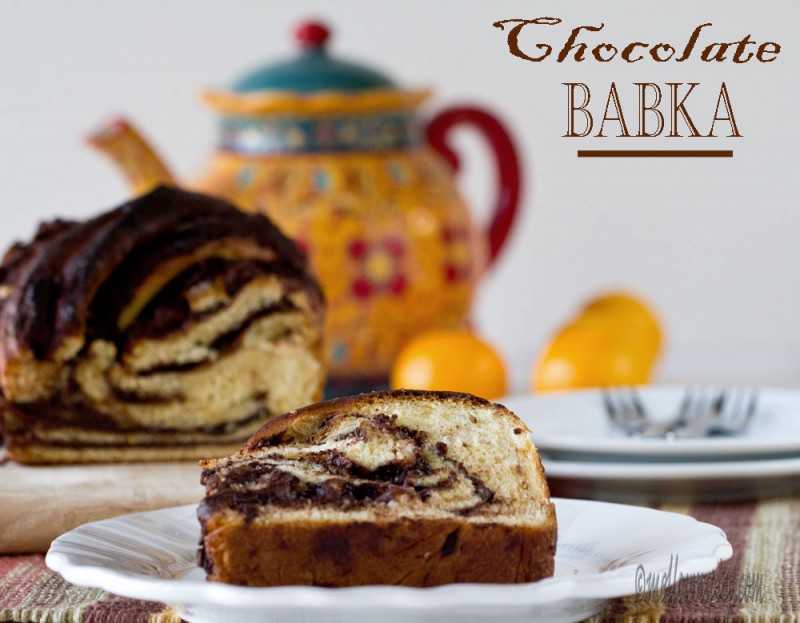 I am in a baking mode this past week and baking cookies, breads and cakes for my friends and my family for the holidays like crazy. Here is another bread recipe which is one of my favorites as it is filled with chocolate.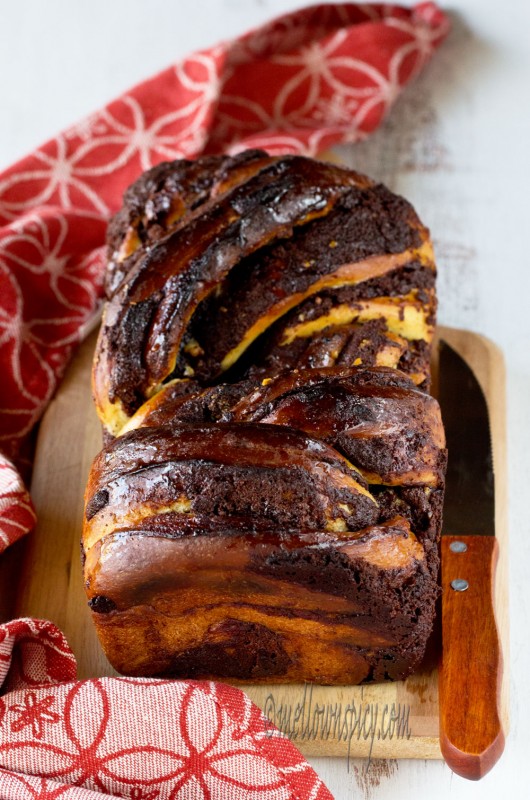 Chocolate babka is a sweet bread filled with chocolate. This has a typical twisted shape and when sliced, it has a marbled effect of chocolate. This bread is associated with the Eastern European Jewish tradition though nowadays this bread is also popular in US. Babka is usually baked during the Christmas, New Year and Easter.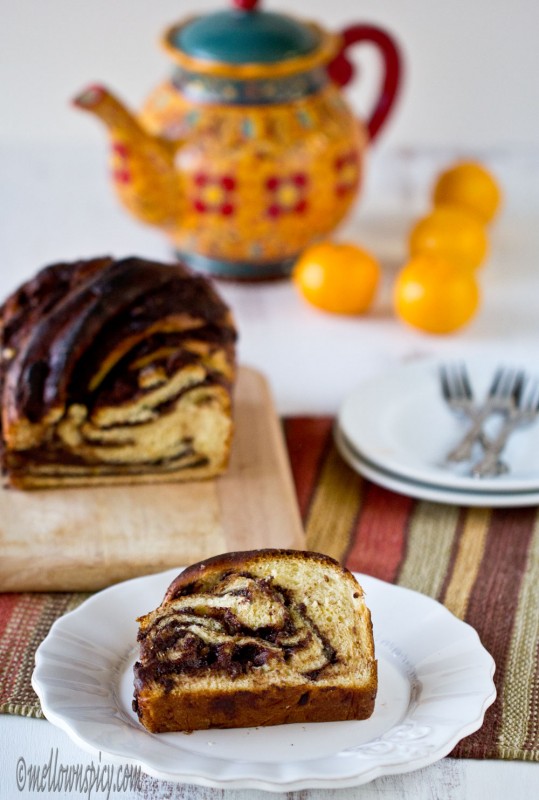 Babka is basically like a brioche, a sweet filled bread. Usually the dough is kept in a warm place to rise, but here the dough is kept in the refrigerator for slow rise making it more flavorful and rich. The dough is enriched with butter, milk and sugar. The chocolate filling and the orange zest in the dough makes the most flavorful combination.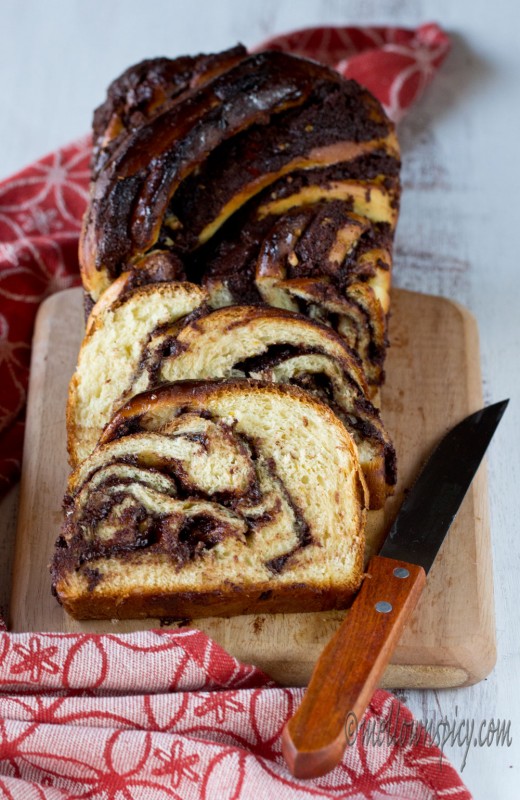 Shaping the dough may be a bit tricky but if it isn't perfect it won't harm as the bread will taste as yummy. You may add powdered cinnamon and chopped walnuts or pecans in the filling. The bread is great for breakfast and you may make French toast with the leftover slices which tastes equally great.
Enjoy the season and bake a Chocolate babka for your family.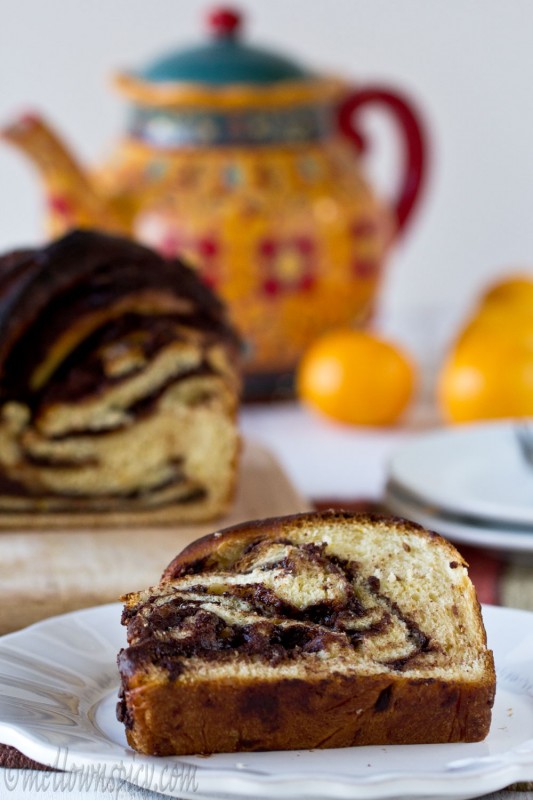 Tips:
While the dough is resting in the refrigerator, the dough might not rise in double the volume which is just fine.The sugar syrup makes the bread glossy, shiny and moist, so do not skip the step. Store the bread in a paper bag at room temperature for couple of days. The leftover makes great French toasts.
The recipe is adapted from Smitten Kitchen and Epicurious.
This delicious chocolaty bread is sent to Yeastspotting!
Chocolate Babka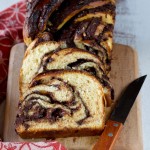 By Sonali Published: December 21, 2014
Yield:

2 loaves

Prep:

20 mins

Cook:

30 mins

Ready In:

8 hrs 50 mins
Chocolate Babka is a sweet bread filled with chocolate. This bread is very soft and tender and rich in butter and chocolate. The orange and chocolate make an amazing pair.
Ingredients
Instructions
Combine the flour,sugar,yeast and zest in a large bowl. Add the beaten eggs and milk and mix with a help of a wooden spoon until it comes together.
Transfer the dough to a lightly floured surface and add the salt and 1 tablespoon of butter at a time to the dough and knead to incorporate the butter completely. Continue kneading the dough for 8-10 minutes or until the dough is soft and smooth to the touch. Transfer the dough to a greased bowl, cover with a plastic wrap and let it rest in the refrigerator for 6-8 hours or preferably overnight.
Grease 2 loaf pans with oil and line the bottom with parchment paper.
When the dough has doubled in size, start making the filling. Melt the chocolate and butter together in a double boiler or microwave until smooth. Mix in the powdered sugar and unsweetened cocoa powder to make a thick paste.
Divide the chilled dough in halves. Leave one half in the refrigerator while working with the other half. Roll out the dough on a floured surface, 10 inches in width and about 12 inches in length. Spread half of the filling evenly over the dough leaving about an inch border all around. Start rolling the dough into a tight log and seal the edges well.
Trim off the edges and cut the log in half lengthwise and lay them next to each other cut side up. Pinch the top ends together and lift one on the other to make a twist. Now gently lift the twisted dough and transfer to the greased pan.
Cover with a cling wrap and let it rise for 1 hour at room temperature or until puffed up and well risen. Repeat with the other half of dough.
Towards the end of the rising time, preheat the oven to 375F. Remove the wrap and bake the loaves for 25-30 minutes.
While the loaves are baking, make the syrup. Heat the water and sugar until the sugar dissolves completely. Remove from heat. When the babkas are out of the oven, brush the syrup on top of each loaf.
Let the babkas cool in the pan for a while then gently transfer on a wire rack to cool completely.
Cut the babkas in slices and enjoy with coffee or tea,