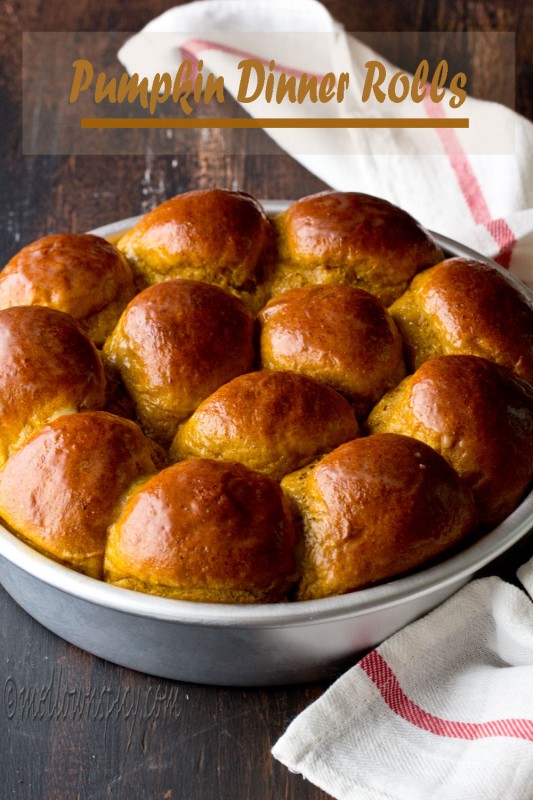 I have baked  bread earlier with pumpkin puree and those were a huge hit at my home for snacking. This time I wanted to bake some dinner rolls with the fruit of the season pumpkin that would be perfect with a bowl of soup at our dinner table. I searched for some recipes and ended up baking these golden pumpkin dinner rolls from King Arthur Flour.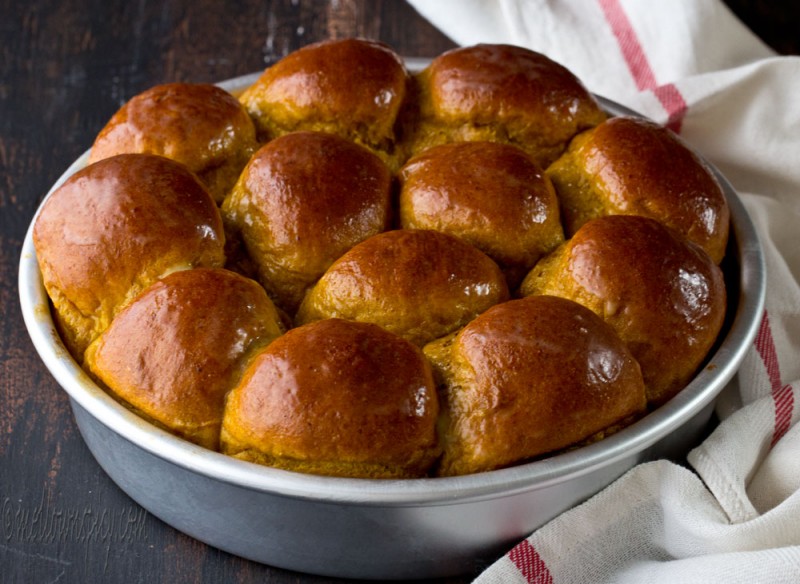 I tweaked the recipe a bit. The original recipe was for 2 dozen rolls. I halved the recipe and got a dozen dinner rolls, perfect for my small family. I made sandwiches with the leftover ones. Tasted great. I have also added whole wheat flour to the recipe along with all purpose flour. The addition of the whole wheat enhanced the flavor and gave a rich deep taste to the rolls. The pumpkin spice added a great aroma to the rolls.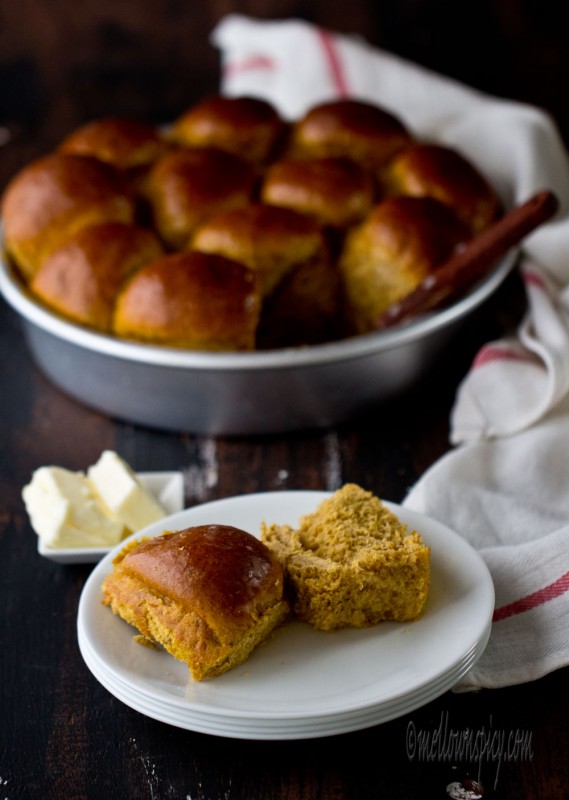 These are slightly sweet with a beautiful golden color and a hint of pumpkin. Perfect for your Thanksgiving dinner. Cut the roll in half while still warm and slather butter and savor the fruit of labor.
Enjoy with a warm bowl of soup on a chilly winter night.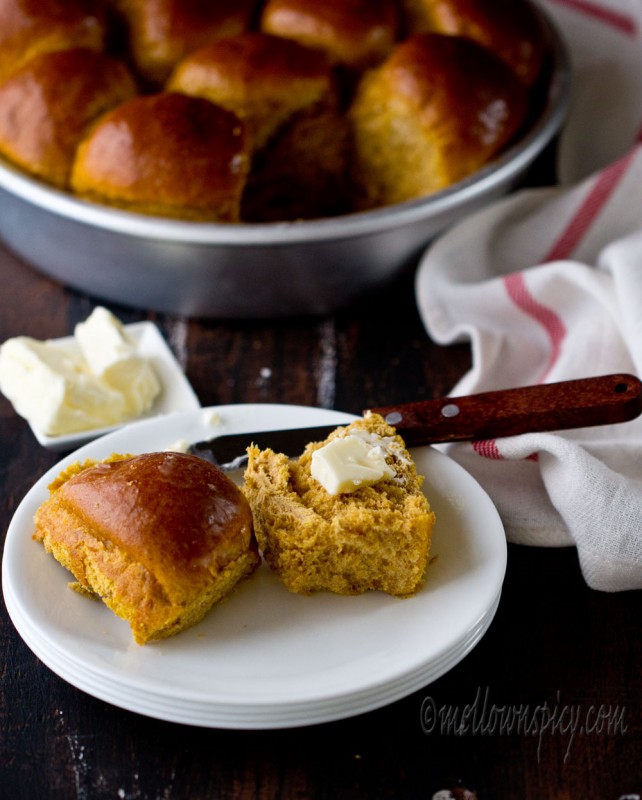 Tips:
While kneading the dough, it may feel very sticky but continue to knead for a while and it will turn into a smooth dough. You may need some extra flour but add the flour gradually as and when required. I ended up using ¼ cup flour. You may store the cooled rolls in an airtight container for couple of days or freeze them to use later. You may substitute the pumpkin spice by combining 1 1/2 teaspoon of ground cinnamon, 1/2 teaspoon ground nutmeg, 1/4 teaspoon ground cloves and a scant 1/2 teaspoon of ground ginger. Mix well and store in a spice jar. Use as and when required.
I am sending these freshly baked rolls to Yeastspotting.
Pumpkin Dinner Rolls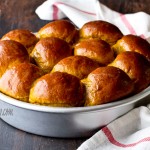 By Sonali Published: November 23, 2014
Yield:

12 rolls (12 Servings)

Prep:

15 mins

Cook:

25 mins

Ready In:

2 hrs 20 mins
These are slightly sweet with a beautiful golden color and a hint of pumpkin. Perfect for your Thanksgiving dinner.
Ingredients
Instructions
In a large bowl combine all the dry ingredients . In another bowl combine all the liquid ingredients. Add the liquid mixture to the dry ingredients and with the help of a wooden spoon mix well until it forms a lump of dough.
Lightly flour the surface of the wooden board and transfer the dough. Start kneading the dough until it forms a smooth dough. The dough might feel very sticky at first but continue to knead till it is smooth. You might need additional flour to knead .
When the dough is soft and smooth and is slightly springy, transfer to a greased bowl and cover to let it rise in a warm place about double in size. Meanwhile lightly grease a 9' round cake pan and set aside.
Once the dough has doubled, gently deflate the dough and divide into 12 equal portions. Round each portion into a smooth ball. Place each ball on the prepared pan spacing in between.
Cover and let it rise for the second time until the rolls are crowded against one another and puffy. Towards end of the rising Pre-heat the oven to 350F.
Uncover the rolls and brush with egg wash. Bake the rolls for 20-25 minutes or until the rolls are golden brown in color and the edges slightly spring back when pressed.
Remove the rolls from oven and brush with some melted butter. Cool slightly on a wire rack.
Enjoy the rolls warm.