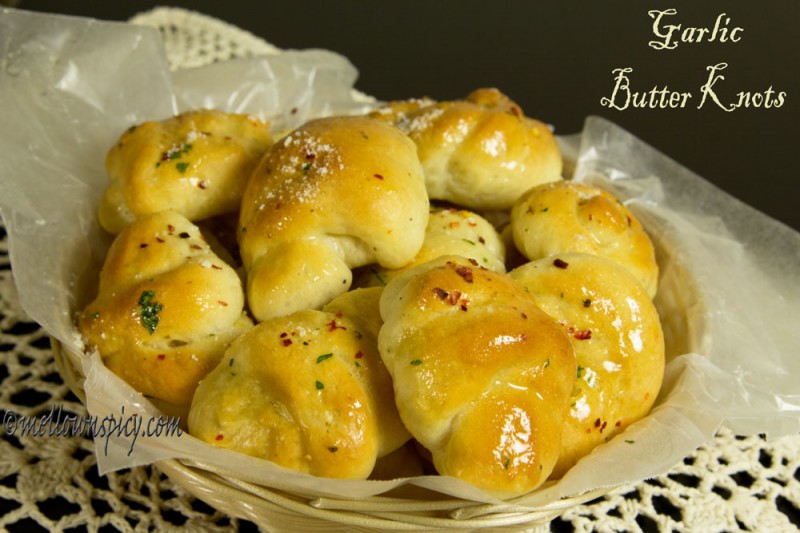 I have finally settled in after a long vacation. Unpacking things, cleaning up the house, stocking up the pantry and of course  cooking was taking away all my time and energy to blog. Few days back this blog turned one and I hurriedly whipped up something to celebrate the day. It was fun. Now I am again back on track and hope to share some exciting new recipes.
When you are too much busy with your regular chores, it is difficult to prepare a multiple course spread for dinner. At least it is true for me. On those occasions I count on a bowl of  hearty soup and sometimes a baked chicken on the side and I am lucky if I can save some of these soft buttery and garlicky knots to dunk in.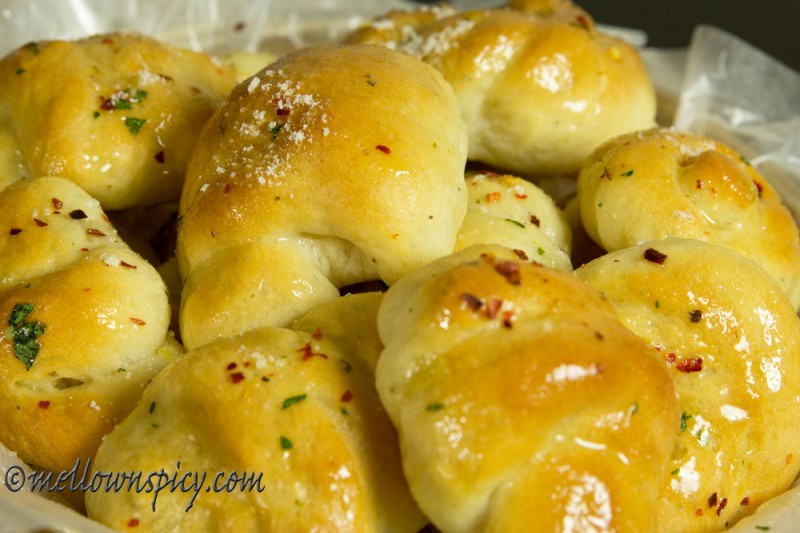 If you love the aroma of garlic and butter then this is just for you. The whole house is filled with the smell of garlic infused butter as you brush on the  freshly  bakes. You can't resist yourself to just one. These are soft as a pillow with a slight crust. Great for snacking too. So give these a try and the best part of these is that you can bake with the leftover pizza dough or a store bought one.  You will not miss anything, I promise. I have adapted the recipe from here and the knots are Yeastspotted.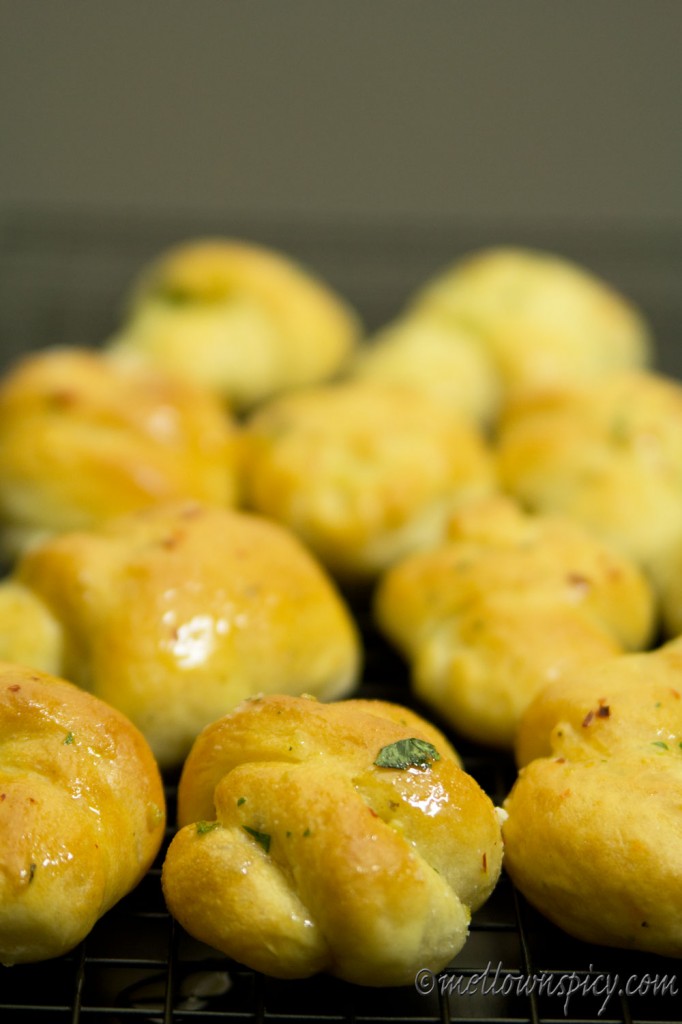 Garlic Butter Knots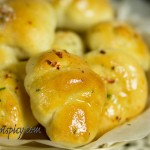 By Sonali Published: September 2, 2013
Yield:

20 knots

Prep:

2 hrs 0 min

Cook:

15 mins

Ready In:

2 hrs 15 mins
Love the soft and pillowy texture of the knots with a slight crust. Great for snacking or to dunk in a bowl of soup. You can bake with the leftover pizza dough.
Ingredients
Instructions
In a large mixing bowl stir in the flour and salt and keep aside.
In another small bowl with warm water, sprinkle the yeast and sugar , keep aside for 10 mints. After 10 mints mixture should be frothy.
Mix in the oil with the yeast mixture and pour it over the flour mixture. Mix in together to form a soft dough and knead for 5-10 minutes to get a smooth dough.
Shape the dough into a smooth ball and lightly coat with olive oil, place it on a large bowl and cover with a kitchen towel and keep aside at a warm place. Let the dough rise for about 1 hour.
When the dough is doubled in size, cut it into four equal portions. Working with one piece at a time ,flatten the dough into a rough rectangle. Cut five equal strips out of the rectangle.
Prepare large baking sheets with parchment paper and set aside. Now take one strip at a time and form into a snake and tie to form a knot. If the dough feels a bit sticky, dust in some flour.
Place each knotted dough onto the parchment lined baking sheet leaving some space in between. Repeat with the rest of the dough. Brush each knot with some olive oil.Cover and let it rise for half n hour or until doubled in size.
Towards the end of the final rising, pre-heat the oven to 400 Degrees F. Uncover the knots and bake for 15 mints or until it has a light golden crust.
While the knots are baking, in a small sauce pan, at a medium heat, melt the butter and throw in the minced garlic. Let the garlic release its aroma, about 2-3 mints. Add in the salt, crushed red-pepper flakes and chopped parsley. Remove from heat.
When the knots are out of the oven, brush them with the garlic-butter mixture. Sprinkle some grated parmesan on top.Serve them warm or at room temperature.