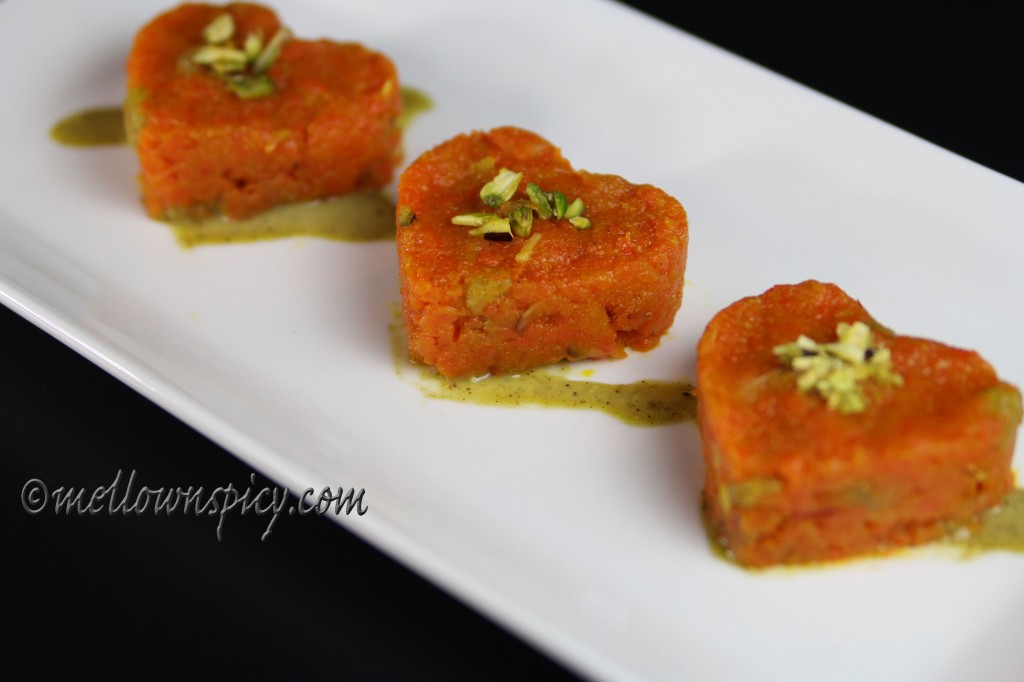 Wishing all my wonderful readers A Very Happy Valentine's Day! I would love to celebrate this day with this recipe of Gajar ka halwa with pistachio coulis. There is one more sweet reason to celebrate. Tomorrow 'MellownSpicy' will be completing six months. It has been a wonderful experience in this blogging world, sharing recipes, interacting with fellow bloggers and getting inspiration from them. Looking forward to many more fun filled days in this blogging world.
Today's recipe is a simple twist to a classic Indian dessert. Back home Gajar ka halwa is a winter delicacy when the carrots are in abundance and cheap. The pistachio coulis pairs great with the halwa and takes it to another level. Try this recipe and sweeten the lives of your loved ones.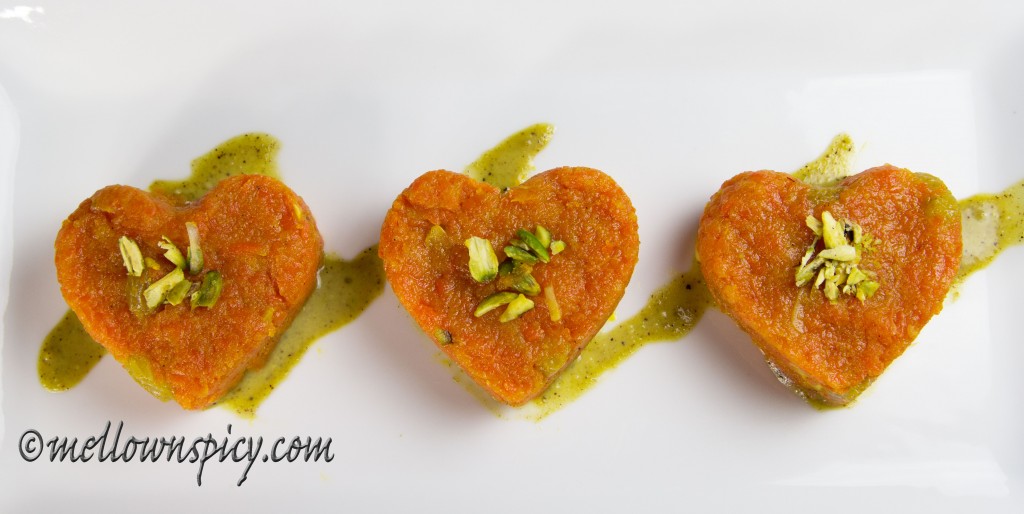 Gajar ka Halwa with Pistachio Coulis

Recipe Serves: 4-6 people
Recipe of 'coulis' adapted from: Sanjeev Kapoor
4 cups grated carrot
2 tablespoons ghee or clarified butter
2 cups milk
½ cup grated khoya or mawa (solidified milk)
¾ cup sugar or adjust to taste
Pinch of green cardamom powder
2 tablespoons raisins
2 tablespoons sliced almonds
Sliced pistachios for garnish
For Pistachio Coulis
½ cup blanched pistachios  ground to a paste
2 tablespoons honey
¼ cup fresh cream
Heat ghee in a heavy bottomed pan and sauté the grated carrots for couple of minutes, add the milk and let it cook in medium heat for 10 to 15 minutes or until the milk is absorbed and the carrot is  soft and tender. Now add the grated khoya, sugar, raisins and sliced almonds and mix in well. Continuously stir the mixture and let it cook for 5 more minutes. When the mixture starts to leave the sides of the pan add the green cardamom powder and take out of the heat and let it cool down a bit.
Meanwhile prepare the pistachio coulis. In a separate pan mix the pistachio paste and the cream and bring it to a boil. Add the honey and mix well. Cook at a medium heat for 4-5 minutes until the mixture becomes thick.
Serve 'Gajar ka halwa' warm on a plate and garnish with sliced pistachios and pistachio coulis on the side. Enjoy!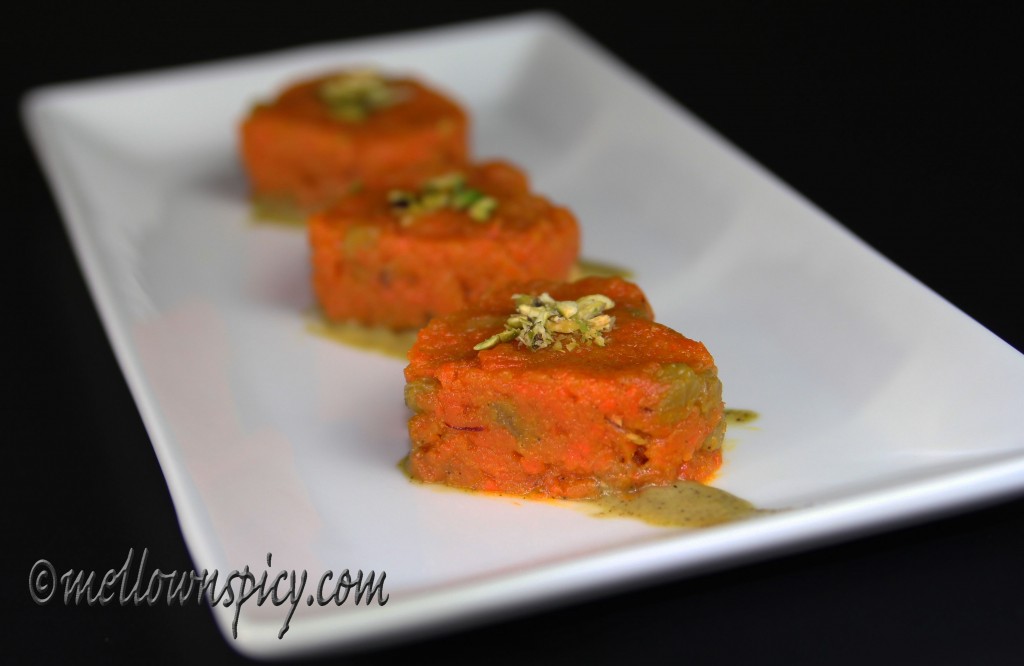 Tips:
While cooking the halwa always stir the mixture and cook at a medium heat. You can add nuts of your choice. While Gajar ka halwa itself tastes great, you can add the coulis to give it a more festive touch.