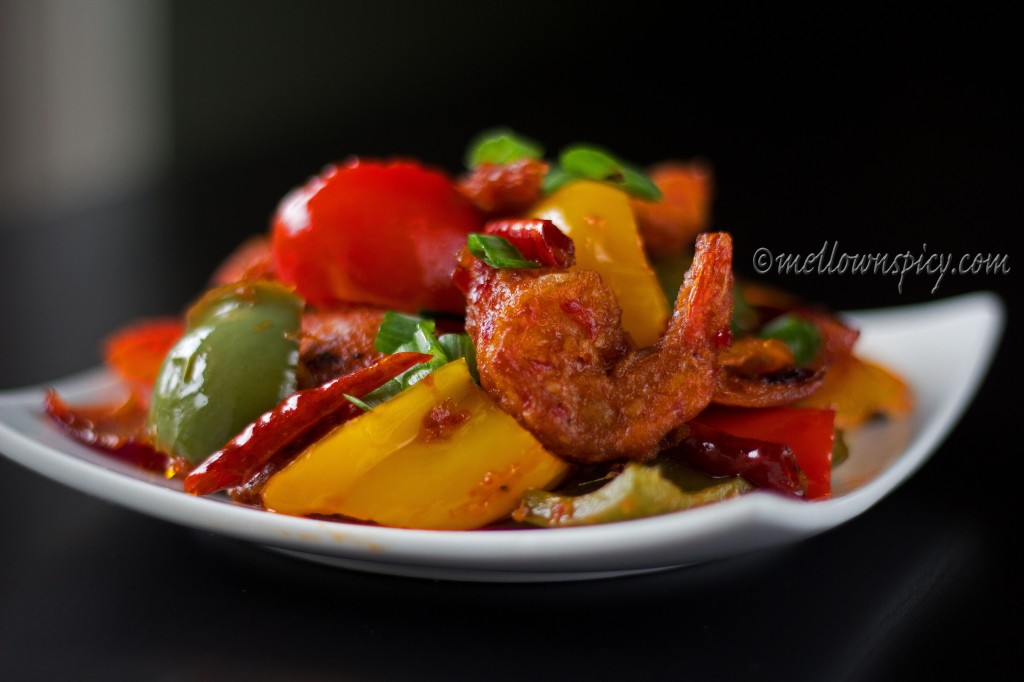 The days are really getting cold in here and nights are even colder. You need something hot and spicy or maybe a bowl of warm soup to keep yourself warm. I love soups but sometimes I indulge in something that is hot n spicy as well as fast to prepare so that the rest of the time I can wrap myself in a shawl and enjoy watching movies.
This is an Indo-Chinese version of Szechuan shrimp and though the recipe has got a number of ingredients but the cooking time is really fast.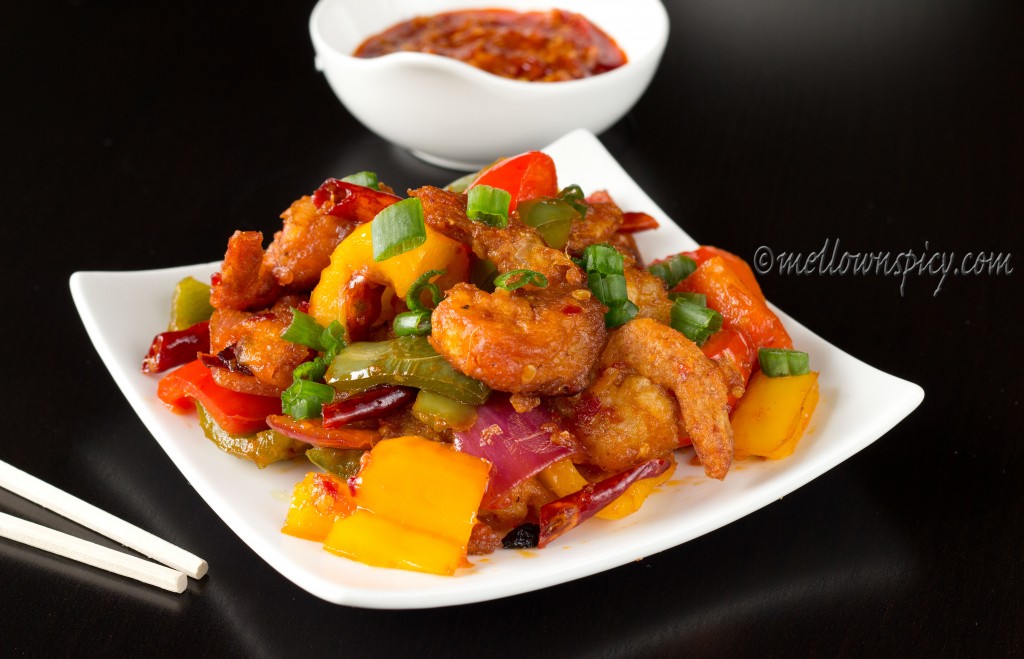 Szechuan style Shrimp

Recipe serves 2-3 people
10-12 medium-sized tail-on shrimp cleaned and deveined
1 medium egg whisked
1 tablespoon corn flour
1 tablespoon all-purpose flour
1 tablespoon finely minced garlic
1 teaspoon finely minced ginger
1 cup red,green,yellow bell-peppers cubed
½ cup red onions cubed
2-3 stalks of green onion (green and white separated)
3-4 dried red chillies cut into long strips
1 teaspoon tomato ketchup (optional)
2 tablespoons Szechuan sauce
Few drops of sesame oil
1 teaspoon white pepper powder
Salt to taste
Sugar to taste (optional)
Oil for deep frying
 For Szechuan sauce
2 tablespoons red chilli paste (soak dried red chillies in water for an hour and grind to a fine paste)
1 tablespoon finely minced garlic
1 teaspoon finely minced ginger
1 teaspoon vinegar
¼ teaspoon soya sauce
¼ teaspoon white pepper powder
2 tablespoons white oil
2-3 tablespoons water
Salt to taste
Sugar to balance the taste
 First we need to prepare the Szechuan sauce. Heat oil in a wok and add the minced garlic followed by minced ginger. Sauté for 2-3 minutes in a medium heat and then add the red chilli paste and continue to stir for 3-4 minutes until the raw flavor of the spices is no more and the oil starts to separate. Add salt to taste, white pepper powder, soya-sauce, vinegar and stir and add 2-3 tablespoons of water to get the sauce like consistency. Give a good mix and check for seasoning. You may need to add a little bit of sugar to balance the taste. The Szechuan sauce is now ready.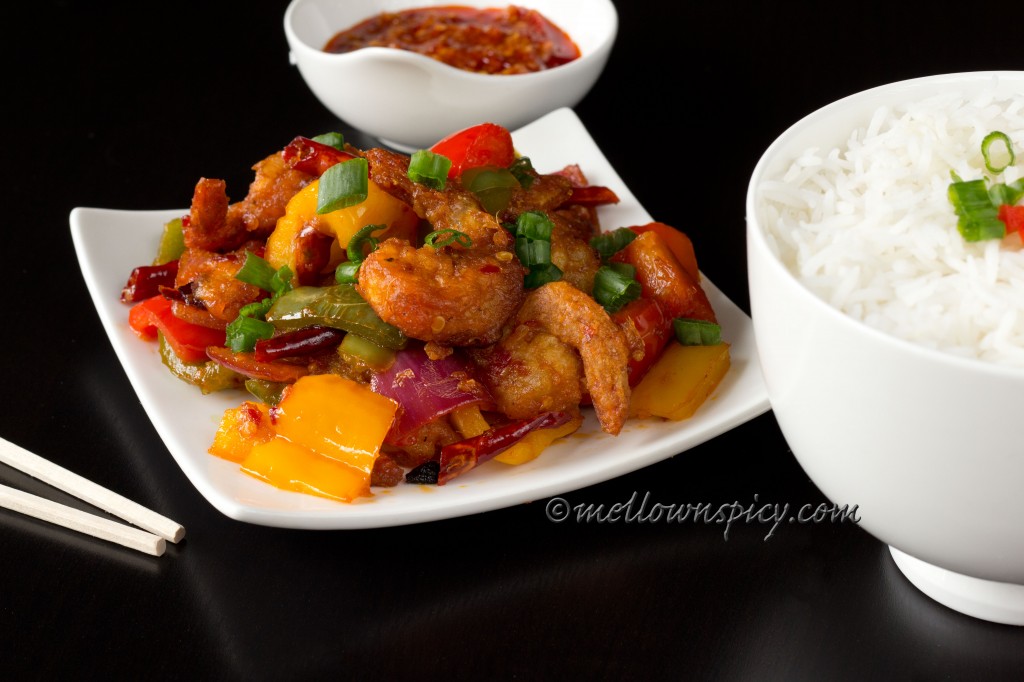 To prepare the shrimp take a bowl and mix in the whisked egg, salt, white pepper powder, corn flour and all-purpose flour and toss the shrimps in the marinade. Keep aside for 15 minutes. Heat oil in a wok and deep-fry the shrimps in batches, drain and set aside. In a separate wok heat 2 tablespoons of oil and add the minced garlic and ginger, cubes of red-green-yellow bell peppers, cubes of onion, strips of dried red chillies, sliced white portion of the green onions and sauté well for 2-3 minutes. Now add salt, the Szechuan sauce, few drops of sesame oil, ketchup if using and mix in well. Finally add the fried shrimps and toss. Serve hot in a platter and garnish with chopped green onions.
Enjoy with your favorite Chinese fried rice, noodles,steamed rice or as an appetizer.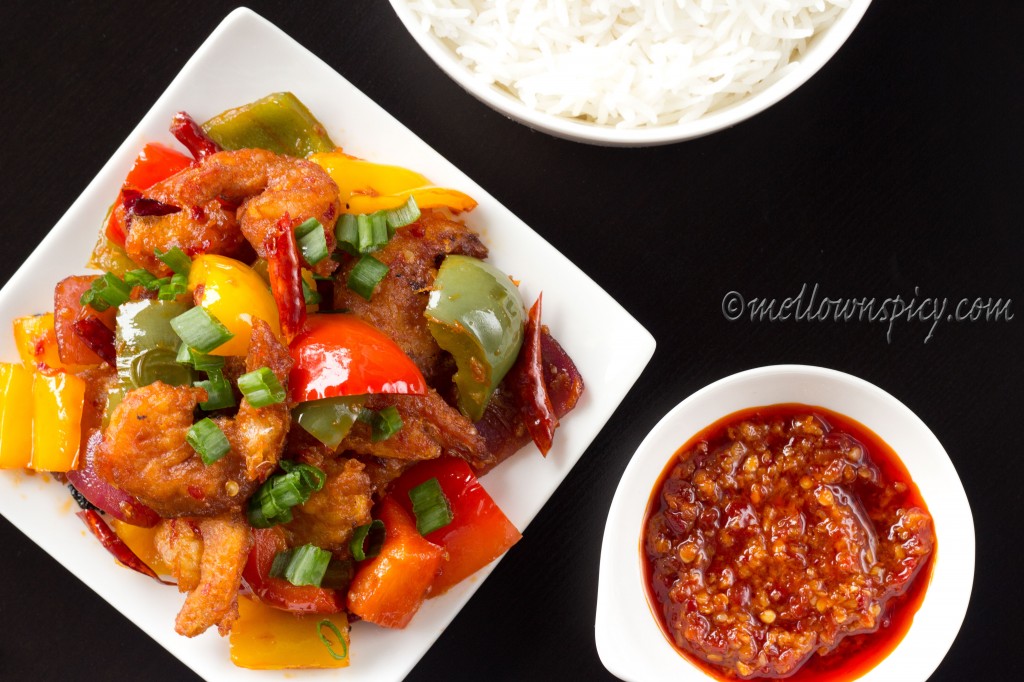 Tips:
To prepare the red chilli paste you may de-seed the chillies before grinding to make it less hot.You may prepare the Szechuan sauce days ahead and use it whenever needed.The sauce stays good for a month in the refrigerator. You may omit the whole process of making the szechuan sauce and use a store bought one. While sautéing the bell-peppers make sure they do not lose their crunch.