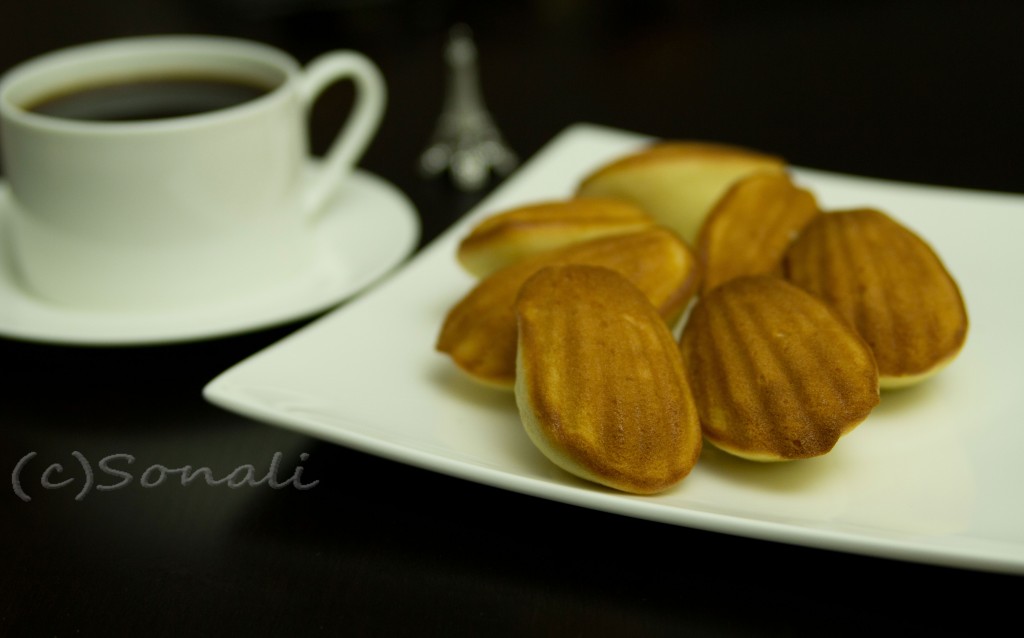 Wishing all my wonderful readers and fellow bloggers A Very Happy and Prosperous New Year 2013!!! I hope that this year brings in lots of happiness, good health and peace to all.
For the last two weeks we were in a holiday mood, going out now and then, visiting friends' places, movies, night outs, really had a wonderful time.
I baked madeleines last week and shared with my friends and they loved it.Madeleines are petite sponge cakes especially popular in France. It is shaped like a shell and has a hump. It is light and spongy and it is great to dunk in your cup of coffee. I am a great fan of these and tried different recipes to get the right texture and shape. To bake these you will need a madeleine mold though you may bake in a small sheet pan, in that case you will not get the typical shape of the madeleine.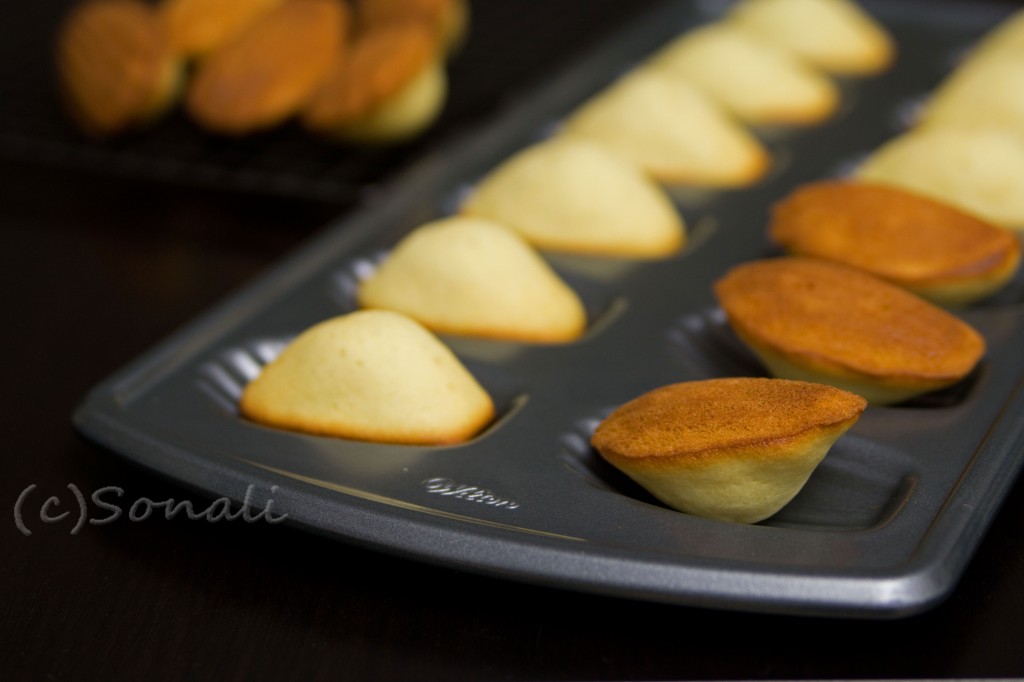 As I said I have come across several recipes and have tweaked some of them and finally settled into this which works for me each time I bake. Give this recipe a try and am sure you will love it.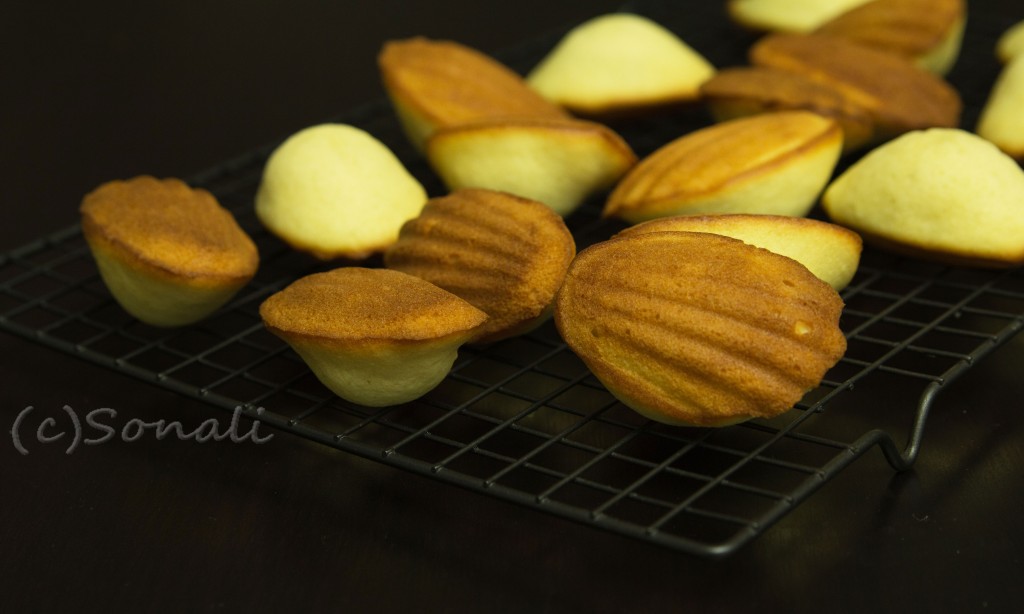 Madeleine: A French Petite Sponge cake

Recipe makes 20 medium-sized madeleine
1 cup all-purpose flour

3-4 drops of vanilla

Milk as needed

½ cup of sugar

2 medium eggs

¾ cup  unsalted butter  melted and cooled

1 ¾ teaspoon of baking powder

A pinch of salt
 At first sift the flour, baking powder and salt and keep aside. In a big bowl add the egg and whisk with a hand-held mixture for about 3 to 4 minutes or until it becomes light and frothy. Add the sugar and the vanilla extract and mix in well. Now add the dry ingredients and the melted butter and give a good mix. Do not over mix or the madeleine will become dense in texture. The batter should neither be thick nor thin. If the batter is thick you may adjust the consistency by adding a couple of teaspoons of milk. Now cover the batter with cling wrap and keep in the refrigerator for at least one hour. This gives the madeleine the characteristic 'hump'.
After an hour pre heat the oven to 400 F and grease the mold with butter or oil. Now spoon the batter up to ¾ in each mold and bake for 10-12 minutes or until it becomes light golden brown in color. Cool on a wire rack and serve with dusted icing sugar on top. Enjoy with your cup of coffee, tea or as a snack.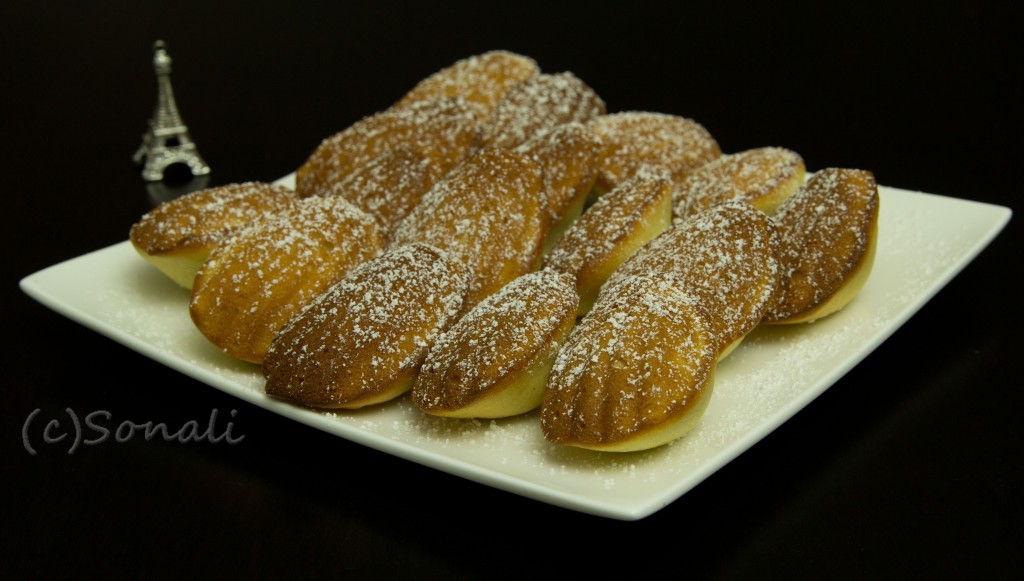 Tips:
To get the 'hump' it is important to keep the cake batter in the refrigerator for at least 1 hour. This time I kept it for almost 4 hours and they had a big hump. To get a softer crust you may bake at 350F but I like the crispier one. You can flavor the batter with lemon or orange zest and even add few drops of almond extract.