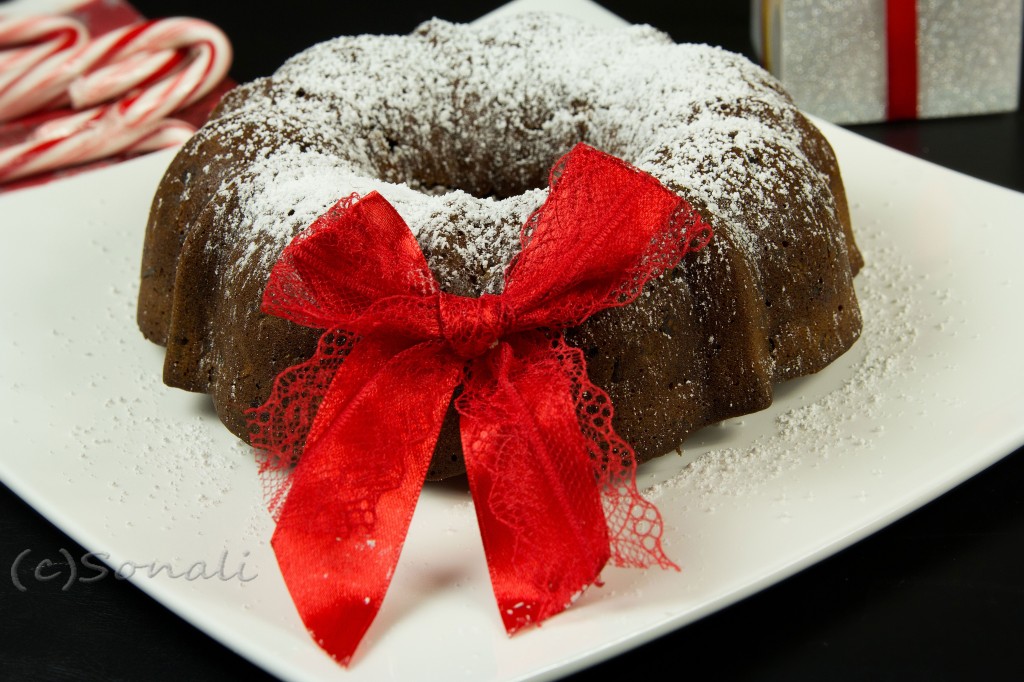 Christmas is all about Santa Claus, gifts, loving and sharing and Fruit cakes. Baking a cake on this day has become a tradition for many but if you choose to bake a fruit cake you have to plan ahead. The soaking of the fruits in alcohol starts way back in September so that the fruits can absorb most of the flavor. But if you are a late planner like me then you can even soak for a week and that is just fine.
Now I am not a great fan of a cake that is heavily laden with fruits and strong flavor of alcohol so I usually go for a lighter version but for the last couple of years I am baking a rich fruit cake because of popular  demand. My husband is a great lover of fruit cakes and even my friends demand for a rich traditional fruit cake on Christmas. I follow my mom's recipe (she has a great passion for cooking and baking) with a slight twist. I make the caramel syrup and add it to the batter which she skips.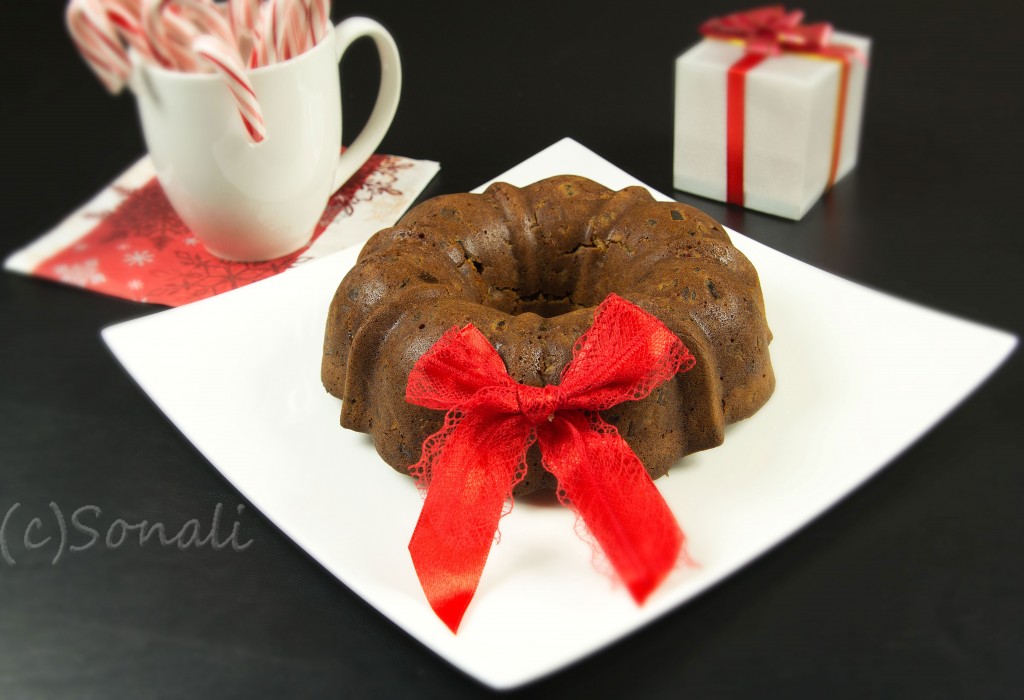 The recipe is otherwise simple except for the soaking part and the making of the caramel syrup. As I said that you can soak the fruits even for a week and that is absolutely fine but more the better and if you want to have a non-alcoholic version, soaking in lemon or orange juice is just fine.
I wish all my wonderful readers and fellow bloggers a wonderful Merry Christmas!!!
Fruit and Nut Christmas cake

Recipe makes two 8 inch round cake
2 cups all-purpose flour
1 teaspoon baking power
Pinch of salt
4 eggs at room temperature
1 cup butter melted
1 ½ cup brown sugar
1 cup dry fruits of your choice e.g.: dates, raisins, sweetened cranberries, sultanas etc.
½ cup candied citrus peels
½ cup mixed nuts of your choice
1/2 cup glazed cherries
1 cup Rum
2 teaspoons cinnamon powder
¼ teaspoon clove powder
1 teaspoon nutmeg powder
1 teaspoon vanilla extract
For the caramel syrup
Mix all the fruits in a large bowl and add the rum and stir well. Cover and leave on the kitchen counter and stir often. If you are soaking for more than a week then keep in the refrigerator and give a stir in between.
On the day of baking the cake, first prepare the caramel syrup. Preparing the caramel syrup is not difficult but you have to be very careful. Start heating the sugar in a sauce pan at a low heat. The sugar will slowly melt and form caramel. Do not stir the melted sugar with a spoon but you can swirl the pan. When all the sugar crystals have melted add the boiling water and stir to form a uniform mixture. Set aside and cool completely.
Grease two eight inch round pan with butter and line the bottom with parchment paper and preheat the oven at 350F.
In a big bowl sift the flour, baking powder, salt and the powdered spices and keep aside. In a separate bowl whisk the eggs and the sugar with a hand-held mixture. When it becomes fluffy add the melted butter and mix in. Add the vanilla. Now add the flour mixture in batches and mix the batter until everything is well incorporated. Add in the soaked fruits with the rum and mix in well. At last add the cooled caramel syrup and mix well one last time.
Divide the batter between the two greased cake pans and bake for 50-60 minutes or until a toothpick inserted into the cake comes out clean.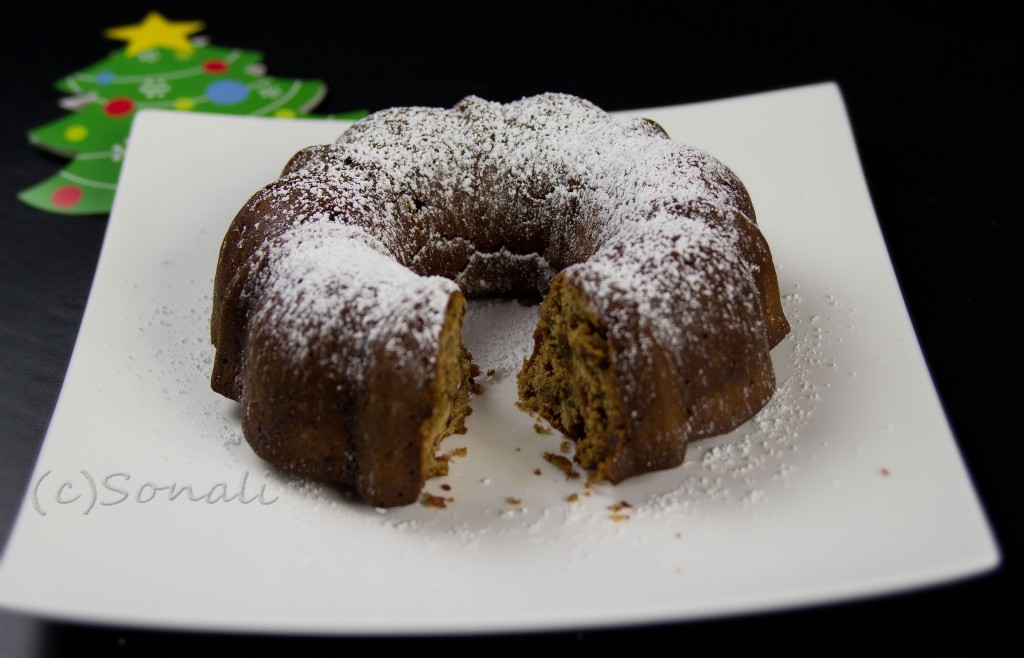 Cool the cake completely and wrap with a cling film and leave on the kitchen counter for at least three days for the flavors to mature.
Decorate the cake with ribbons and dust powdered sugar on top and serve.
Enjoy!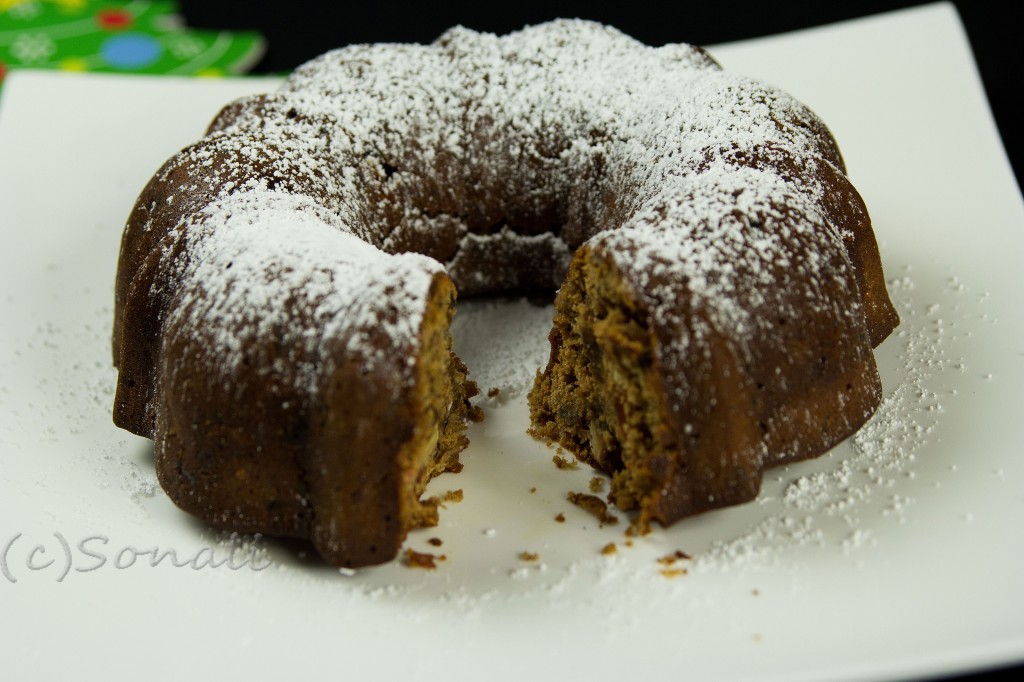 Tips:
You can use orange or lemon juice instead of alcohol. You can use oil in place of butter in the recipe. One note of caution is to be extra careful while you are cooking the sugar because once the sugar has melted it has a much higher temperature than boiling water and always use a pan with high sides.
Here I have used two small Bundt pans to bake the cakes.
Linking this to:Bake Fest #14 @ Cooks Joy