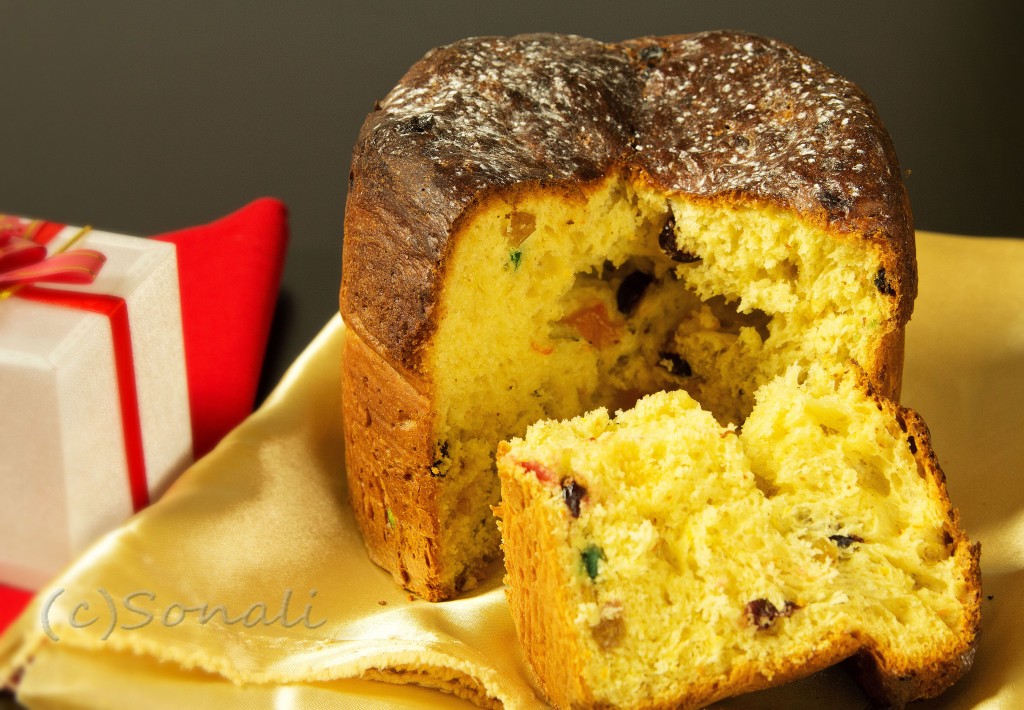 After the roasted butternut squash risotto, it's now time for Panettone, an Italian specialty Christmas sweet bread. I first tried this couple of years back and I loved it. The thing that most intrigued me was its size and I loved the 'fruitfulness' with a cottony softness in every bite. This year rather than trying a store bought one, I thought of baking one at home.
Panettone is a cross between a cake and bread. The traditional way of baking is a very long process where you start with a sour dough starter and gradually proof the dough for several days and finally rise and bake. I was not very confident about the whole process so I gave this recipe a shot. This recipe is a quick version, though needs long hours of rising to give it a soft and fluffy texture. This is my first try and I am somewhat satisfied with the results. The cake had a darker crust as it was baked for a longer time. Covering the cake with a foil would have solved the problem but the texture and taste was awesome. I baked a big six inch and two small panettones. The small ones were just perfect.
To bake this panettone you need a panettone mold but a cake tin with parchment paper is just fine. If you like to bake breads then you will love this recipe. Give it a try and enjoy with your family this Christmas.
 Panettone: Italian Christmas Sweet bread

Recipe makes : an eight inch panettone or six inch and two small panettones.
3 cups all-purpose flour and more for dusting

3 eggs

¼ cup warm water

¼ cup warm milk

1 packet of yeast

6 tablespoons of butter

½ cup of sugar

1 tablespoon of orange zest

1 teaspoon vanilla extract

½ cup of raisins

½ sweetened dried cranberries

¼ cup candied citrus peels

¼ cup tutti-frutti

Egg wash (an egg yolk and milk well combined) to brush the top
In a small bowl take the warm milk and water and add the yeast and one tablespoon of sugar. Cover and let it rise for 5 minutes. When the yeast mixture is frothy make a sponge by adding ¼ cup flour to the yeast mixture, stir well and cover with a cling wrap and let it rise for thirty minutes in a warm place. In a big bowl sift the flour and set aside.
Now in another bowl whisk the eggs, butter, sugar, vanilla, orange zest and the sponge and mix well. With a wooden spoon stir the mixture and gradually add the flour and mix until well incorporated. Now add the fruit mix. Flour the surface and take the dough out and lightly knead and form into a ball. The dough will be very sticky but that is fine. Oil a large bowl and place the dough ball and cover with a cling wrap and let it rise until triple in size in a warm place for about 3-4 hours.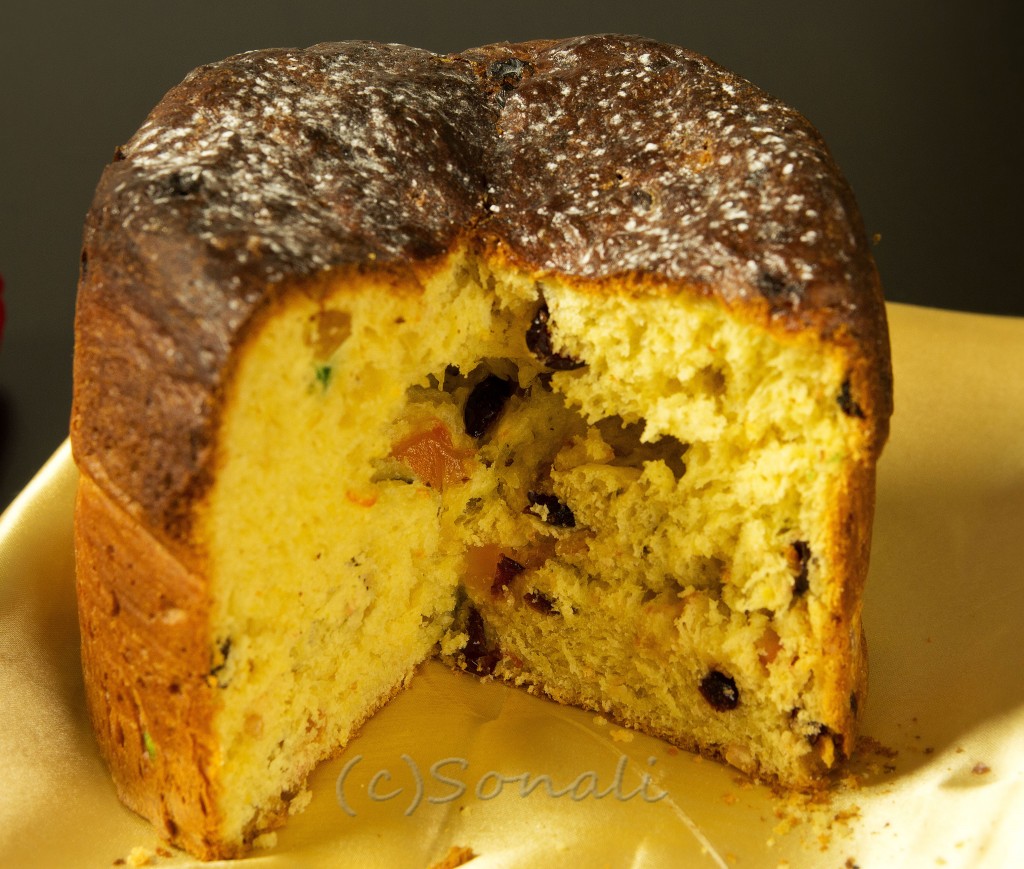 After the first rise lightly grease a panettone mold or a cake pan. Take the risen dough out of the bowl and give it a gentle knead and form a ball and place on the greased cake pan or the mold. Brush the top with butter, cover with cling wrap and let it rise in a warm place until triple in size for second time. At the end of the rise, preheat the oven at 350 degrees F. With a sharp knife make a cross on the top of the panettone and brush with an egg wash. Bake for 45 minutes in a preheated oven or until a tooth pick inserted into it comes out clean.
Cool completely before serving. Enjoy!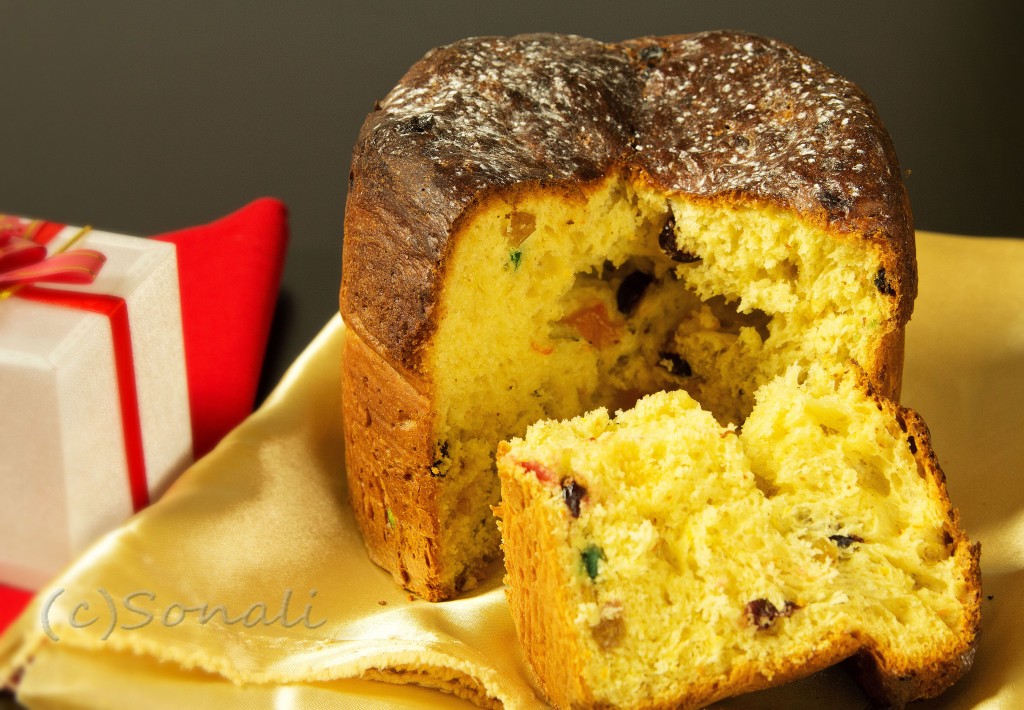 Tips:
Baking a panettone takes a lot of patience but it is worth it. Always let it rise until triple in size which will give the panettone a fluffy and soft texture. Allow the final rise upto the rim of the mold.
Panettone is Yeastspotted!