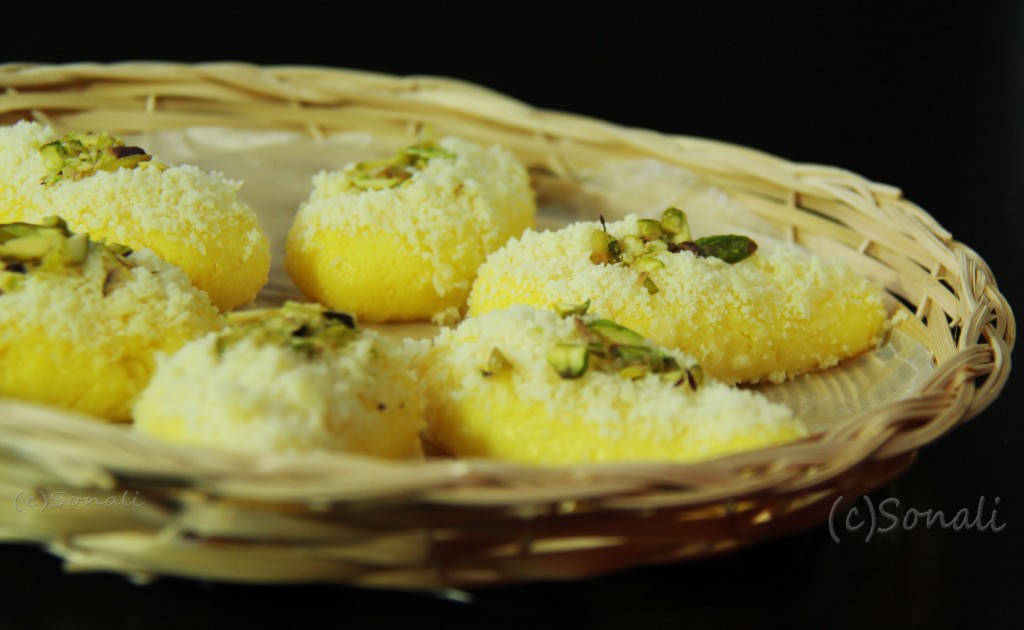 No celebration is complete without sweets. So to begin with my Pujo Special recipe series I would love to share  one of the Bengalis'  favorite sweets  'chom chom'. It is an easy recipe to try and surprise your family and friends during the festival days.
It is a delicate sweet with a slight hint of kesar and tastes great when served chilled.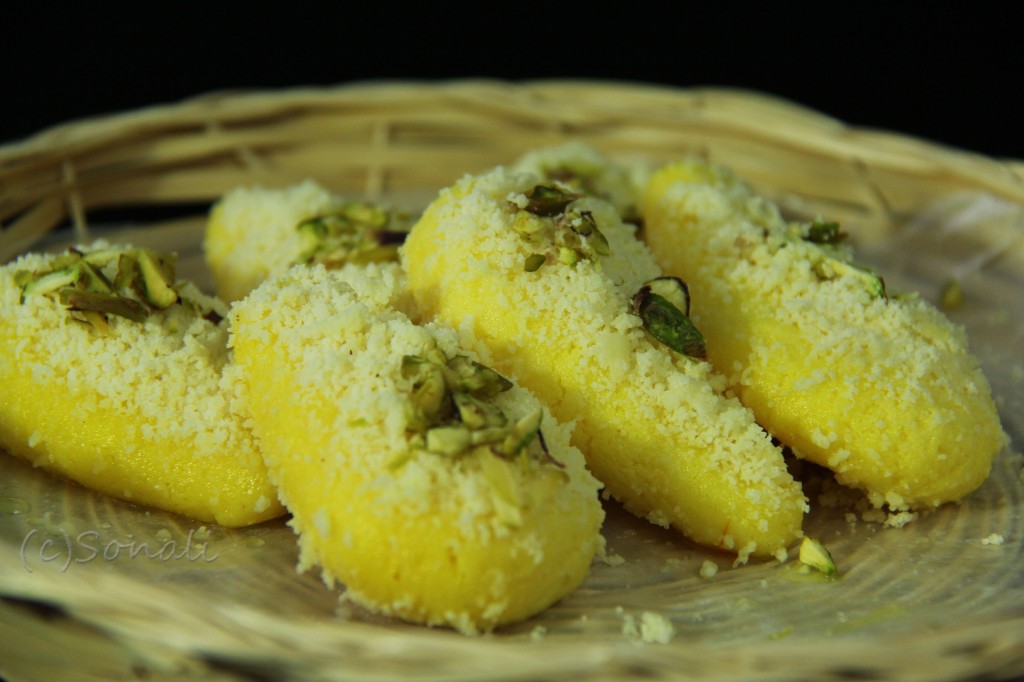 Chom-Chom

Recipe makes 8-10 pieces depending on the size
Adapted from the internet
4 cups of whole milk
¼ cup lemon juice to curdle the milk
¼ teaspoon of yellow food color (optional)
2 cups of sugar
4 cups of water
3-4 strands of saffron
½ cup of grated khoya for garnish
slivered pistachios for garnish
First bring the milk to a boil in a heavy bottomed pan stirring occasionally. When the milk starts boiling gradually add the lemon juice mixed with two tablespoons of water and stir the milk gently. When the milk starts to curdle, switch off the heat. Once the milk fat separates from the whey, drain it on a strainer lined with cheese cloth. Now rinse the chhena or Indian cottage cheese in cold water and squeeze well. Hang it for a while and then place it on the kitchen counter and keep a heavy object over it. You can use a pressure cooker filled with water. Let it sit for some time but make sure that chhena does not become too dry.
Now take the chhena on a flat plate and start kneading it with the back of your palm for about two to three minutes. Now add few drops of yellow food color if using and continue kneading for two more minutes. At this point the chena dough should feel soft and smooth. It is now ready for shaping.
Divide the dough into eight to ten small balls and start rolling each one of them in your palm to give the desired chom-chom shape. Here I have made it a little oval in shape. Keep aside.
To make the sugar syrup, take a big wide saucepan with a lid.Mix in the sugar,water and saffron strands and bring to a boil in a high heat. When the sugar dissolves place the shaped chom-chom one by one.Now put the lid on,reduce the heat to medium high and let it cook for ten minutes. After ten minutes remove the lid and carefully turn each chom-chom. Put the lid back and let it cook for fifteen minutes.
The chom-choms are now ready. Cool completely before serving.
Before serving drain the chom-choms from the sugar syrup. Garnish with khoya and pistachios. For garnishing, take the grated khoya on a plate and roll each chom-chom over it and place some slivered pistachios on it. Serve at room temperature or chilled.
Enjoy!!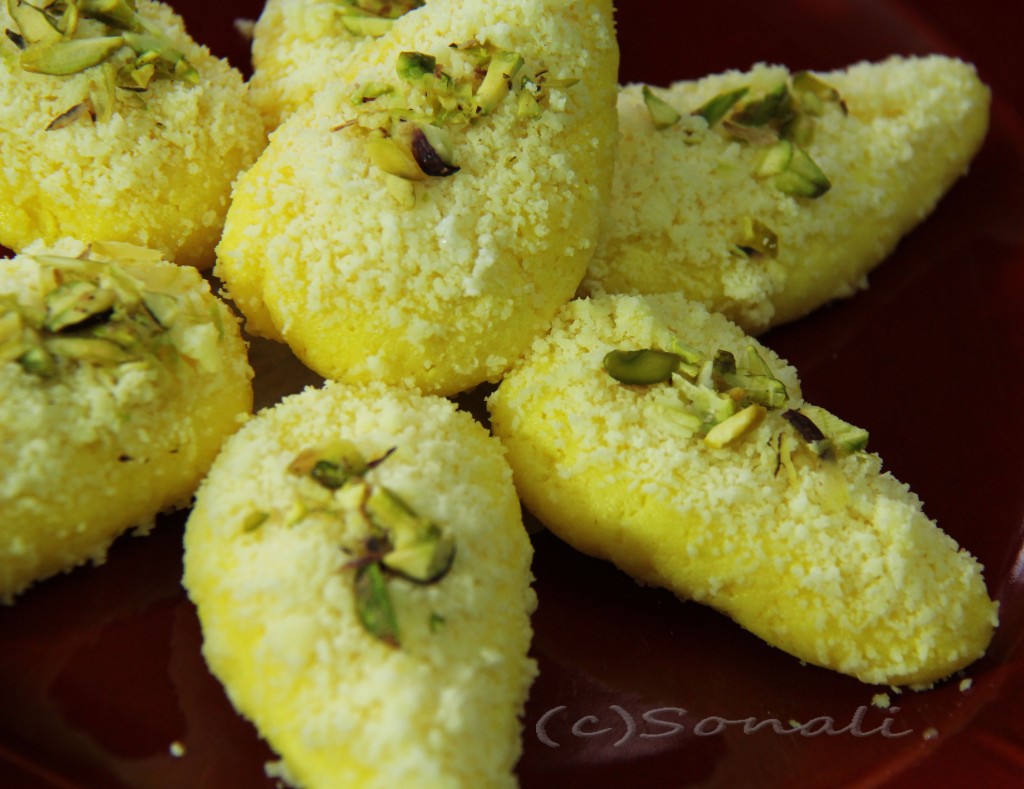 Tips:
While squeezing the moisture out of the chena try not to make it too dry. You can check by rolling a small portion of the chena in between your fingers. It should form a smooth ball. If the chena feels too dry you can add little water and then knead. While cooking the chom-choms , you will know it is ready when the chom-choms are fluffed up and are doubled in size. While placing the chom-choms in the sugar syrup, make sure they have enough space in between as they double in size.